PARAGENESA MINERAL BIJIH SULFIDA HIDROTERMAL DI DAERAH KLUWIH KABUPATEN PACITAN JAWA TIMUR : PENDEKATAN BERDASARKAN MINERALOGI DAN INKLUSI FLUIDA
Abstract
Hydrothermal activity in Kluwih, Tulakan Pacitan area East Java indicated by rock alteration zone, sulphide mineralization, and quatz vein NNE-SSW, NNW-SSE trend. Mineralization deposited at least in 6 stages, yaitu : 1st stage, pre mineralization deposited quatz (320°C), 2nd stage, deposited quartz + pyrite (290°C), 3rd stage, deposited quartz + pyrite + chalcopyrite + bornite ± galena ± sphalerite (260°C), 4th stage, deposited quartz + pyrite + cahalcopyrite + Tetrahedrite + bornite ± galena (220°C), 5th stage, deposited quartz + pyrite (200°C), and 6th stage or supergen stage, deposited secondary mineral (covellite, malachite, azurite) <100 °C. The hydrothermal system was able in Kluwih Pacitan and surrounding area interpreted as epithermal low suphidation system, or base metal horizon to precious metal horizon. Hydrothermal process initially by propilitic alteration and deposited of sulphides and quartz vein, then argilic alteration overprint both. Finally, surface erosion outcropted those deposits at surface.

Key words : hydrothermal, mineralization, sulphide ore, Pacitan
Downloads
Download data is not yet available.
References
Hass, J.L., 1971, The Effect of Salinity on the Maximum Thermal Gradient of a Hydrothermal System at Hydrostatic Pressure. Economic Geology, 66. p. 940-946.
Hedenquist, J.W., 1998. Hydrothermal Systems in Volcanic Arcs: Origin of and Exploration for Epithermal Gold Deposits. Lecture note of short course in Bandung. 141p
Kartawa, W., Bronto, S., Koswara A., dan Hardjono,T., 2005, Mineralisasi Tembaga, Timbal, dan Seng di Daerah Kecamatan Tulakan, Kabupaten Pacitan, Jawa Timur. Pusat Penelitian dan Pengembangan Geologi, Jl. Diponegoro 57 Bandung 40122, Tlp. 022 – 7203205, http://www.tekmira.esdm.go.id/publikasi/?p=228.
Putz, H., Paar W.H., and Topa, D., 2009, A contribution to the knowledge of the mineralization at mina Capillitas, Catamarca. Department of Materials Engineering and Physics (Division of Mineralogy), University of Salzburg, Austria, http : // www.scielo.org.ar / scielo.php?script=sci_arttext&pid=S0004-48222009000300015
Samodra, H., S. Gafoer and S.Tjokrosapoetro, 1992, Geological Map of Pacitan Quadrangle, Java, scale 1: 100000. Geological Research and Development Center, Bandung.
Sendjaja, P. Wahyono, 2007, Mineralisasi logam dasar Epitermal-Mesotermal di daerah Tulakan, Kabupaten Pacitan Jawa Timur, Publikasi Khusus, ISSN: 1852-873X , No. 33/ Vol. 2
Setiawan, I. 2008. Mineralisasi Hidrotermal di Daerah Pacitan dan Sekitarnya, Kabupaten Pacitan, Jawa Timur.Thesis, Institut Teknologi Bandung.
Sudarsono, Indarto, S., Setiawan, I., Fauzi, A., dan Listyowati, 2009, Model Genesa Mineralisasi Hidrotermal Daerah Pacitan, Jawa Timur, Prosiding Pemaparan Hasil Penelitian Puslit Geoteknologi Bandung, 3 Desember 2009, ISBN : 978-979-8636-16-5
Wamilta, G. E. 1998. Geologi dan Geokimia Batuan Terobosan Daerah Gunung Lima dan Sekitarnya, Kecamatan Kebonagung, Kabupaten Pacitan, Jawa Timur. Skripsi Tugas Akhir, Institut Teknologi Bandung.
White, N.C. and Hedenquist, J.W., 1995, Epithermal Gold Deposits : Styles, Characteristics And Exploration. Published in SEG Newsletter, 1995, No. 23, pp. 1, 9-13.
Widodo, W., Prapto, AS., dan Nursahan, I., 2006. Artikel : Inventarisasi dan Evaluasi Mineral Logam di Pegunungan Selatan Jawa Timur, Kabupaten Pacitan, Jawa Timur : Sub Dit. Mineral Logam.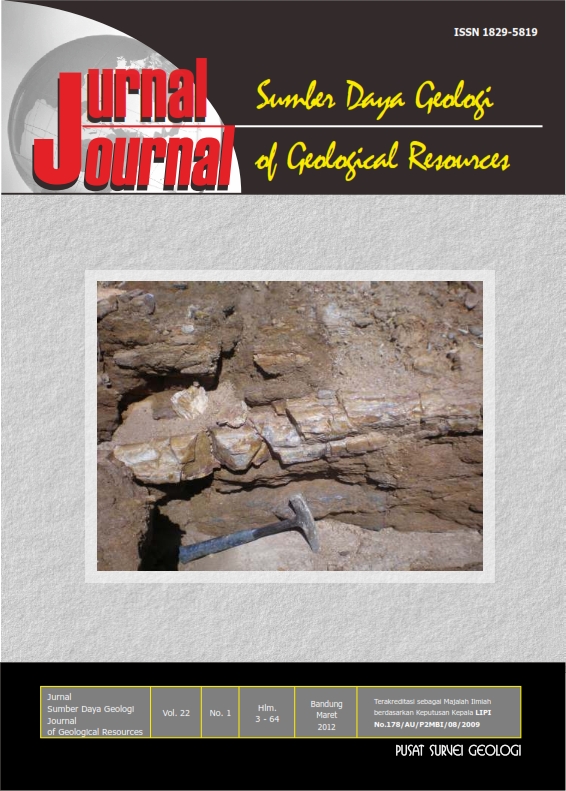 Downloads
License
Authors who publish articles in Jurnal Geologi dan Sumberdaya Mineral (JGSM.Geologi) agree to the following terms:
Authors retain copyright of the article and grant the journal right of first publication with the work simultaneously licensed under a CC-BY-NC or The Creative Commons Attribution–ShareAlike License.
Authors are able to enter into separate, additional contractual arrangements for the non-exclusive distribution of the journal's published version of the work (e.g., post it to an institutional repository or publish it in a book), with an acknowledgment of its initial publication in this journal.
Authors are permitted and encouraged to post their work online (e.g., in institutional repositories or on their website) prior to and during the submission process, as it can lead to productive exchanges, as well as earlier and greater citation of published work (See The Effect of Open Access)