FASIES KARBONAT FORMASI CAMPURDARAT DI DAERAH TULUNGAGUNG, JAWA TIMUR
Abstract
The Campurdarat Formation is one of the carbonate rocks exposed in the Tulungagung areas and its surrounding, East Java. Detail investigation for studying facies and sedimentation of this limestone has been conducted. The investigation include field investigation and laboratory method, consisting of petrography and micropaleontology. The result of petrographic analysis showed that the carbonate rocks in the area investigation can be divided into four types of facies such as packstone, floatstone, rudstone and boundstone. Packstone facies was deposited from the backreef – lagoon environment, floatstone facies in backreef and coral zones environments, rudstone facies in the reef zone environment and boundstone facies formed starting from the reef front - reef crest. The Campurdarat carbonate rocks are interpreted to represent a barrier – reef of Early Miocene age.

Key words : Campurdarat Formation , facies, carbonate, environment, sedimentation, reef, Tulungagung
Downloads
Download data is not yet available.
References
Adams, C.G., 1970, A Reconsideration of the East Indian Letter classification of The Tertiary, Bulletin of The British Museum (Natural History) Geology Vol. 19 No. 3 pp. 85-137.
Adams, C.G., 1984, Neogene larger foraminifera, evolutionary and geological events in the context of datum planes, p.47-68. In : Pasifics Neogene Datum Planes : 288 pp.
Dunham, R.J., 1962. Classification of carbonate rocks according to depositional texture. In: Ham, W.E, , Classification of carbonate rocks, AAPG Memoir 1.
Embry, A.F. and J.E.Klovan, 1971. A Late Devonian reef tract in northwestern banks island Northwest Territories, Canadian. Petroleum Geology Bulletin., v.19.
James, N.P., 1983. Reefs in: Carbonate depositional environment, Memoir of American Asociation of Petroleum Geologist. Memoir 33. p. 169-188.
Walker R.G., 1992. Facies Models, Geological Association of Canada p. 323-348.
Samodra, H., Gafoer S. & Tjokrosapoetro, S., 1992. Peta Geologi Lembar Tulungagung, Jawa, Skala 1 : 100.000. Pusat Penelitian dan Pengembangan Geologi.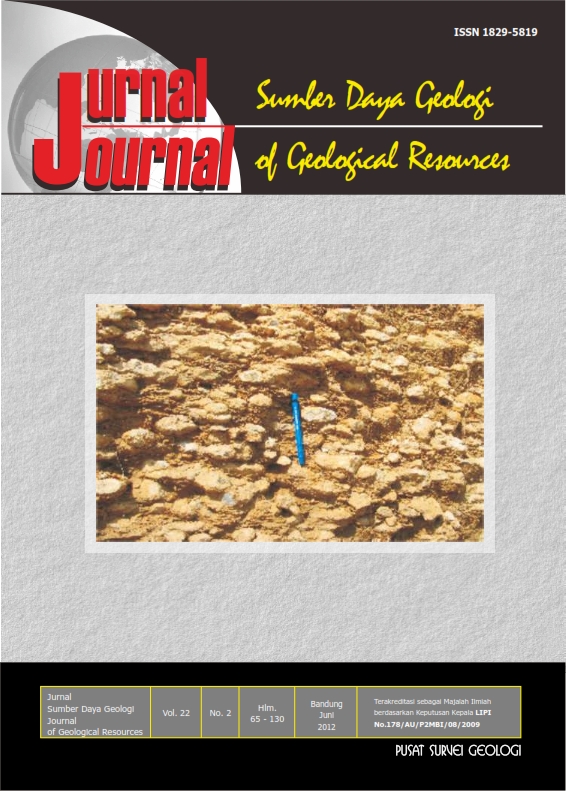 Downloads
License
Authors who publish articles in Jurnal Geologi dan Sumberdaya Mineral (JGSM.Geologi) agree to the following terms:
Authors retain copyright of the article and grant the journal right of first publication with the work simultaneously licensed under a CC-BY-NC or The Creative Commons Attribution–ShareAlike License.
Authors are able to enter into separate, additional contractual arrangements for the non-exclusive distribution of the journal's published version of the work (e.g., post it to an institutional repository or publish it in a book), with an acknowledgment of its initial publication in this journal.
Authors are permitted and encouraged to post their work online (e.g., in institutional repositories or on their website) prior to and during the submission process, as it can lead to productive exchanges, as well as earlier and greater citation of published work (See The Effect of Open Access)