MODEL DEFORMASI GETAS DI ZONA SESAR KALIGARANG, SEMARANG
Abstract
Tectonic activities in Semarang have resulted fault formations. A proper identification on faults and subsidiary structures will provide understanding on the kinematic and dynamic of the Kaligarang Fault. The Kaligarang Fault Zone has been formed since the Tertiary time with stress system orientation of σ1 = 37°, N158°E, σ2 =,45°, N12°E, σ3 = 30°, N244°E indicating left lateral displacement. Afterwards during Plio-Plestocene, the Kaligarang Fault Zone was reactivated with right lateral displacement as indicated by stress system orientation of σ1 = 51°, N185°E, σ2 = 30°, N205°E, σ3 = 8°, N275°E. Beside that, the linements at surroundings of the Kaligarang Fault have NEE-SWW until NWW-SEE directions. This structures were caused by the Unggaran activities.

Keywords: Kaligarang Fault, stress system, reactivated, left lateral right lateral
Downloads
Download data is not yet available.
References
Davison, I., 1994. Linked Fault Systems; Extensional, Strike Slip and Contractional Continnental Deformation. Pergamon Press.
Helmy, M., 2008. Kajian geologi dan neotektonik untuk melaraskan program pembangunan di wilayah Kota Semarang, Jawa Tengah. Laporan Penelitian Hibah Bersaing, UPN Veteran Yogyakarta (Tidak diterbitkan).
Poedjoprajitno, S., Wahyudiono, J., dan Cita, A., 2008. Reaktivasi Sesar Kali Garang, Semarang. Jurnal Geologi Indonesia Vol.3(3): 129-138.
Pramumijoyo, S., 2000. Existing active fault at Semarang, Central Java, Indonesia: Revealed by remote sensing and field observation. Proceeding of the HOKUDAN International Symposium and School on Active Faulting. Hyogo, Japan. pp. 383-385.
Sapii, B. dan Harsolumakso, A.H., 2008. Prinsip Dasar Geologi Struktur. Laboratorium Geologi Dinamik. Program studi Teknik Geologi, FITB-ITB (Tidak diterbitkan).
Simandjuntak, T.O., 2003. Atlas Geologi Indonesia. Pusat Penelitian dan Pengembangan Geologi, Bandung.
Thanden, RE., Sumadirdja, H., Richards, PW., Sutisna, K., dan Amin, TC., 1996. Peta Geologi Lembar Magelang dan Semarang, Jawa. Skala 1:100.000. Pusat Penelitian dan Pengembangan Geologi, Bandung.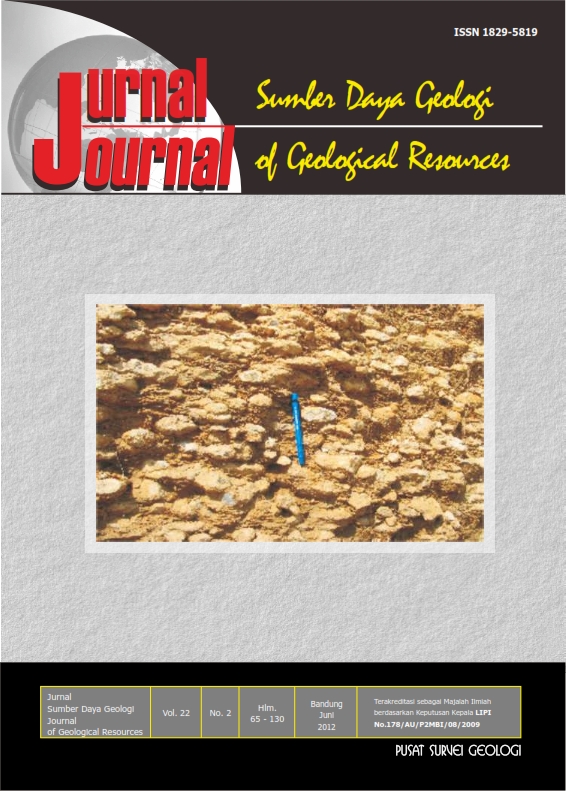 Downloads
License
Authors who publish articles in Jurnal Geologi dan Sumberdaya Mineral (JGSM.Geologi) agree to the following terms:
Authors retain copyright of the article and grant the journal right of first publication with the work simultaneously licensed under a CC-BY-NC or The Creative Commons Attribution–ShareAlike License.
Authors are able to enter into separate, additional contractual arrangements for the non-exclusive distribution of the journal's published version of the work (e.g., post it to an institutional repository or publish it in a book), with an acknowledgment of its initial publication in this journal.
Authors are permitted and encouraged to post their work online (e.g., in institutional repositories or on their website) prior to and during the submission process, as it can lead to productive exchanges, as well as earlier and greater citation of published work (See The Effect of Open Access)