Geokimia Batugamping Formasi Gumai dan Formasi Baturaja di Wilayah Muaradua, Ogan Komring Ulu Selatan, Provinsi Sumatera Selatan
Abstract
Formasi Gumai dan Formasi Baturaja merupakan dua dari beberapa satuan batuan yang terdiri dari batugamping di daerah Muaradua, Ogan Komring Ulu, Provinsi Sumatera Selatan. Komposisi geokimia merupakan sisi yang dibahas dalam penelitian ini pada kelompok batugamping dari Formasi Gumai dan Formasi Baturaja. Kadar oksida utama pada contoh diketahui menggunakan perangkat XRF, sedangkan unsur jarang dan unsur tanah jarang dengan ICP-MS. Bivariate plots, koefisien determinasi, dan pearson correlation coefficient dimanfaatkan untuk membedakan batugamping dari kedua unit batuan ini. Rataan unsur tanah jarang pada batugamping Formasi Baturaja (89,79 ppm) jauh lebih tinggi dari contoh yang sama dari Formasi Gumai (33,63 ppm). Melalui studi ini dapat disimpulkan bahwa kedua kelompok batugamping memiliki proses pembentukan berbeda. Formasi Baturaja lebih banyak dipengaruhi oleh bahan klastik dengan mengacu pada komposisi Al2O3, Fe2O3T, dan Er/Nd. Kondisi lingkungan lebih oksidatif pada batugamping Formasi Baturaja dikonfirmasi oleh anomali Ce. Pengaruh material terrigenous pada Formasi Baturaja dan Formasi Gumai dapat disimpulkan melalui perbandingan Y/Ho.
Downloads
Download data is not yet available.
References
Abedini, A. and Calagari, A.A., 2015. Rare earth element geochemistry of the Upper Permian limestone: the Kanigorgeh mining district, NW Iran. Turkish Journal of Earth Sciences, v.24: 365-382.
Akarish, A.I.M. and el-Gohari, A.M., 2011. Provenance dan Source Area Weathering Derived from the Geochemistry of Pre-Cenomanian Sandstones, East Sinai, Egypt. Journal of Applied Sciences, v.11, no.17:.3070-3088.
Cahyono, E.B. dan Radja, M., 2001. Survai Tinjau Batubara Daerah Kotanegara Kabupaten OKU, Provinsi Sumatera Selatan. Hasil Kegiatan DIM Tahun 2001.
Castor, S.B. and Hedrick, L.B., 2006, Rare earth elements; in Kogel, J.E, Trivedi, N.C., Barker, J.M., and Krukowski, S.T., Eds., Industrial Minerals v.7: Society for Mining, Metallurgy, and Exploration, Littleton, Colorado: 769-792
Chen, L., Lin, A.T.S., Da, X., Yi, H., Tsai, L.L.Y. and Xu, G., 2012. Sea-Level Changes Recorded by Cerium Anomalies in The Late Jurassic (Tithonian) Black Rock Series of Qiantang Basin, North-Central Tibet. Oil Shale, v.29, no.1: 18-35.
Dolenec, T. and Lojen, S., 2000. Ce anomaly at Permian-Triassic boundary in the Idrijca Valley as evidence of changing redox condition at the P/Tr transition in the western Tethys (Slovenia). Geologija, v.43, no.1: 103-107.
Gafoer, S., Amin, T.C. dan Pardede, R., 1994. Geologi Lembar Baturaja, Sumatera Skala 1:250.000. Pusat Penelitian dan Pengembangan Geologi, Bandung
Garasic, V. and Jurkovic, I., 2012. Geochemical characteristics of different iron ore types from the Southern Tomašica deposit, Ljubija, NW Bosnia. Geologia Croatica, v. 65, no.2: 255–270
Heiri, O., Lotter, A.F. and Lemcke, G., 2001. Loss on ignition as a method for estimating organic and carbonate content in sediments: reproducibility and comparability of results. Journal of Paleolimnology, v.25: 101–110
Hermiyanto, M.H. and Ningrum, N.S., 2009. Organic petrology and Rock-Eval characteristics in selected surficial samples of the Tertiary Formation, South Sumatra Basin. Jurnal Geologi Indonesia, v.4, no. 3: 215-227
Hua, G., Yuansheng, D., Lian, Z., Jianghai, Y. and Hu, H., 2013. Trace and rare earth elemental geochemistry of carbonate succession in the Middle Gaoyuzhuang Formation, Pingquan Section: Implications for Early Mesoproterozoic ocean redox conditions. Journal of Palaeogeography, v.2, no.2: 209-221.
Komar, D., Šmuc, N.R., Belak, Z.L., Matešić, S.S., Lojen, S., Kniewald, G., Vrhovnik, P., Dolenec, T., and Dolenec, M., 2014. Geochemical Characteristics and Distribution of Rare Earth Elements in Makirina Bay Sediments (N. Dalmatia, Republic of Croatia). Geologica Macedonica, v.28, no.2: 127–137
Madhavaraju, J. and Lee, Y., 2009. Geochemistry of the Dalmiapuram Formation of the Uttatur Group (Early Cretaceous), Cauvery basin, southeastern India: implications on provenance and paleo-redox conditions. Revista Mexicana de Ciencias Geológicas, v.26, no.2: 380–394
Madhavaraju, J. and Gonzalez-Leon, C.M., 2012. Depositional conditions and source of rare earth elements in carbonate strata of the Aptian-Albian Mural Formation, Pitaycachi section, northeastern Sonora, Mexico. Revista Mexicana de Ciencias Geologicas, v.29, no.2: h.478-491.
Maryanto, S., 2005. Sedimentologi Batuan Karbonat Tersier Formasi Baturaja di Lintasan Air Napalan, Baturaja, Sumatera Selatan. Jurnal Sumber Daya geologi, v. 15, no.1: 83-101.
Maryanto, S., Polhaupessy, A.A., Rachmansjah, dan Limbong, A., 2005. Laporan Akhir Penelitian Reservoir Batuan Karbonat Formasi Baturaja di Daerah Muaradua, Sumatera Selatan. Laporan Teknis Intern Pusat Penelitian dan Pengembangan Geologi, Bandung. Tidak terbit.
Maryanto, S., 2008. Hubungan Antarkomponen Microfacies Lereng Terumbu dan Cekungan Lokal Terumbu Belakang Batugamping Formasi Baturaja di Daerah sekitar Muaradua, Sumatera Selatan. Jurnal Sumber Daya Geologi, v.18, no.2: 107-120
Maryanto, S., 2014. Limestone Microfacies of Baturaja Formation along Air Rambangnia Traverse, South OKU, South Sumatra. Indonesia Journal on Geoscience, v.1, no.1: 21-34.
Nagarajan, R., Madhavaraju, J., Nagendra, R., Armstrong-Altrin, and J.S., Moutte, J., 2007. Geochemistry of Neoproterozoic shales of the Rabanpalli Formation, Bhima Basin, Northern Karnataka, southern India: implications for provenance and paleoredox conditions. Revista Mexicana de Ciencias Geologicas, v.24, no.2: 150-160.
Nagendra, R., Nagarajan, R., Bakkiaraj, D. and Armstrong-Altrin, J.S., 2011. Depositional and post-depositional setting of Maastrichtian limestone, Ariyalur Group, Cauvery Basin, South India: a geochemical appraisal. Carbonates Evaporites, v.26: 127–147
Papastergios, G., Georgakopoulos, A., Fernandez–Turiel, J.L. and Gimeno, D., 2009. A Correlation Study of Majo and Trace Elements in Sediment of River Nestos, Northern Greece and Comparison with Other Fluvial System. International Multidisciplinary Scientific GeoConference SGEM: 431-438.
Sholkovitz, E.R. and Schneider, D.L., 1991. Cerium redox cycles and rare earth elements in the Sargasso Sea. Geochimica et Cosmochimica Acta, v.55: 2737-2743
Taylor S. R. and McLennan S. M., 1985. The Continental Crust: Its Composition and Evolution. Blackwell, Oxford, ISBN-13: 978-0632011483, h.312
Tanaka, K., Miura, N., Asahara, Y. And Kawabe, I., 2003. Rare earth element and strontium isotopic study of seamount-type limestones in Mesozoic accretionary complex of Southern Chichibu Terrane, central Japan: Implication for incorporation process of seawater REE into limestones. Geochemical Journal, v. 37: 163-180.
Wilson, M.E.J. dan Rosen, B.R., 1998. Implications of paucity of corals in the Paleogene of SE Asia: plate tectonics or centre of origin? in: Hall RH (ed) Biogeography and geological evolution of SE Asia. Backbuys Publishers, Leiden: 165–195
Zhou, H., Wang, Q., Zhao, J., Zheng, L., Guan, H., Feng, Y. and Greig, A., 2008. Rare earth elements and yttrium in a stalagmite from Central China and potential paleoclimatic implications. Palaeogeography, Palaeoclimatology, Palaeoecology, v.270: 128–138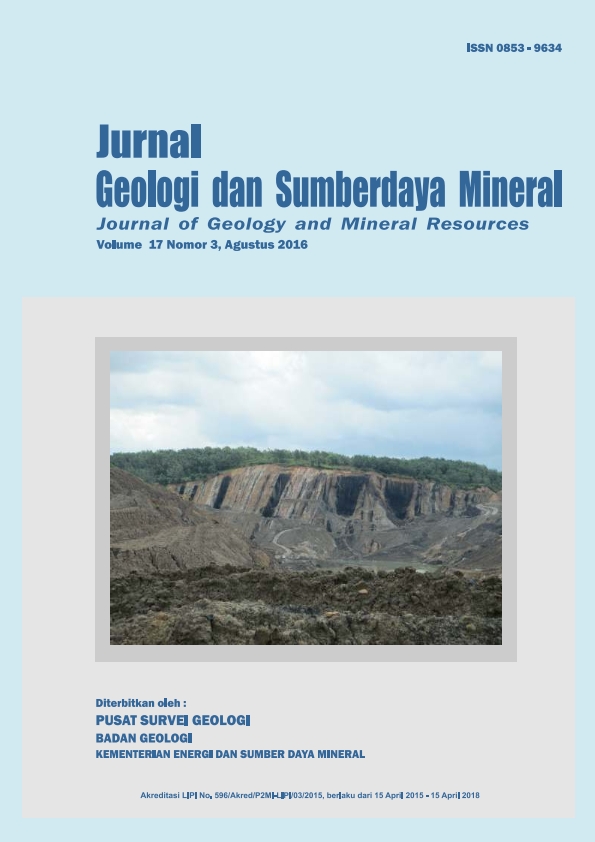 Downloads
License
Authors who publish articles in Jurnal Geologi dan Sumberdaya Mineral (JGSM.Geologi) agree to the following terms:
Authors retain copyright of the article and grant the journal right of first publication with the work simultaneously licensed under a CC-BY-NC or The Creative Commons Attribution–ShareAlike License.
Authors are able to enter into separate, additional contractual arrangements for the non-exclusive distribution of the journal's published version of the work (e.g., post it to an institutional repository or publish it in a book), with an acknowledgment of its initial publication in this journal.
Authors are permitted and encouraged to post their work online (e.g., in institutional repositories or on their website) prior to and during the submission process, as it can lead to productive exchanges, as well as earlier and greater citation of published work (See The Effect of Open Access)