KARAKTERISTIK INKLUSI FLUIDA DALAM MINERALISASI EMAS DI DAERAH LUMBAN JULU, TOBASA, SUMATRA UTARA
Abstract
Fluid inclusions study have been conducted in the Lumban Julu area, Tobasa Residence, North Sumatra Province, in the frame work research of programs on metallogeny in the Bukit Barisan zone, North Sumatra segment. Samples analyzed are derived from quartz veins associated with gold mineralization. Metal content of the veins are 12 -131 ppm Cu, 13 - 495 ppm Pb, 8-183 ppm Zn, 2-407 ppm Ag and 0,01-1,85 ppm Au. These quartz veins are milky-white to transparent, prismatic shape and crustiform banding, colloform in texture, containing quartz and several other minerals such as chlorite, clay, epidote and opaque. Fluid inclusions within the quartz host form negative crystals, made up of two components (bi-phase) consisted of liquid and vapor. The liquid phases consist of primary and secondary inclusions and occur within quartz crystal and fractured zone. Liquid Fluid inclusion measurement shows that homogenization temperature can be divided into high-T (326 to >400°C) and low-T (135-262)°C. This hydrothermal fluid is rich in water with low salinity (- 0.28 – (- 1.36) % NaCl equivalent). The data confirm that boiling processes took place when mineral was deposited. Therefore, it is concluded that mineralization processes in the area comprise two systems of mineral depositions, firstly associated with high-T with mesothermal system at ± 1600 m depth and the second one associated with ephythermal system at ± 550 m depth.

Key word: fluid inclusion, quartz, epithermal, Tobasa
Downloads
Download data is not yet available.
References
Aspden, J.A., Kartawa, W., Aldiss, D.T.,Djunuddin, A., Whandoyo, R., Diatma, D., Clarke, M.C.G. and Harahap, H., 1982. Geologic map of the Padangsidempuan and Sibolga Quadrangle, Sumatra. Geological Research and Development Centre Bandung.
Brian, L., Martin, J. and Bronto, S., 2004. The Purnama gold deposit in the Martabe District of North Sumatra, Indonesia. Dalam persiapan. Laporan Internal PT. Horas Nauli. Tidak terbit.
Bodnar, R.J., 1985. Fluid inclusion systematics in epithermal systems, in: Geology and Geochemistry of epithermal systems, Reviews In Economic Geology, Vol 2, 73- 96.
Clarke, M.C.G., Ghazali, S.A., Harahap, H., Kusyono and Stephenson., 1982. Geologic map of the Pematangsiantar Quadrangle, Sumatra. Geological Research and Development Centre Bandung.
Drummond, S.E. and Ohmoto, H., 1985. Chemical evolution and mineral deposition in boiling hydrothermal systems. Economic Geology, v.80, 126-147.
Hass, J.L., 1971. The effect of salinity on the maximum thermal gradient of a hydrothermal system at hydrostatic pressure. Economic Geology, 66: 940-946.
Henley, R.W., 1985. Ore transportation and deposition in epithermal environments. Proceeding Symposium on stable and fluid processes in mineralization. Geol. Soc. Aust. Spec. Publ. 33h.
Kamili, R.J. and Ohmoto, H., 1977. Paragenesis, zoning, fluid inclusion, and isotopic studies of the Finlandia Vein, Colquis district, central Peru: Economic Geology, 72: 950-982.
Roedder, E., 1984. Fluid Inclusions: Reviews in Mineralogy. Mineralogical Society of America, vol. 12, 644p.
Shepherd, T. J., 1985. A practical guide for fluid inclusion studies. Blackie and Son Limited. Bishopbriggs. Glasgow G64 2NZ. Furnival House, 14-18 High Holbon, London WCIV 6BX, 239pp.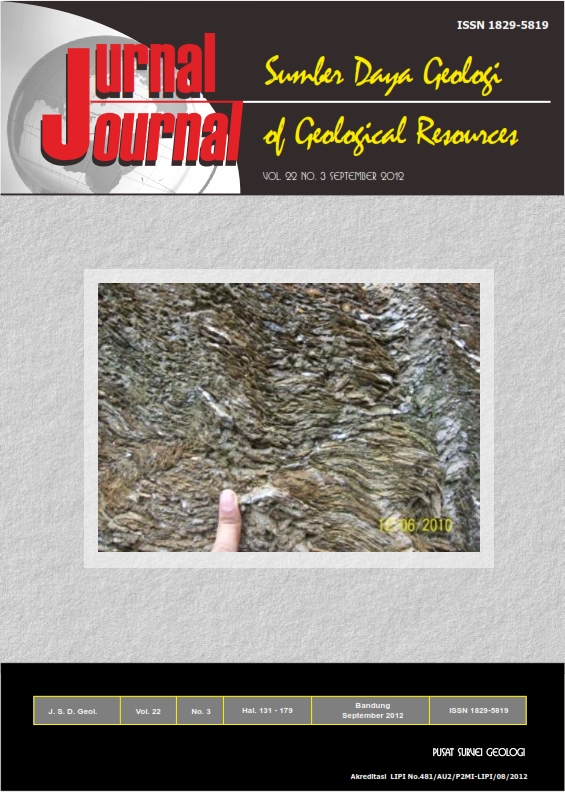 Downloads
License
Authors who publish articles in Jurnal Geologi dan Sumberdaya Mineral (JGSM.Geologi) agree to the following terms:
Authors retain copyright of the article and grant the journal right of first publication with the work simultaneously licensed under a CC-BY-NC or The Creative Commons Attribution–ShareAlike License.
Authors are able to enter into separate, additional contractual arrangements for the non-exclusive distribution of the journal's published version of the work (e.g., post it to an institutional repository or publish it in a book), with an acknowledgment of its initial publication in this journal.
Authors are permitted and encouraged to post their work online (e.g., in institutional repositories or on their website) prior to and during the submission process, as it can lead to productive exchanges, as well as earlier and greater citation of published work (See The Effect of Open Access)