PERHITUNGAN VOLUME HIDROKARBON BERDASARKAN DATA GEOKIMIA PADA LAPISAN SERPIH FORMASI SINAMAR, SUMATRA
Abstract
Research area located at northwestern part of South Sumatra Basin, occupies 8% of the  total distribution of Sinamar Formation. The Oligocene Sinamar Formation consists of shale, claystone, mudstone, sandstone, conglomeratic sandstone, and intercalation of coal seams. This research was focused on fine clastic sediments of the Sinamar Formation, such as shale, claystone, and mudstone. Based on the analysis results of source rock richness and maturity, shale of the Sinamar Formation has a good to excellent degree of richness (2% - 10%) as a source rock. The shale of Sinamar Formation tends  to produce oil derived from type I kerogen (HI > 600 mg HC/TOC). If the shale of Sinamar Formation has an adequate maturity it will produce oil around 5.02 million barrels, while from the total shale of Sinamar Formation approximately 6.08 billion barrels.
Keywords : Sinamar Formation, TOC, HI, kerogen type, Rock-Eval pirolysis, hydrocarbon
Downloads
Download data is not yet available.
References
De Coster, G.L., 1974. The Geology of the Central and South Sumatera Basins. Proceedings of Indonesian Petroleum Assosiation 3th Annual Convention, 77-110.
Hermiyanto, M.H., 2010. Karakteristik Batuan Sedimen Halus Formasi Sinamar Untuk Mengetahui Potensinya Sebagai Batuan Induk Di Daerah Muara Bungo, Jambi. Tesis Institut Teknologi Bandung, 49.
Pulunggono, A. dan Cameron, N.R., 1984. Sumateran Microplates, their characteristics and their role in the evolution of the Central and South Sumatera Basins, Proceedings of Indonesian Petroleum Association 13th Annual Convention, Jakarta, 121-144.
Pulunggono, A. Agus Haryo, S., dan Kosuma, C.G., 1992. Pre-Tertiary and Tertiary Fault System As a Framework of the South Sumatra Basin: A strudy of SAR MAPS, Proceedings of Indonesian Petroleum Association, 21St Annual Convention, Jakarta, 339-360.
Rosidi, H.M.D., Tjokrosaputro, S., B. Pendowo, S. Gafoer dan Suharsono., 1996. Peta Geologi Lembar Painan dan bagian Timurlaut Lembar Muarasiberut, Sumatera, sekala 1:250.000. Pusat Penelitian dan Pengembangan Geologi, Bandung.
Suryana, A., 2007. Inventarisasi Endapan Bitumen Padat Dengan Outcrop Drilling di Daerah Sungai Rumbia Dan Sekitarnya Kabupaten Bungo, Provinsi Jambi (Lembar Peta : 0814-61), Pusat Sumberdaya Geologi (PMG), Bandung.
Waples, D.W., 1985. Geochemistry in Petroleum Exploration, International Human Resources Development Corporation, Boston.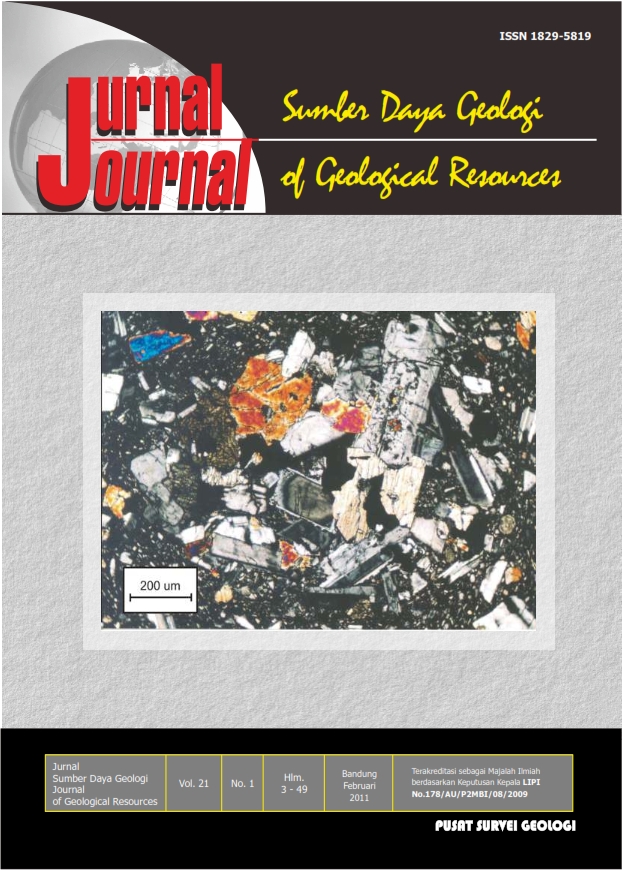 Downloads
License
Authors who publish articles in Jurnal Geologi dan Sumberdaya Mineral (JGSM.Geologi) agree to the following terms:
Authors retain copyright of the article and grant the journal right of first publication with the work simultaneously licensed under a CC-BY-NC or The Creative Commons Attribution–ShareAlike License.
Authors are able to enter into separate, additional contractual arrangements for the non-exclusive distribution of the journal's published version of the work (e.g., post it to an institutional repository or publish it in a book), with an acknowledgment of its initial publication in this journal.
Authors are permitted and encouraged to post their work online (e.g., in institutional repositories or on their website) prior to and during the submission process, as it can lead to productive exchanges, as well as earlier and greater citation of published work (See The Effect of Open Access)