SEDIMENTOLOGI DAN STRATIGRAFI ENDAPAN SUNGAI CITARUM DI WILAYAH PERALIHAN MORFOLOGI PEGUNUNGAN DAN DATARAN TINGGI BANDUNG ANTARA DESA CIKAWAO DAN DESA NAGRAK (KEC. PACET) DAN DESA SUKAMAJU (KEC. MAJALAYA), KAB. BANDUNG
Abstract
Citarum River deposits, which located at near Cikawao and Nagrag villages (Sub-district of Pacet) and Sukamaju village (Sub-district of Majalaya), Bandung District, consist of cobbles to boulders, sands to pebbles, sands, and clays. The research was carried by analysed sedimentology and stratigraphy of five vertical profiles with 1:20 scales, and the thickness of sediments vary from 1.6 to 4,0 m. Base on correlation, the sediment bodies can be devided into three Interval of Deposition Periods (IPP A to C), and ten of Sub-Interval of Deposition Periods (Sub-IPP A.1 to C.3).The lateral changes of sediments represented by each Sub-IPP, interpreted as result of internal processes such as morphology, energy, and flow. Vertically, changes of sediments that form nine steps of cobble to boulder resulted from the change of flow systems following climate change . It is understood that, the period of energy and flows correlate with climatic changes.

Keywords: River channel, morphology, energy and flows, climate
Downloads
Download data is not yet available.
References
Alzwar, M., Akbar, N., dan Bachri, S., 1992. Peta Geologi Lembar Garut dan Pameungpeuk , Jawa, skala 1:100.000. Pusat Penelitian dan Pengembangan Geologi, Bandung.
Benda, L., 1990. The influence of Debris Flows on Channels and Valley floors in the region Coast range, USA. Earth Surface Processes and Landforms, 15: 457-466.
Chin, A., 1988. On the stability of step-pool mountain streams. The Journal of Geology, 106: 59-69.
Chin, A., 1989. Step-pools in stream channels. Progres in Physical Geograqphy, 13 (3) : 391-408.
Chin, A., 2002. The priodic nature of steep-pool Mountain streams. Journal of Science, 302: 144-167.
Finzel, S.F., and McCarthy, P.J., 2005. Architectural analysis of fluvial conglomerate in the Nunushuk Formation, Brook Range Foothills, Alaska; Preliminary interpretive report 2005-2, State of Alaska, Departement of Natural Resources: 18pp, 42005 bytes; http://www.dggs.alaska.gov./ webpubs/dggs/pir/text/pir.2005_002.PDF.
Furbish, D.J., 1998. Irregular bed forms in steep, rough channels. 1. Stability Analysis. Water Resources Research, 34 (12): 3635-3648.
Grant, G.E., Swanson, F.J., and Wolman, M.G., 1990. Pattern and origin of stepped-bed morphology in high gradient streams, Western Cascades, Oregon. Geological Society of America Bulletin, 202: 340-352.
Kondolf, G.M., 1997. Profile Hungry water: Effects of Dams and Gravel Mining on River channels. Environmental Management, 21 (4): 533-551.
Lindsey, K.A., and Gaylord, D.R., 1990. Lithofacies and Sedimentology of the Miocene-Pliocene Ringold Formation, Hanford Site, South-Central Washington. Northwest Science, 64 (3): 165-180.
Miall, A.D., 1978. Facies type and vertical profile models in braided river deposits: a summary. In: Miall, A.D. (Ed), Fluvial Sedimentology, Canadian Society of petroleum Geologist, Memoir 5: 597-604.
Miall, A.D., 1992. Alluvial Deposits. In: Walker, R.G. and James, N.P. (Eds.), Facies Models response to sea level change. Geological Association of Canada: 119-142.
Montgomery, D.R., and Buffington, J.M/. 1997. Channel-reach morphology in mountain drainage basins. Geological Society of America Bulletin, 109: 596-611.
Nakamura, F., and Swanson, F., 1993. Effects of coarsewoody debris on morphology and sediment storage of a mountain stream system in western Oregon. Earth Surface Processes and Landforms, 18: 43-61.
Perlmutter, M.A., and Matthews., 1989. Global Cyclostratigraphy. In: Cross, T.A. (Ed), Quantitative Dynamic Stratigraphy.Prentice Englewood, New Yersey: 233-260.
Ramos, A., and Sopeña, A., 1983. Gravel bars in low sinuosity streams (Permian and Triassic, central Spain). In: Collinson, J.D., and Lewin, J. (Eds.), Modern and ancient fluvial systems, Special Publication of the International Association of Sedimentologist, 6: 301-312.
Schmidt, K.,H., and Ergenzinger, P., 1992. Bedload entrainment, travel lengths, step-lengths, rest periods-studied with passive (iron, magnetic) and active (radio) tracer techniques. Earth Surface Processes and Landforms, 17: 147-165.
Whittaker, J.G., 1987. Sediment transport in step-pool stream. In: Thorne, C.R., Bathust, J.C., and Hey, R.D. (Eds), Sediment transport in gravel-bed rivers. Chicchester, willey: 545-773.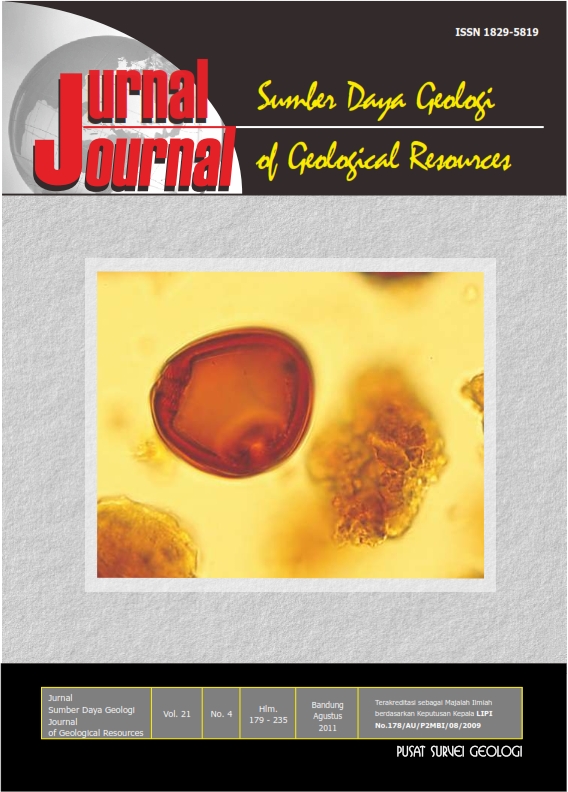 Downloads
License
Authors who publish articles in Jurnal Geologi dan Sumberdaya Mineral (JGSM.Geologi) agree to the following terms:
Authors retain copyright of the article and grant the journal right of first publication with the work simultaneously licensed under a CC-BY-NC or The Creative Commons Attribution–ShareAlike License.
Authors are able to enter into separate, additional contractual arrangements for the non-exclusive distribution of the journal's published version of the work (e.g., post it to an institutional repository or publish it in a book), with an acknowledgment of its initial publication in this journal.
Authors are permitted and encouraged to post their work online (e.g., in institutional repositories or on their website) prior to and during the submission process, as it can lead to productive exchanges, as well as earlier and greater citation of published work (See The Effect of Open Access)