TECTONIC RIFTING OF UPPER PALEOZOIC – MESOZOIC INTRA-CRATONIC BASINS IN THE SOUTHEASTERN GONDWANALAND AND ITS ECONOMIC ASPECTS: with refference to the Geology of North Sumatra and West Australia
Abstract
Lower Permian fluvio – marine glacial sediments of intracratonic basins of West Australia and these of North Sumatera, West Indonesia in addition paleomagnetic data indicate that the paleo position of all basins were probably in the Southeastern part of Gondwanaland. These are also evidence that during Permian, glaciation had been widespread occur in the part of the land. The occurence of ultrapotassic rocks comprising Permian – Triassic A-type granite (An orogenic-type granite) in north Sumatera terrain and feldspatoid bearing subvolcanics of the Canning Basin, West Australia suggests that a tectonic rifting happened during the time period in the part of that stable continental plate and give way for magmatic emplacemet from lower to upper crusts. Perhaps this rifting had also related to a convergent activity during that time in which proto Pacific Plate move westward and collided or subducted into the eastern part of proto Australia continent moving eastwards and eventually form a Permian-Triassic mobile belt along Eastern Australia known as Tasman mobile belt.

Key word: tectonic rifting, intra-cratonic basin, Gondwanaland, Permian – Triassic, North Sumatra, West Australia.
Downloads
Download data is not yet available.
References
Amiruddin, 2009. A Review on Permian to Triassic Active or Convergent Margin in Southeasternmost Gondwanaland: Possibility of Exploration Target for Tin and Hydrocarbon Deposit in the Eastern Indonesia, Journal of Geology, vol. 4, no. 1, p. 31-41.
Aspden J.A., Kartawa. W., Aldis D.T., Djunuddin A., Diatma D., Clarke M.C.G., Whandoyo R. and Harahap.H., 1982. Geologic Map of The Padangsidempuan and Sibolga Quadrangles, Sumatera, scale 1:250,000. Geological Research and Development Centre, Bandung. Indonesia.
Audley-Charles M.G. 1983, Recontruction of eastern Gondwanaland. Nature, Vol 306. pp. 48-49.
Cameron, N.R., Clarke M.C.G., Aldiss, J.A. Aspden, and Djunuddin A., 1980. The Geological Evolution of Northeren Sumatera. Proc. 9th Ann. Conv. IPA, May, Jakarta, p. 149-187.
Coleman P.J., 1957. Permian Productacea of Western Australia. Bulletin No. 40, BMR, Geology and Geophysics.
Condon M.A., Johnstone D. and Perry W.J., 1953. The Cave Range Structure Western Australia, Bulletin no 21, BMR, Geology and Geophysics.
Foley S. and Peccerillo A., 1992. Potassic and ultrapotassic magmas and their origin, Lithos, v.28, p. 181-185.
Guppy D.J., Lindner, A.W., Rattigan, J.H. and Casey J.N., 1958. The Geology of the Fitzroy Basin, Western Australia. Bulletin No. 36, BMR, Geology and Geophysics.
Haq, B.U, von Rad U., et.al., 1990. Summary and Highlights of Leg 122., Proc. ODP, Init. Repts., 122; Colleg Station, TX (Ocean Drilling Program).
Kazmin V.G., 1991. Collision and rifting in the Thethys Ocean: geodynamic implication. Tectonophysics, Vol. 196, p. 371-384.
Metcalfe I., 1993. Southeast Asian Terranes: Gondwanaland origins and evolution. In: Findlay, R.H., Unrug, R., Banks, B.R. and Veevers, J.J. (eds) Gondwana & Assembly, Evolution, and Dipersal ( Proceedings 8th Gondwana Symposium, Hobart.,119) pp.181—200. A.A. Balkema, Roterdam.
Nishimura S. and Suparka S., 1997. Tectonic approach to the Neogene evolution of Pacific-Indian Ocean seaways. Tectonophysics 281, p 1-16.
Palfreyman W.D., 1984. Guide to the geology of Australia. Bulletin 181. Bureau of Mineral Resources, Geology and Geophysics, Australian Government Publishing Service, Canberra.
Smith, A.G. and Hallam, A., 1970. Nature, 139: 225.
Subandrio A.S. and Suparka M.E., 1994. Petrology and Geochemistry of Sibolga A-type Granitoid, North Sumatera – Indonesia. Proceedings, Pertemuan Ilmiah Tahunan XXIII Ikatan Akhli Geologi Indonesia.
Suwarna N., Budhitrisna T., Santosa S., dan Andi Mangga S., 1991. Geologi Lembar Rengat, sekala 1:250,000.Puslitbang Geologi, Bandung.
Surono, Suwarna N. dan Andimangga S., 1999. Batulumpur Kerakalan pada Formasi Mentulu, Pegunungan Tigapuluh, Suamtera,. Journal of Geology and Mineral Resources, No. 98, Vol.IX, p 2-7.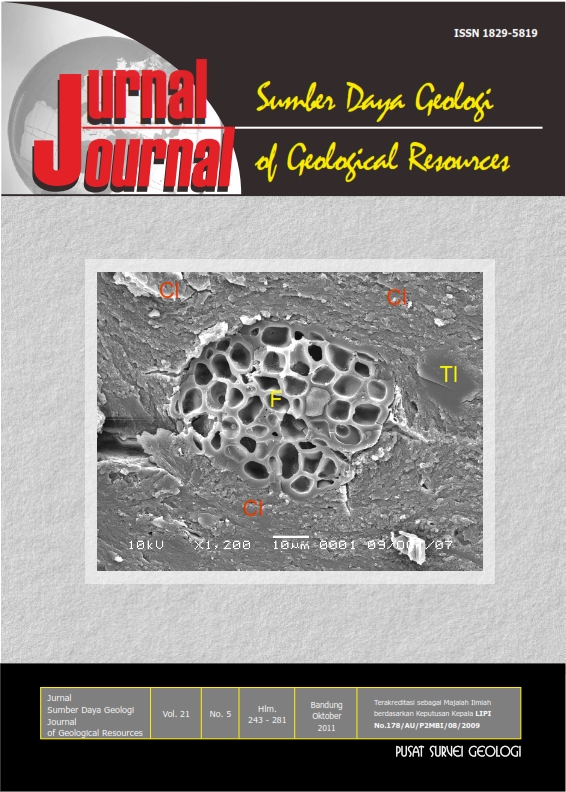 Downloads
License
Authors who publish articles in Jurnal Geologi dan Sumberdaya Mineral (JGSM.Geologi) agree to the following terms:
Authors retain copyright of the article and grant the journal right of first publication with the work simultaneously licensed under a CC-BY-NC or The Creative Commons Attribution–ShareAlike License.
Authors are able to enter into separate, additional contractual arrangements for the non-exclusive distribution of the journal's published version of the work (e.g., post it to an institutional repository or publish it in a book), with an acknowledgment of its initial publication in this journal.
Authors are permitted and encouraged to post their work online (e.g., in institutional repositories or on their website) prior to and during the submission process, as it can lead to productive exchanges, as well as earlier and greater citation of published work (See The Effect of Open Access)