PEMATANG PANTAI PURBA SEBAGAI PERANGKAP GAS BIOGENIK DI PESISIR INDRAMAYU PROVINSI JAWA BARAT SUATU KAJIAN PENDAHULUAN
Abstract
Biogenic gas potency in Indramayu coastal area had been studied by coastal characteristic mapping, soft sediment sampling using specially designed gravity corer and information of gas seeps from local people. The preliminary study was carried out through gatherings of secondary data from many sources which meant to better understand the forms of paleo-dunes in coastal zone of Indramayu surround Cimanuk River deltaic system that already buried subsurface. The study found out that this alternative gas potency is trapped within paleo-beach sand in Indramayu coastal zone. The study also found that the buried beach sand at southeast of Cimanuk River delta's system parallel to northwest-southeast orientation of recent coastline is bearing biogenic gas potency. Based on field observation, the locations of gas seeps take place on the beach sand mentioned. The study also performed utilization of biogenic gas by community south of Indramayu.

Key words: paleo-coastal dune, biogenic gas trap, Indramayu coastal zone.
Downloads
Download data is not yet available.
References
Achdan, A. dan Sudana, D. 1992, Peta Geologi Lembar Indramayu, Jawa, skala 1:100.000. Pusat Penelitian dan Pengembangan Geologi, Bandung.
Hu G.Y., Luo X., Li Z.S., Zhang Y., Yang C., Li J., Ni Y.Y. and Tao X.W., 2010, Geochemical characteristics and origin of light hydrocarbons in biogenic gas. SCIENCE CHINA Earth Sciences June 2010 Vol.53 No.6: 832–843.
Ilahude, D. dan Usman, E., 2009, Pendekatan secara empirik terhadap gejala perubahan garis pantai daerah Indramayu dan sekitarnya. Jurnal Geologi Kelautan, Vol. 7, No. 2, Agustus 2009, h. 97-108.
Krithika, K., Purvaja, R. and Ramesh, R., 2008, Fluxes of methane and nitrous oxide from an Indian mangrove, Current Science, Vol. 94, No. 2, 25 January 2008, pdf online.
Kurnio, H. dan Naibaho, T., 2009, Potensi Gas Biogenik di Pesisir Indramayu. Prosiding Hasil Litbang Geologi Kelautan 2009, h. 15-21.
Lubis, S., 2006, Semburan Gas Di Sawah Dan Rawa: Fenomena Geologi Yang Membawa Musibah Atau Berkah ? Puslitbang Geologi Kelautan Balitbang ESDM, artikel pdf on-line.
Rimbaman, Sumanang, A. Dan Siregar, D.A., 2002, Peta Geologi Kuarter Lembar Eretan, Jawa. Puslitbang Geologi, terbit.
Rice, D.D. and Claypool, G.E., 1981, Generation, Accumulation, and Resource Potential of Biogenic Gas. AAPG Bulletin Vol. 65, No. 1, pp. 5-25.
Shurr, G.W. and Ridgley, J.L., 2002, Unconventional shallow biogenic gas systems, AAPG Bulletin, Volume 86, Issue 11, pp. 1939 - 1969.
Subroto, E.A., Afriatno, B.Y. and Sumintadireja, P., 2007. Prediction of the Biogenic Gas Occurrences in Indonesia based on studies in East Java and Tomori (Central Sulawesi). Journal of JTM Vol. XIV No.3, pp. 115-124.
(www.unu.edu)
Voris, H.K., 2000, Maps of Pleistocene sea levels in Southeast Asia: shorelines, river systems and time durations. Journal of Biogeography, vol.27, pp.1153-1167.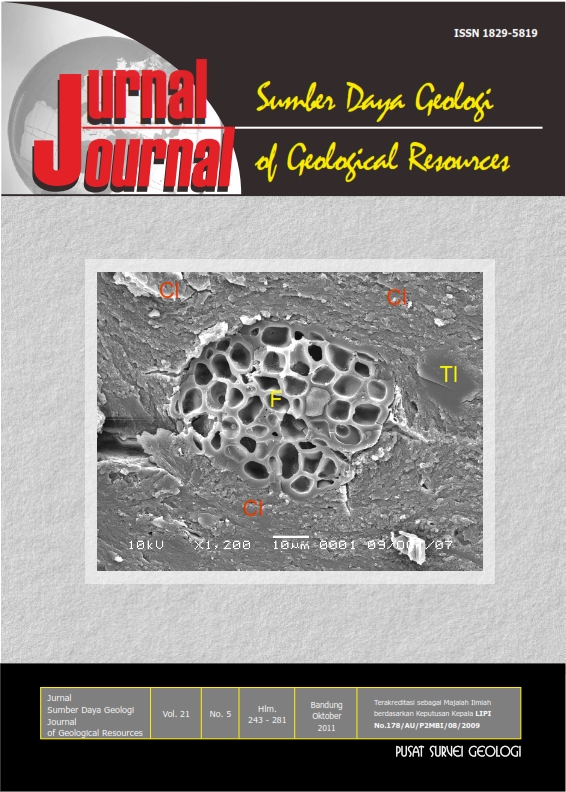 Downloads
License
Authors who publish articles in Jurnal Geologi dan Sumberdaya Mineral (JGSM.Geologi) agree to the following terms:
Authors retain copyright of the article and grant the journal right of first publication with the work simultaneously licensed under a CC-BY-NC or The Creative Commons Attribution–ShareAlike License.
Authors are able to enter into separate, additional contractual arrangements for the non-exclusive distribution of the journal's published version of the work (e.g., post it to an institutional repository or publish it in a book), with an acknowledgment of its initial publication in this journal.
Authors are permitted and encouraged to post their work online (e.g., in institutional repositories or on their website) prior to and during the submission process, as it can lead to productive exchanges, as well as earlier and greater citation of published work (See The Effect of Open Access)