DINAMIKA BENTANG ALAM DAN PENGARUHNYA TERHADAP ASPEK FISIK LAHAN DAERAH SOLOK –SINGKARAK, PROVINSI SUMATRA BARAT
Abstract
The investigated area of Singkarak and surrounding areas belong to Median Graben at Sumatra Fault Zone. Danau Singkarak is one of the bigest lake in west Sumatra, it has a shape of elongate southeast to northwest in direction. Landform arround Danau Singkarak, are represented by Alluvial Fan (F5), River Terrace (F2), Eroded Structural Terrace (S1), Eroded Fault Scarp (S2), and Undulating Fault Hills (S3). Those landforms are known as tectonic origin (endogen). While far away form Danau Singkarak landforms are represented by exogen origin such as Karst Origin (K1, K2), Denudational Origin (D1, D2, D3) and Volcanic Origin (V2). The landforms on east and west side of Danau Singkarak have difference characteristics. On the east side of Danau Singkarak area landform are characterized by fault scarp which has a very steep slope included landslide, while on west side are characterized by aluvial fan with gently slope. Base on the physical character of tectonic landform, the tectonic activity become higher toward Danau Singkarak which is shown by the alluvial fan produced by Sawah Puding Fault (Karang Alluvial Fan, Airhilang Alluvial Fan, and SaningbakarAlluvial Fan) are being actively till present. This activities also characterized by the destructive earthquake occurrences. Non active alluvial fans distributed far away from Danau Singkarak shuch as the Padanglawas Alluvial Fan, Tanjung Sawah Alluvial Fan and Guguk Alluvial Fan. Those alluvial fans are produced by Air Mundak Fault.

Keywards: Singkarak Lake, landform, active alluvial fan, non active alluvial fan, exogen, endogen activity.
Downloads
Download data is not yet available.
References
Compton Robert R ., 1985 . Geology in the filed. John Wiley & Sons. New York, Chichester, Brisbane, Toronto, Singapore.
Katili J.A. and Hehuwat F., 1967. On the occurance of large transcurrent fault in Sumatra, Indonesia. Journ. Geosciences Osaka University, v10, art.1-1, 1- 17.
Mulyana H., Lumban Batu U.M., dan Moechtar H,. 2009. Pengaruh Tektonik dan Iklim terhadap perubahan linngkungan endapan Kuarter daerah Sumpur, Sumatra Barat Jurnal Sumber Daya Geologi Vol.18, No. 6. Pusat Survei Geologi Bandung
Moechtar, H., Mulyana,H., Pratomo, I. 2008. Tektonik dan Perubahan Iklim Plistosen Akhir-Resen (Studi kasus geologi Kuarter berdasarkan aspek sedimentologi dan stratigrafi endapan fluvial dan danau Singkarak purba di sepanjang kawasan Solok-Sumani, Kab. Solok, Sumatra Barat). Jurnal JTM Vol. XIV no.4/2008
Mahmubin, D.P.dan Suriadi, A.B., 1987; Peta Geomorfologi Lembar Solok (0813), Sumatra. Skala 1:250.000, Bakosurtanal.
Silitonga, P.H. dan Kastowo, 1996; Peta Geologi Lembar Solok, Sumatra, Skala 1 : 250.000; Puslitbang Geologi. Edisi ke 2.
Soemantri P. Dan Yusuf G., 1993; Peta Geomorfologi DAS Ombilin dan sekitarnya, Sumatra Barat; Puslitbang Geologi.
Verstappen, H.Th., 1973; A geomorphological reconnaissance of Sumatra and adjacent islands (Indonesia); International Institute for Aerial Survey and Earth Sciences (ITC); Enschede, Wolter-Noordhoff Publishing Groningen.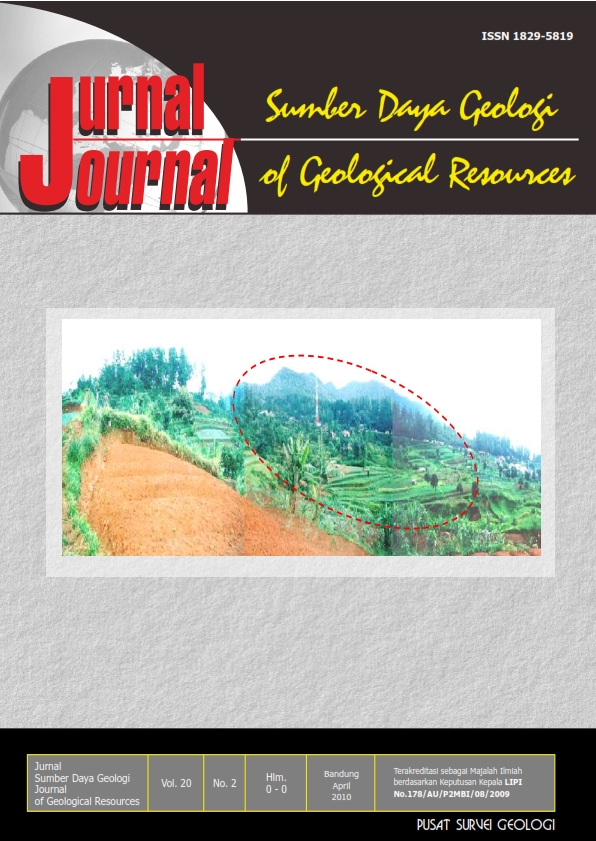 Downloads
License
Authors who publish articles in Jurnal Geologi dan Sumberdaya Mineral (JGSM.Geologi) agree to the following terms:
Authors retain copyright of the article and grant the journal right of first publication with the work simultaneously licensed under a CC-BY-NC or The Creative Commons Attribution–ShareAlike License.
Authors are able to enter into separate, additional contractual arrangements for the non-exclusive distribution of the journal's published version of the work (e.g., post it to an institutional repository or publish it in a book), with an acknowledgment of its initial publication in this journal.
Authors are permitted and encouraged to post their work online (e.g., in institutional repositories or on their website) prior to and during the submission process, as it can lead to productive exchanges, as well as earlier and greater citation of published work (See The Effect of Open Access)