COALBED METHANE POTENTIAL AND COAL CHARACTERISTICS IN MUARA LAKITAN AREA, SOUTH SUMATRA
Abstract
A research on Coal Bed Methane (CBM) of the Muaraenim Formation has been conducted in the Muara Lakitan area. Megascopically, the coal lithotype varies from dull to bright banded, with black – brownish black and brownish to black streaks, brittle – friable, dull-greasy luster, even-uneven, dirty on fingers, with resin patch and striation, dirt bands (clay/mud layers), pyrite striation, and pore structures. The coal quality, gained from geochemical analysis, indicates that its ash content ranges between 1.22% and 2.47%, total sulphur content is from 0.15% to 0.3 %, and the volatile matter of 38.02% - 40.81%. The coal is dominated by vitrinite (73.6 – 85.8 %), with minor amount of exinite (1.4 – 4.0 %), inertinite (4.2 – 21 % ) and mineral matter (2.4 – 8.2 %). Vitrinite reflectance, varies from 0.44% to 0.45 %, tends to indicate a sub-bituminous to high volatile bituminous-A coal rank. Kaolinite clays are the most prominent mineral matter within all coal samples analyzed, although the clay textures show irregular shapes. Iron oxides are also present in several samples. Microcleats found within the coals are mostly open, and are rarely filled by clay minerals. Based on Barbara/Winter diagram, the methane gas content in the studied area ranges from 0.57 m3/t – 1.70 m3/t = 20.44 scf/t – 60.96 scf/t. The total reserve of gas within six coal seams in the studied area is 15.524,28 scf.

Keywords : Coal Bed Methane (CBM), Muaraenim Formation, Muara Lakitan
Downloads
Download data is not yet available.
References
Asian Development Bank/Migas, 2003. Coalbed Methane TA No. 3671–INO-Final Report Preparing a Gas Sector Development Plan (Part B).
Daly, M.C., Hooper, B.G.D. & Smith, D.G. 1987. Tertiary plate tectonics and basin evolution in Indonesia. In : Indonesia Petroleum Association. Proceedings of the 16th Annual Convention, Jakarta, 1, 399 – 426.
Darman H., dan F. Hasan Sidi, 2000. An Outline of The Geology Indonesia: Indonesian Association of Geologists, Jakarta Selatan.
De Coster, G.L. (1974): The Geology of the Central and South Sumatra Basins. Proceedings of Indonesian Petroleum Assosiation 3th Annual Convention, 77-110.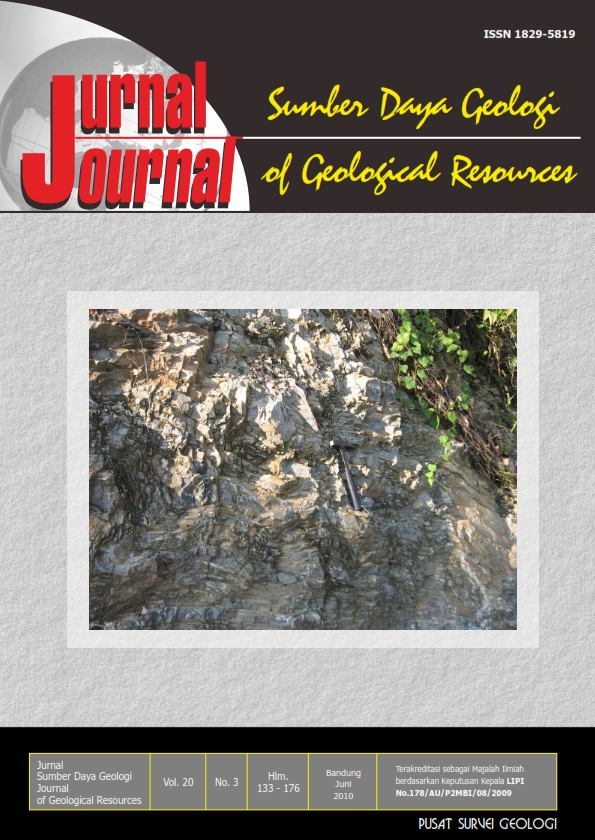 Downloads
License
Authors who publish articles in Jurnal Geologi dan Sumberdaya Mineral (JGSM.Geologi) agree to the following terms:
Authors retain copyright of the article and grant the journal right of first publication with the work simultaneously licensed under a CC-BY-NC or The Creative Commons Attribution–ShareAlike License.
Authors are able to enter into separate, additional contractual arrangements for the non-exclusive distribution of the journal's published version of the work (e.g., post it to an institutional repository or publish it in a book), with an acknowledgment of its initial publication in this journal.
Authors are permitted and encouraged to post their work online (e.g., in institutional repositories or on their website) prior to and during the submission process, as it can lead to productive exchanges, as well as earlier and greater citation of published work (See The Effect of Open Access)