LINGKUNGAN PENGENDAPAN BATUBARA, FORMASI KALUMPANG DI DAERAH MAMUJU
Abstract
Kalumpang (Toraja) Formation comprises syn-rifting sediments of Middle Eocene – Late Eocene age. This formation consists of quartz sandstone, conglomerate, shale, claystone with alternations of coal and limestone. Geochemical analysis shows that the caloric value ranges from 2480 kal/gr to 7440 kal/gr, moisture varies from 1,3%-6,7%, volatile matter 14,7%-44,9%, total sulphur 0,82%-7,70%, and the specific gravity ranges from 1,33 to 2,17. Based on the organic petrography analysis, the coal contains vitrinite 91,6 – 100%, liptinite or exinite 0,1 – 8,2 %,and inertinite 0,1 – 1 %. Maximum reflectance vitrinite (Rv-max) is ranging from 0,32%-0,62%, Ro 47%. The dominant maceral group is vitrinite, with rare liptinite. The high content of vitrinite suggests that the coal in Kalumpang is derived from plants in humic condition which were deposited in wet forest swamp. Meanwhile, the low content of inertinite indicates that oxidation processes did not take place intensely.

Keywords : Kalumpang Formation, coal, eocene, organic petrology, maceral
Downloads
Download data is not yet available.
References
Calvert, Stephen J., 1999. The Cenozoic Evolution of the Lariang and Karama Basins, Sulawesi. Proceeding of the IPA, pp. 505-511.
Coffield, D.Q. et al,1993, Tectonic and Stratigraphic Evolution of The Kalosi PSC Area and Associated Development of A tertiary Petroleum System, Proceeding 22nd. IPA Convention. pp. 679-706.
Diessel, CFK 1986a. h. 186. On the correlation between coal facies and depositional environment. Advance study in sydney basin, Newcastle Symp.Proc. p.1-22
Kartasumantri, N.S dan Hadiyanto, 1999. Prospeksi batubara di daerah Kalumpang dan sekitarnya, Kabupaten Mamuju, Propinsi Sulawesi Selatan, Direktorat Sumberdaya Mineral, Bandung, laporan terbuka, tidak diterbitkan.
Ratman, N., dan Atmawinata., 1993. Peta Geologi Lembar Mamuju, Sulawesi Skala 1 : 250.000. Pusat Penelitian dan Pengembangan Geologi, Bandung.
Sihombing. T., Sidarto, Maryanto, dan Wahyono, 2002, Dinamika dan Perkembangan Cekungan Batubara di Daerah Mamuju, Sulawesi Selatan. Laporan Penelitian Kegiatan DIK-S. Puslitbang Geologi Bandung.
Wahyono, Sidarto, Limbong, A., Sukardi dan Rachmansyah, 2000, Pengkajian Cekungan Karama daerah Sulawesi Selatan : Kaitannya Dengan Keterdapatan Batubara, Laporan Kegiatan Penelitian DIKS, Puslitbang Geologi Bandung.
Wahyono, 2001. Pengkajian Tektonika Implikasinya Terhadap Mutu Batubara di Daerah Mamuju, Sulawesi Selatan. Laporan Teknis Intern Pusat Penelitian dan Pengembangan Geologi, Bandung, tidak dipublikasikan.
Wahyono dan Sidarto, 2002, Karakteristik Kimia dan Fisika serta Pematangan Batubara di Daerah Baraka, Enrekang, Sulawesi Selatan, Jurnal Geologi dan Sumberdaya Mineral, No. 132, Vol. XII. pp. 20-37.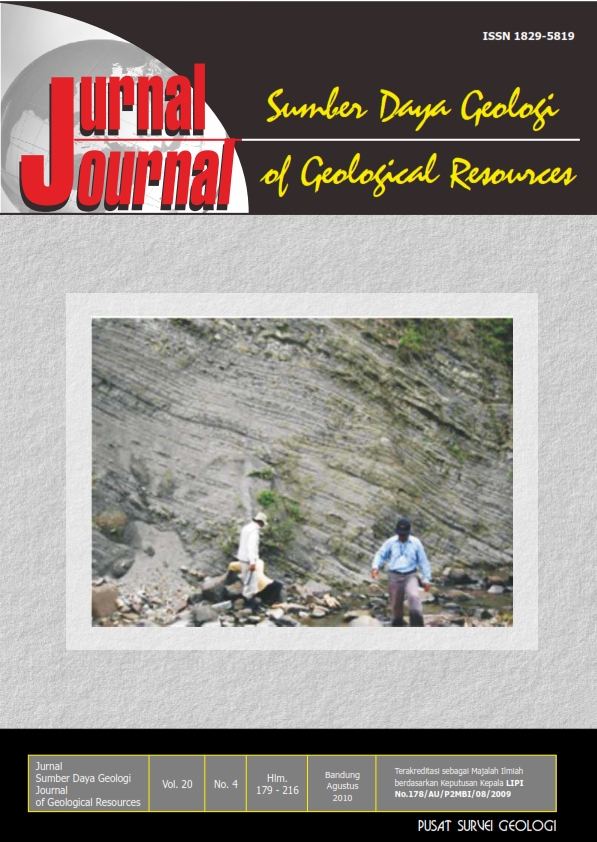 Downloads
License
Authors who publish articles in Jurnal Geologi dan Sumberdaya Mineral (JGSM.Geologi) agree to the following terms:
Authors retain copyright of the article and grant the journal right of first publication with the work simultaneously licensed under a CC-BY-NC or The Creative Commons Attribution–ShareAlike License.
Authors are able to enter into separate, additional contractual arrangements for the non-exclusive distribution of the journal's published version of the work (e.g., post it to an institutional repository or publish it in a book), with an acknowledgment of its initial publication in this journal.
Authors are permitted and encouraged to post their work online (e.g., in institutional repositories or on their website) prior to and during the submission process, as it can lead to productive exchanges, as well as earlier and greater citation of published work (See The Effect of Open Access)