Perubahan Biofasies Foraminifera pada Batugamping di Pantai Baron dan Serpeng, Provinsi D.I. Yogyakarta
Abstract
Batugamping di Lokasi Pantai Baron dan Serpeng merupakan bagian dari Batugamping Formasi Wonosari di Pegunungan Selatan, Provinsi Daerah Istimewa Yogyakarta yang terbentuk pada umur Miosen Awal – Miosen Tengah. Batugamping ini mengandung organisma khas yang menunjukkan keragaman biofasies yang terdiri dari kandungan foraminifera plangtonik, foraminifera bentonik kecil, foraminifera besar, ganggang, koral dan moluska yang memerlukan beberapa persyaratan ekologi tertentu untuk dapat tumbuh dan berkembang. Penelitian ini dilakukan untuk mengetahui perubahan biofasies foraminifera pada batugamping di Formasi Wonosari pada lokasi Pantai Baron dan Serpeng. Enambelas perconto batuan telah di analisis petrografi dan mikropaleontologi. Hasil analisis petrografi menunjukkan adanya dua kelompok fasies karbonat yang berhubungan dengan standar facies belt. Data analisis mikropaleontologi (tabel distribusi foraminifera) diolah menggunakan metoda analisis kluster. Hasil penelitian menunjukkan adanya dua biofasies. Pertama basin facies dengan taksa pencirinya adalah foraminifera plangtonik dan subordo Textulariina. Kedua foreslope facies dengan taksa pencirinya adalah Cycloclypeus dan Amphistegina. Fosil lainnya yang hadir yang bukan taksa penciri adalah Lepidocyclina, Miogypsina, dan Heterostegina. Perubahan biofasies foraminifera di lingkungan basin dan foreslope menunjukkan bahwa distribusi foraminifera sangat dipengaruhi oleh faktor paleoekologi, yaitu kedalaman, cahaya dan energi air. Paleoekologi dapat digunakan juga untuk membantu menentukan lingkungan pengendapan purba yang berguna untuk waduk hidrokarbon di batuan karbonat. 
Downloads
Download data is not yet available.
References
Adams, C. G., 1984. Neogene larger foraminifera, evolutionary and geologically events in the context of datum plane, in Ikebe, N., Tsuchi, R., eds., Pacific Neogene Datum Planes, 47 – 67.
Chaproniere, C.G.H., (1975) : Paleoecology of Oligo-Miocene Larger Foraminifera, Australia, Alcheringa, 1, 37-58.
Davis, J.C., 1986. Statistics and Data Analysis in Geology, John Wiley & Sons, New York. 257 h.
Dufrêne, M. and Legendre, P., 1997. Species assemblages and indicator species: the need for a flexible asymmetrical approach, Ecological Monographs, 67 : 345-366.
Dunham, R. J., 1962. Classification of Carbonate Rock According to Depositional Texture, in Ham, W.E. (ed.), Depositional Environment in Carbonate Rock, AAPG Memoir-1, h : 108-121.
Flügel, E., 1982. Microfacies Analysis of Limestone, Springer-Verlag Berlin Heidelberg, New York, 633h.
Hehuwat, F., Siregar, M.S., Ascaria, N.A., 2004. Nanggulan – Bayat Eocene and Southern Mountains Miocene carbonate sedimentation models from the Yogyakarta Area, Possible Analogues for the Tertiary of the North East Java Basin. Vol.2, Excurtion Guide Nanggulan – Bayat Eocene and Wonosari Limestone, Indonesian Institute of Science, h : 14-30.
Irwansyah, Maryunani, K.A., Basuki, N.L., 2011. Karakterisasi Batuan Karbonat Formasi Rajamandala Berdasarkan Foraminifera Besar di Daerah Padalarang, Jawa Barat. Proceedings JCM Makassar. The 36th HAGI and 40th IAGI Annual Convention and Exhibition.
Lokier, S.W., 2000. The Miocene Wonosari Formation, Java, Indonesia: Volcaniclastic influences on carbonates platform development, PhD Thesis, Royal Holloway, University of London, 648 h, tidak dipublikasikan.
Novita, D., Barianto, D.H., Novian, M.I., 2014. Planktonic Foraminifera Biozonation of the Middle Eocene – Oligocene Kebo Formation, Kalinampu Area, Bayat, Klaten., Central Java. Berita Sedimentologi, Biostratigraphy of Southeast Asia – Part 3, The Indonesian Sedimentologist Forum (FOSI), No.31, h.70.
Smyth, H.R., Crowley, Q.G., Hall, R., Kinny, P.D., Hamilton, P.J., Schmidt, D.N., 2011. A Toba-Scale eruption in the Early Miocene: The Semilir Eruption, East Java, Indonesia. Elsevier, vol 126, issues 3-4, p198-211.
Surono, 2009 Litostratigrafi Pegunungan Selatan Bagian Timur Daeah Istimewa Yogyakarta Dan Jawa Tengah, Jurnal Sumber Daya Geologi, 19 (3) : 209-221.
van Bemmelen, R.W., 1949. The Geology of Indonesia, vol. I A, The Hague, Netherlands, 732h.
van Gorsel, J.T., 1988. Biostratigraphy in Indonesia : Methods, pithfalls and new directions, Indon., Petroleum Assoc., Proc., Ann. Conv., 1, 275-300.
Wilson, J.L. 1975. Carbonate Facies in Geologic History, Springer-Verlag, Berlin-Heidelberg New York, 471p.(unpublished).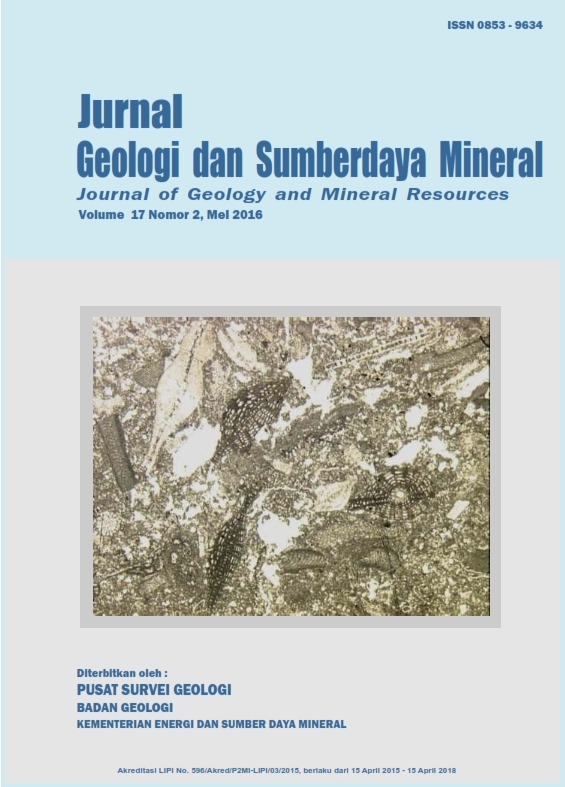 Downloads
License
Authors who publish articles in Jurnal Geologi dan Sumberdaya Mineral (JGSM.Geologi) agree to the following terms:
Authors retain copyright of the article and grant the journal right of first publication with the work simultaneously licensed under a CC-BY-NC or The Creative Commons Attribution–ShareAlike License.
Authors are able to enter into separate, additional contractual arrangements for the non-exclusive distribution of the journal's published version of the work (e.g., post it to an institutional repository or publish it in a book), with an acknowledgment of its initial publication in this journal.
Authors are permitted and encouraged to post their work online (e.g., in institutional repositories or on their website) prior to and during the submission process, as it can lead to productive exchanges, as well as earlier and greater citation of published work (See The Effect of Open Access)