PENGARUH TEKTONIK PADA RUNTUNAN ENDAPAN ALUVIAL DEPRESI PADANGSIDEMPUAN, SUMATERA UTARA
Abstract
The investigated area, that is so called Padangsidempuan depression has been filled up by unconsolidated fluvial sediments. The sediments can be distinguished into five different environments, these are flood basin deposit, flood plain deposit, palaeo channel deposit, swamp deposit and colluvium deposit. To understand the influence of tectonic activities on lithological succession of the studied area several profiles were made. It reveals, that lithological successions have been disturbed by tectonic activities such as subsidence and uplifted. Subsidence can be identified by alternating of swamp facies deposit within different stratigraphic position and superimposed of the Batang Toru river on the palaeo channel deposit three (Ch-3). Further more the effect of uplifting caused palaeo channel deposit shifting horizontally. The data show that the tectonic activities in the studied area are not so very intensive.
 
Keywords: quarternary tectonics, palaeo channels, pull-apart basin, sedimentary sequences
Downloads
Download data is not yet available.
References
Aspden J.A., Kartawa W., Aldiss D.T., Djunuddin A., Whandoyo R., Diatma.D., Clarke M.C.G., dan Harahap H.,1982. Peta Geologi Lembar Padangsidempuan dan Sibolga, Sumatera, skala 1:250.000. Pusat Penelitian dan Pengembangan Geologi.
Frostick, L.E. & Steel, R.J. 1993. Tectonic Signatures in Sedimentary Basin Fills. In Frostick, L.E. & Steel, R.J. eds. Tectonic Controls and Signatures in Sedimentary Successions, IAS Special Publication #20, pp. 1-9. International Association of Sedimentologists, Glasgow.
Goudi.A.S., 2004. Encyclopedia of Geomorphology. Routledge Taylor & Francis Group.
Lumbanbatu, U.M., Moechtar, H., 2002. Kharakteristik Kegempaan sebagai acuan Pengembangan Wilayah daerah Padangsidempuan, Kab. Tapanuli Selatan Provinsi Sumatera Utara. Majalah Geologi Indonesia Vol. 17 No.1 dan 2. Ikatan Ahli Geologi Indonesia.
Lumbanbatu U.M.., Moechtar H., Hidayat S., 2003. Penjaluran Kerentanan Bencana Gempa bumi daerah Padangsidempuan Tapanuli Selatan. Jurnal Geologi dan Sumberdaya Mineral, Vol. XIII, No 140. Pusat Penelitian dan Pengembangan Geologi.
Libby W.F., 1951. Radiocarbon dating, University of Chicago, Press, 240.
Tjia H.D (1977). Tectonic Depression along the transcurrent Sumatera Fault Zone. J.4.No1 1977. Department of Geology The National University of Malaysia Kuala Lumpur, Malaysia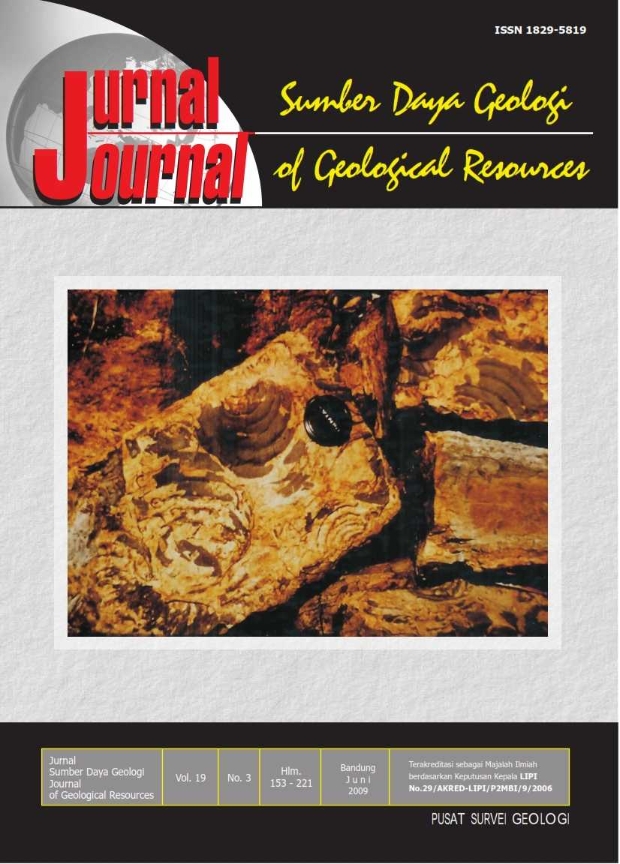 Downloads
License
Authors who publish articles in Jurnal Geologi dan Sumberdaya Mineral (JGSM.Geologi) agree to the following terms:
Authors retain copyright of the article and grant the journal right of first publication with the work simultaneously licensed under a CC-BY-NC or The Creative Commons Attribution–ShareAlike License.
Authors are able to enter into separate, additional contractual arrangements for the non-exclusive distribution of the journal's published version of the work (e.g., post it to an institutional repository or publish it in a book), with an acknowledgment of its initial publication in this journal.
Authors are permitted and encouraged to post their work online (e.g., in institutional repositories or on their website) prior to and during the submission process, as it can lead to productive exchanges, as well as earlier and greater citation of published work (See The Effect of Open Access)