PERKEMBANGAN DATARAN PANTAI (COASTAL PLAIN) DAERAH KENDAL PROVINSI JAWA TENGAH
Abstract
A coastal plain area having dynamic charakterisitc. Understanding of Quaternary stratigraphy plays an important role in explaining the occurance of geological processes during the development of the coastal plain. Holocene stratigraphic sequence analysis reveals that the studied area has been influenced by several geological processes such as sea level rise and drop, and tectonic activities. These geological phenomenas are expected as the agents to change the directions of coastal plain development.
 
Keywords: tectonics, quaternary stratigraphic sequences, sea level rise, sea level drop
 
Downloads
Download data is not yet available.
References
Bird, E.C.F. and Ongkosongo, O.S.R., 1980. Environmental Changes on the Coast of Indonesia. United Nations University, Tokyo, Japan
Hidayat, S., Moechtar H., Pratomo,I., 2008. Tektonik Sebagai Faktor Pengendali Evolusi Cekungan Kuarter di Daerah Pesisir Kendal Jawa Tengah. Jurnal JTM XV (1) : 213-224.
Hidayat, S., Moechtar, H., Mulyono, Mulyana, H., 2004. Bencana Alam ditinjau dari aspek Geologi Kuarter bawah permukaan di daerah Semarang dan sekitarnya, Jawa Tengah. Jurnal Sumber Daya Geologi, I (1) : 192-205. Pusat Survei Geologi Bandung.
Lumbanbatu, U.M., dan Hidayat, S., 2007. Evaluasi Awal Kerentanan Pelulukan / Likuefaksi daerah Kendal dan sekitarnya, Jawa Tengah. Jurnal Geologi Indonesia, II (3) : 159-176. Badan Geologi,
Moechtar, H., Poedjopradjitno,S., 2004. Runtunan Tataan Stratigrafi sebagai indikator Periode Proses Penurunan (Subsidence). (Studi kasus geologi Kuarter Cekungan Jakarta). Publikasi Khusus: Stratigrafi Pulau Jawa. Puslitbang Geologi, Bandung.
Poedjoprajitno, S., Hidayat, S., Waromi, P., Moechtar, H., 2008. Akumulasi Pengendapan Sedimen Kuarter kaitannya dengan Gerak-gerak Struktur Sesar Aktif. (Studi Kasus Geologi Kuarter di wilayah dataran rendah aluvium hingga pantai sepanjang Maron-Sikucingkrajan, Kec. Gemuruh, Kab.Kendal (Jawa Tengah). Proses penerbitan, Jurnal Sumber Daya Geologi. Pusat Survei Geologi.
Reading, H.G., 1986. Sedimentary Environments and Facies. Blackwell Scientific Publications, Oxford London, Eidenburgh, Boston, Palo Alto, Melbourne.
Reineck, H.E., Singh, I.B., 1973. Depositional Sedimentary Environment. Springer-Verlag Berlin Heidelberg New York.
Thanden, R.E., Sumadirdja, H., Richards, P.W., Sutisna,K., dan Amin, T.C., 1996. Peta Geologi Lembar Malang dan Semarang, Skala 1 : 100.000. Pusat Survei Geologi, Bandung.
Yinwang, Z., Hu, Shixiong, Wu,Yongsheng Shao, Xuejun., 2003. Delta processes and Management Strategies in China. Intl. J. River Basin Management I (2) : 173-184.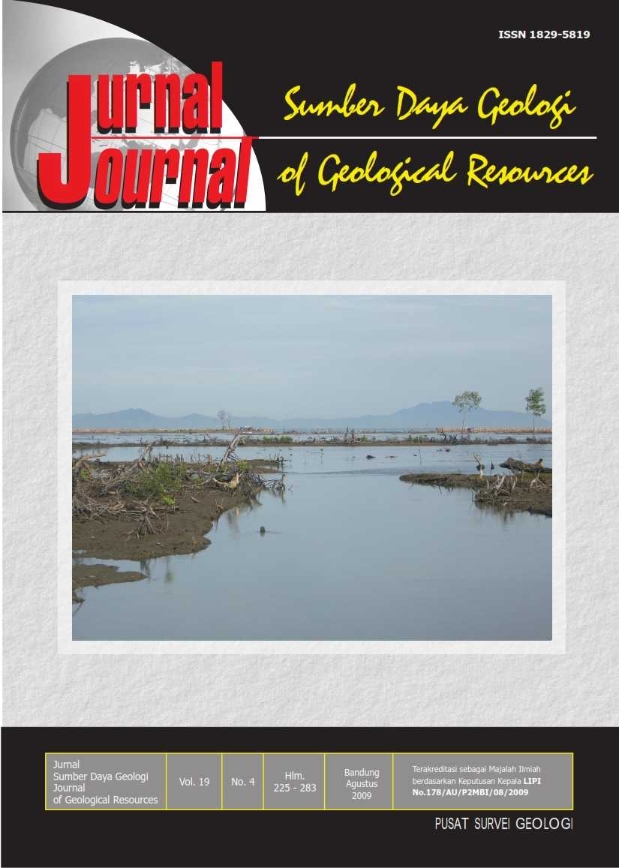 Downloads
License
Authors who publish articles in Jurnal Geologi dan Sumberdaya Mineral (JGSM.Geologi) agree to the following terms:
Authors retain copyright of the article and grant the journal right of first publication with the work simultaneously licensed under a CC-BY-NC or The Creative Commons Attribution–ShareAlike License.
Authors are able to enter into separate, additional contractual arrangements for the non-exclusive distribution of the journal's published version of the work (e.g., post it to an institutional repository or publish it in a book), with an acknowledgment of its initial publication in this journal.
Authors are permitted and encouraged to post their work online (e.g., in institutional repositories or on their website) prior to and during the submission process, as it can lead to productive exchanges, as well as earlier and greater citation of published work (See The Effect of Open Access)