PROSES SEDIMENTASI DASAR LAUT DI TELUK KUMAI, KALIMANTAN TENGAH, DAN HUBUNGANNYA DENGAN CEBAKAN EMAS DAN PERAK
Abstract
Results of analysis of gold and silver contents within the sea floor sediments in the Kumai Bay show that the highest contents are at the location of TPL-43, TPL-44, TPL-54, TPL-74 and TPL-75 locations with ranging from 0,09 to 0,19 ppm for gold and 1,6 to 3,75 ppm for silver. A curve showing the relationship between grain size and percentage of grain cumulative of gold and silver bearing sediments indicates that the deposition process is a combination pattern between saltation and suspension. The saltation pattern happened at the grain size between -1,5 to 2 phi and suspension pattern 2 - 4 phi. Based on relation curve of the grain size and frequency percentage of the grains indicate the present of a certain grain dominated the depositional process. The most influenced grain size on depositional process are between 0,5 - 2,5 phi that are a medium sand to very fine sand of about 10 - 28%. The depositional pattern of the sediment in the survey area is influenced by the regime of bay current as a combination of the sea and river currents to form the coastal sand sediments. Result of the analysis can become a guidence in gold and silver mining activities in the study area in order to obtain optimal results, that is on sediments with size ranging from medium - very fine sand around the coastline area.
 
Keywords: sediment, gold and silver, depositional process, grain size, Kumai Bay
Downloads
Download data is not yet available.
References
Van Leeuwen, T.M., 1994. Twenty Five Years of Mineral Exploration and Discovery in Indonesia. Elsevier, Amsterdam.
Visher, G.S., 1965. Fluvial Processes as Interpreted from Ancient and Recent Fluvial Deposits. In: Friedman, G.M. and Johnson, K.G.(eds), 1982. Exercises in Sedimentology, John Wiley & Sons Inc, New York: 208 pp.
Visher, G.S., 1969. Grain Size Distributions and Depositional Processes, Jour. Sedimentary Petrology. In: Friedman, G.M. and Johnson, K.G.(eds), 1982. Exercises in Sedimentology, John Wiley & Sons Inc, New York: 208 pp.
Woodroffe, C.D., 1996. Late Quaternary infill of Macrotidal Estuaries in Northern Australia. In: Nordstrom, K.F. and Roman, C.T. (eds), 1996. Estuarine Shores: Evalution, Environments and Alterations. John Wiley & Sons Ltd, New York: 89 - 114.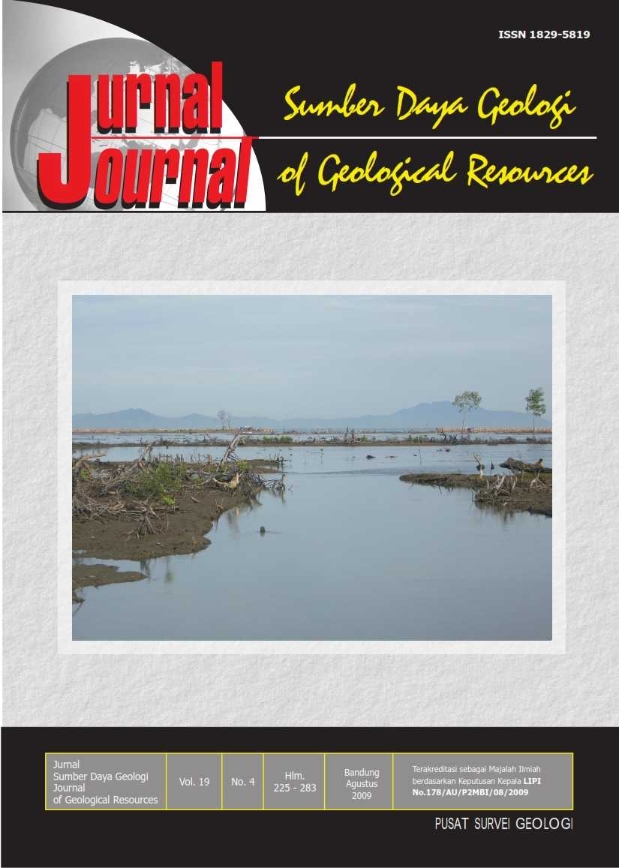 Downloads
License
Authors who publish articles in Jurnal Geologi dan Sumberdaya Mineral (JGSM.Geologi) agree to the following terms:
Authors retain copyright of the article and grant the journal right of first publication with the work simultaneously licensed under a CC-BY-NC or The Creative Commons Attribution–ShareAlike License.
Authors are able to enter into separate, additional contractual arrangements for the non-exclusive distribution of the journal's published version of the work (e.g., post it to an institutional repository or publish it in a book), with an acknowledgment of its initial publication in this journal.
Authors are permitted and encouraged to post their work online (e.g., in institutional repositories or on their website) prior to and during the submission process, as it can lead to productive exchanges, as well as earlier and greater citation of published work (See The Effect of Open Access)