POLEN PALEOGEN-NEOGEN DARI DAERAH NANGGULAN DAN KARANGSAMBUNG JAWA TENGAH
Abstract
A research on palynomorph fossils is presented in this paper. Pollen samples were collected from Paleogene and Neogene rocks containing carbon materials and organic remains. The aim of this study is to better understanding the pollen distribution, age and their depositional environments as a final result. Pollen fossils from Nanggulan area suggest an age of Eocene – Oligocene, while that from Karangsambung indicates Middle Eocene – Pliocene. All of pollen, both from Nanggulan and Karangsambung were deposited in littoral environments.
 
Keywords: Nanggulan, Karangsambung, pollen
Downloads
Download data is not yet available.
References
Asikin,S.,1974. Evolusi geologi Jawa tengah dan sekitarnya ditinjau dari segi tektonik dunia yang baru.Disertasi Doktor,ITB,Bandung,tidak dipublikasikan,103 hal.
Asikin, S., Handoyo, A.., Busono, H. dan Gafoer, S., 1992. Geologi Lembar Kebumen, Jawa. Skala 1:100000.Pusat Penelitian dan Pengembangan Geologi.Bandung.
Baksi, S. K. and Venkatachala, B. S., 1971. Meyeripollis, a new genus from the Tertiary of Assam. J.Geol . Soc. India, 11, 81-83.
Djoehanah, S., 1973. Geologi dan paleontologi satuan tufa napal I, daerah Karangsambung, sekala 1:25000. Tesis, Dept.Teknik Geologi ITB ( tidak diterbitkan).
Harahap, B.H., Bahri S., Baharuddin, Suwarna,N., Panggabean, H., dan Simanjuntak, T.O., 2003. Stratigraphic Lexicon of Indonesia. Geological Research and Development Centre.
Hartono, H.M.S., 1969 Globigerina marls and their planktonic Foraminifera from the Eocene of Nanggulan, Central Java : Contrb.Cushman Found. For Foraminiferal Research,20 pt .4:152-159.
Kadar, D., 1975. Planktonic Foraminifera from the lower part of Sentolo Formation, Central Java, Indonesia : The Journal of Foraminiferal Research ; v.5;no.1;p 1-20.
Morley, R.J., 1978. Palynology of Tertiary and Quaternary sediments in Southeast Asia. Proc. Indonesian. Pet. Assoc. Sixth Annu.Conv. : 255-276.
Morley,R.J.,1991.Tertiary Stratigraphic Palynology In South East Asia : Current Status and New Directions.Geol.Soc.Malaysia Bull.,28:1-36.
Polhaupessy, A.A., 1999. Quaternary Palynological study of Trinil Area, East Java. Pal. Ser. Geol. Res. Dev. Centre. Spec. Publ., 9, 1-7.
Purnamaningsih, S., dan Harsono, P.,1981. Stratigraphy and planktonic foraminifera of the Eocene-Oligocene Nanggulan Formation, Central Java. Geol. Res. Dev. Centre. Pal. Ser. n.1: 9-28, 5 pls., Bandung, Indonesia.
Rahardjo, W., Sukandarrumidi, dan Rosidi, H.M.D., 1995. Peta Geologi Lembar Yogyakarta, Jawa. Skala : 1:100000. Pusat Penelitian dan Pengembangan Geologi, Bandung.
Tjia,H.D.,1966.Structural analysis of the pre Tertiary of the Luk Ulo area,Central Java,Dis.Doktor, Dept.Teknik Geologi ITB (tidak diterbitkan).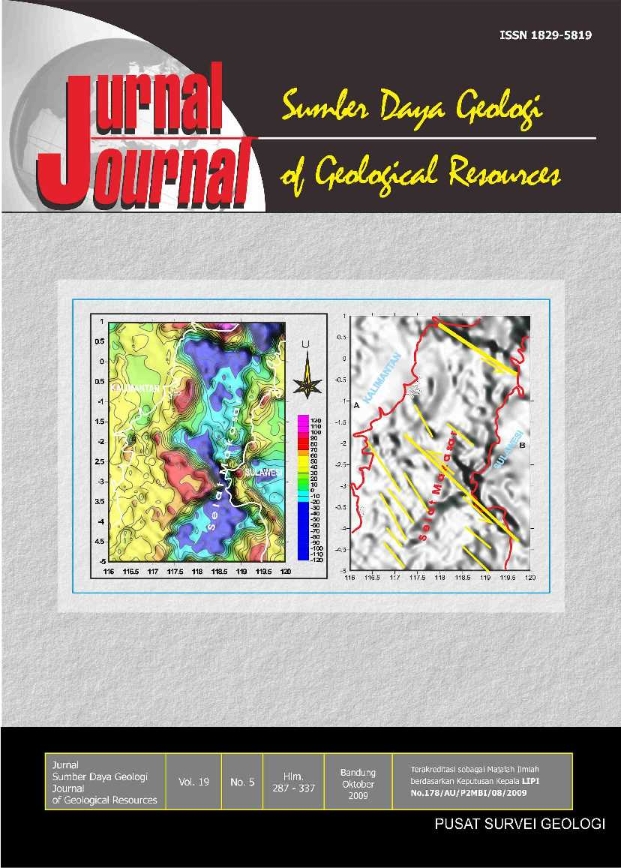 Downloads
License
Authors who publish articles in Jurnal Geologi dan Sumberdaya Mineral (JGSM.Geologi) agree to the following terms:
Authors retain copyright of the article and grant the journal right of first publication with the work simultaneously licensed under a CC-BY-NC or The Creative Commons Attribution–ShareAlike License.
Authors are able to enter into separate, additional contractual arrangements for the non-exclusive distribution of the journal's published version of the work (e.g., post it to an institutional repository or publish it in a book), with an acknowledgment of its initial publication in this journal.
Authors are permitted and encouraged to post their work online (e.g., in institutional repositories or on their website) prior to and during the submission process, as it can lead to productive exchanges, as well as earlier and greater citation of published work (See The Effect of Open Access)