STRUKTUR GEOLOGI BAWAH PERMUKAAN LINTASAN PANGALENGAN-SUBANG, IMPLIKASINYA TERHADAP KESTABILAN LAHAN
Abstract
The high anomaly pattern of West Java extending from Banten Province to the boundary of West - Central Java area, changes to low anomaly pattern in Bandung to Pamanukan. This phenomenon formed anomaly alignment with high gradient in the boundary part of both anomaly patterns. The profile pattern of Bouguer anomaly along Pangalengan­Subang and Gudangkahuripan-Parongpong sections show more detailed illustration of the subsurface geology structures. Qualitative and quantitative gravity analyses that were supported by surface geological data, sediment thickness, and remote sensing data, estimate that the anomaly alignment reflects a fault that formed a big graben. The anomaly profiles also describe some fault forming some horsts and grebens. Based on erotion intensity esoect in the mountainous area, and geological structures, the land stability of this area is interpreted as very low.
Keywords.' high, low, anomaly alignment, structure, Pangalengan-Subang Section, horst, graben, land stability
Downloads
Download data is not yet available.
References
Alzwar, M., Akbar, N., dan Bachri, S., 1992. Pete Geologi Lembar Garut dan Pemeungpeuk, Jawa. Sekala 1: 100.000, Puslitbang Geologi, Bandung.
Bakosurtanal, 1998. Peta Rupabumi Lembar Cimahi. Skala 1 :25.000
Brahmantyo, 2005. Geologi Cekungan Bandung. Catatan Kuliah, Penerbit ITB, Bandung
Koswara, A., 1998. Hubungan Antara Struktur Geologi dan Lokasi Geowisata di Wilayah Bandung dan sekitarnya. Jurnal Geologi dan Sumberdaya Mineral, Pusat Penelitian dan Pengembangan Geologi,
Bandung
Nasution, J., dan Nainggolan, D.A., 1994. Peta Anomali Bouguer Lembar Bandung. Sekala 1:100.000, Pusat Penelitian dan Pengembangan Geologi, Bandung
Nasution, J., Suharyono, S., Djaswadi, I., dan Otong, H. G., 1995. Peta Anomali Bouguer Lembar Garut. Sekala 1 : 100.000, Pusat Penelitian dan Pengembangan Geologi, Bandung
Pedley, R. C., 1991. Interactive 2.50 Gravity and Magnetic Modelling Program (Gravmag). User Manual, British Geological Survey, Keyworth, Notingham.
Sardjono dan Simandjuntak, T.O, 2004. Anomali Gaya Berat dan Arsitektur Cekungan di Wilayah Barat Pulau Jawa, Implikasi Terhadap Batuan Landasan dan Tektonika Kewilayahan Anggitan Tektonogenesis Cekungan Bandung. Buku Panduan Lokakarya Cekungan Bandung, Pusat Penelitian danPengembangan Geologi, Bandung
Silitonga, P. H., 2003. Peta Geologi Lembar Bandung, Jawa. Sekala 1: 100.000, Puslitbang Geologi, Bandung. Telford, W.M., Geldart, L.P., Sherief, R.E., Keys, D.A., 1976. Applied Geophysics. Cambrdige University Press, Cambridge, p. 7 -103.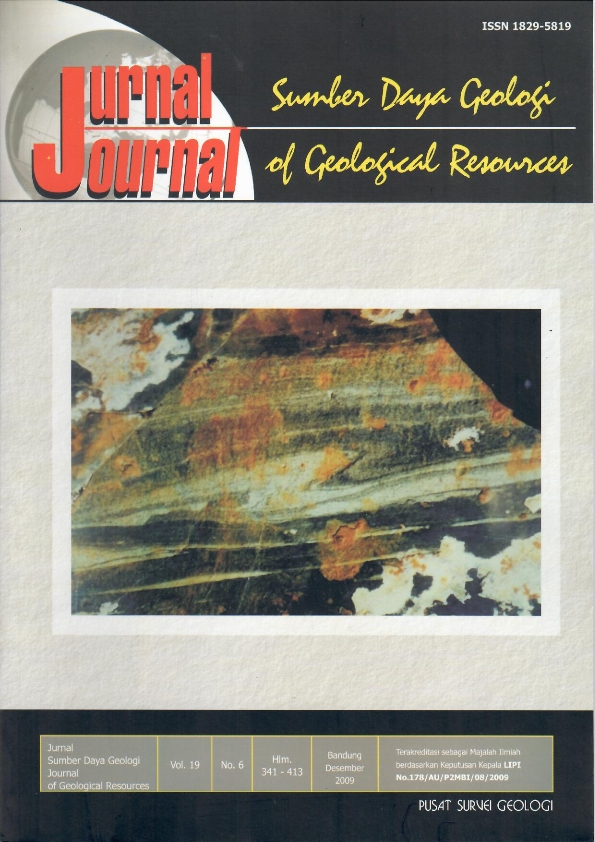 Downloads
License
Authors who publish articles in Jurnal Geologi dan Sumberdaya Mineral (JGSM.Geologi) agree to the following terms:
Authors retain copyright of the article and grant the journal right of first publication with the work simultaneously licensed under a CC-BY-NC or The Creative Commons Attribution–ShareAlike License.
Authors are able to enter into separate, additional contractual arrangements for the non-exclusive distribution of the journal's published version of the work (e.g., post it to an institutional repository or publish it in a book), with an acknowledgment of its initial publication in this journal.
Authors are permitted and encouraged to post their work online (e.g., in institutional repositories or on their website) prior to and during the submission process, as it can lead to productive exchanges, as well as earlier and greater citation of published work (See The Effect of Open Access)