DINAMIKA GARIS PANTAI KABUPATEN INDRAMAYU, JAWA BARAT, BERDASARKAN PENAFSIRAN CITRA SATELIT
Abstract
Marine and coastal dynamic maps of Indramayu extracted from satellite imageries indicate the quantification of changes; those are changes of coastline, extension and the potential areas of erosion and sedimentation. The biogeochemical and hydro-oceanographic interactive processes of the up and downstream areas produce the marine and coastal physiographic of Indramayu. Therefore, the problem solving of coastal abrasion and accretion in Indramayu have to be executed through inter-sector coordination.
 
Keywords: abrasion, accretion, coastal, coastline, satellite imageries
Downloads
Download data is not yet available.
References
Darlan, Y., 2007. Sabuk Hijau Untuk Pesisir Indramayu. Harian Umum Pikiran Rakyat. 14 Juni. ER Mapper 5.5, 1997. Level One Training Workbook. (Change Detection: 333-346).
Editorial. Abrasi Pantai Indramayu Kian hari Semakin Parah. Harian Umum Pikiran Rakyat. 16 Juli 2005
Hehanussa, P.E., Hadiwisastra, S. dan Djoehana, S., 1975. Sedimentasi Delta baru Cimanuk. Laporan
Penelitian, Lembaga Geologi dan Pertambangan Nasional.
Hilman, T., Ruswanto, Nandang dan Supardi, D., 1998. Pemetaan Geologi Lingkungan Daerah Indramayu, Jawa Barat, Skala 1:100.000. Direktorat Geologi Tata Lingkungan, Bandung.
Kusnida, D.,1990. Karakteristik Pantai Indramayu. Harian Umum Pikiran Rakyat. 5 Juli.
PPPGL, 2004. Buku Pegangan Pelatihan Pengolahan Data Digital Citra Untuk Pemetaan Geologi Lingkungan Pesisir Dengan Perangkat Lunak ER Mapper. Kerjasama PPPGL dengan Geomatics Training and Research Centre, Bandung.
Rimbaman, Sumanang, A. dan Siregar, D.A., 2002. Peta Geologi Kuarter Lembar Eretan, Jawa, Skala
:100.000. Pusat Penelitian dan Pengembangan Geologi, Bandung.
Ratman, N. dan Gafoer, S., 1992. Peta Geologi Lembar Indramayu, Skala 1:100.000. Pusat Penelitian dan
Pengembangan Geologi, Bandung.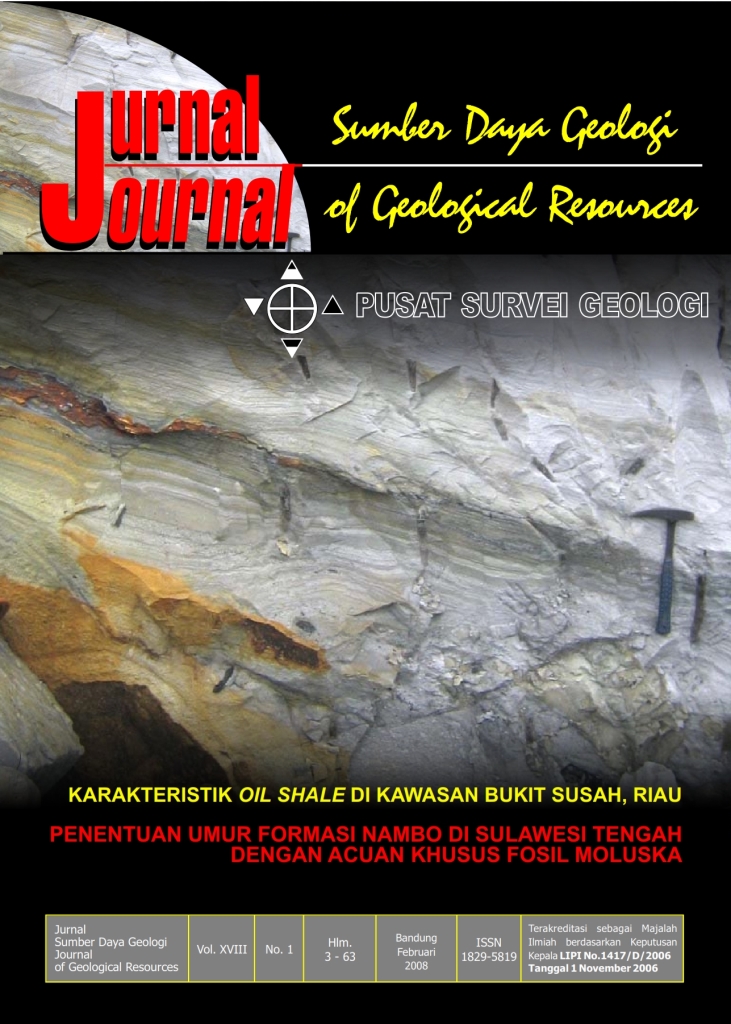 Downloads
License
Authors who publish articles in Jurnal Geologi dan Sumberdaya Mineral (JGSM.Geologi) agree to the following terms:
Authors retain copyright of the article and grant the journal right of first publication with the work simultaneously licensed under a CC-BY-NC or The Creative Commons Attribution–ShareAlike License.
Authors are able to enter into separate, additional contractual arrangements for the non-exclusive distribution of the journal's published version of the work (e.g., post it to an institutional repository or publish it in a book), with an acknowledgment of its initial publication in this journal.
Authors are permitted and encouraged to post their work online (e.g., in institutional repositories or on their website) prior to and during the submission process, as it can lead to productive exchanges, as well as earlier and greater citation of published work (See The Effect of Open Access)