KECEPATAN PERGERAKAN MAGMA DASIT KE PERMUKAAN DI DAERAH PURWOREJO DAN SEKITARNYA, JAWA TENGAH Berdasarkan Analisis Penarikhan Jejak Belah
Abstract
Zircon fission track dating using zirkon of four dacite samples from Purworejo, yielded age of 12,6 ± 1,5 to 15,9 ± 1,0 m.a. One cooling phase of the dacite body at Purworejo area indicates an uplift velocity of 0.02 - 0.06 mm / year.
 
Keywords : fission tracks, zircon, uplift, Purworejo
Downloads
Download data is not yet available.
References
Fleischer, R.L., Price, P.B. and Walker, R.M., 1975. Nuclear Tracks in Solids : Principles and Applications. University of California Press, Berkeley.
Green, P.F., 1981. A new look at statistics in fission track dating. Nucl.Tracks. Radiat.5 : 77 - 86.
Galbraith, R.F., 1981. On statistical models of fission track counts. Math. Geol. 13 : 471 - 478.
Hurford, A.J., 1983. Interpretation of fission track zircon ages. Terra cognita 3 : 138 - 139.
----------, and Green, P.F., 1983. The zeta age calibration on fission track dating. Isotop Geosci. 1 : 285 - 317.
Kowallis, B.J., Ferguson, J. and Jorgensen, G.J., 1989. Uplift along the Salt Lake segment of the Wasatch fault from apatite and zircon fission track dating in the little Cottonwood stock. Nucl. Tracks Radiat. Meas.,17 (3) : 325 - 329.
Lewis, C.L.E., 1989. Thermal history of the Kunlun batholith, N. Tibet, and implications for uplift of the Tibetan
Plateau. Nucl. Tracks Radiat. Meas.17(3) : 301-307.
Marks, P.,1957. Stratigraphic Lexicon of Indonesia. Pusat Djawatan Geologi Bandung (Geol.Survey of
Indonesia), Publikasi Keilmuan. 31: 233pp.
Naeser, C.W., 1979. Fission track dating and geologic annealing of fission tracks. In : Lectures in Isotope
Geology (Edited by Jager E. and Hunziker J.C.) Springer, New York.
Purnamaningsih, 1974. Stratigrafi dan Paleontologi Formasi Nanggulan, Jawa Tengah. Thesis, Univ.
Padjadjaran Bandung (unpublished), 11 pl. 3 gb.
Rahardjo, W., Sukandarrumidi, Rosidi, H.M.D., 1995. Peta Geologi Lembar Yogyakarta, Jawa. Skala 1 :
000. Pusat Penelitian dan Pengembangan Geologi, Bandung.
Tagami, T., Nand Lal, Sorkhabi Rasoul, B., Ito, H. and Nishimura, S., 1988. Fission Track Dating Using External Detector Method : a Laboratory Procedure. Faculty of Science. Kyoto University, Series of Geol & Mineral. LIII(1&2) : 1 - 30.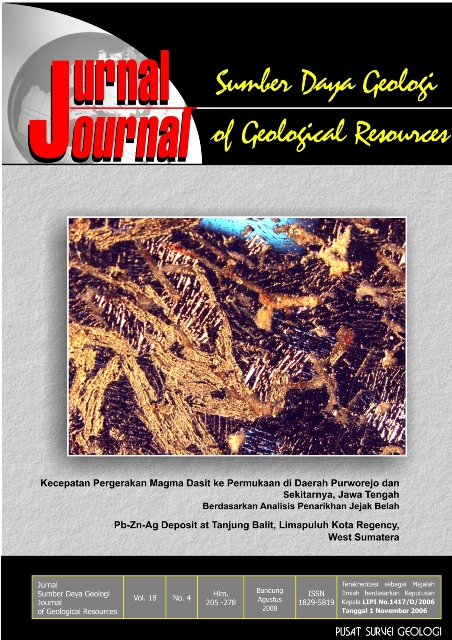 Downloads
License
Authors who publish articles in Jurnal Geologi dan Sumberdaya Mineral (JGSM.Geologi) agree to the following terms:
Authors retain copyright of the article and grant the journal right of first publication with the work simultaneously licensed under a CC-BY-NC or The Creative Commons Attribution–ShareAlike License.
Authors are able to enter into separate, additional contractual arrangements for the non-exclusive distribution of the journal's published version of the work (e.g., post it to an institutional repository or publish it in a book), with an acknowledgment of its initial publication in this journal.
Authors are permitted and encouraged to post their work online (e.g., in institutional repositories or on their website) prior to and during the submission process, as it can lead to productive exchanges, as well as earlier and greater citation of published work (See The Effect of Open Access)