THE PROVENANCE AND DIAGENESIS OF SANDSTONES OF THE EOCENE TANJUNG FORMATION IN THE KUALAKURUN AREA, CENTRAL KALIMANTAN
Abstract
Kualakurun area is located in the western margin of Tertiary Barito Basin. The basin was filled by the Eocene Tanjung Formation consisting of conglomerate and sandstone in the lowerpart, mudstone within tercalated by coal seams in the middle part, and sandstones in the upper part. The sandstones consist of subarkose, sub litharenite, and felspathi clitharenite. The framework grains dominantly consist of quartz with some lithic and feldspar fragments.The accessory minerals are muscovite and opaque minerals.

 

The provenance of sandstone fragments of theTanjung Formation were derived from Continental Block (Craton Interior) and Recycled Orogen (Quartzose Recycled), which mostprobably were derived from the pre-Tertiary rocks of the Schwaner Mountains (Cretaceous granites and tonalities intruding Silurian-Permian metamorphic rocks) in the west of the Kualakurun area. Diagenetic processes identified in the sandstones are compaction, mineral authigenic and secondary porosity formations. The diagenesis regimeis categorizedas "mesogenesis mature Aâ€, that is equal to mudrocks tageII, having apaleo-temperature of 80°upto95°C,and the burial depth ranging from2to3 kilometers.

 

Keyword: provenance, sandstone, diagenesis, Tanjung Formation, Kualakurun
Downloads
Download data is not yet available.
References
Ammirudin and Trail,D.S.,1987. Geological Map of the Nangapinoh Quadrangle, Kalimantan 1:250,000 scale, Geological Research and Development Centre, Indonesia.
Burley, S.D., Kantorowicz, J.D. and Waugh, B., 1987. Clastic Diagenesis. In: Beaumont E.A. and Foster, N.H., (Eds.); Reservoirs II, sandstone, Treatise of Petroleum Geology Reprint Series No 4, Am.Assoc. Petrol.Geol.:408-445.
Dickinson, W.R., Beard,L.S., Brakenridge, G.R., Erjavec, J.L., Ferguson, R.C., Inman, K.F., Knepp, R.A., Linberg, J.L., and Ryberg, P.T., 1983. Provenance of North American Phanerozoics and stones in relation to tectonic setting. Geological Society of America Bulletin94:222-235.
Dickinson W.R., and Suczeck C.A.,1979. Platetectonic and sandstone composition. Am. Assoc. Petrol. Geol.
Bull.63:2164-2182.
Folk,R.L.,1980. Petrology of Sedimentary Rocks.Hemphil Publishing Company, Austin,182p.
Hall, R., and Nichols, G., 2002. Cenozoic sedimentation and tectonics in Borneo: climatic influences in orogenesis.In: Jones, S.J., and Frostick,I.,(Eds). Sediment Fluxto Basin: Causes, Control and Consequences. Geological Society, London, Special Publication,191:5-22, Geological Society of London 2002.
Ingersol, R.V. and Suczek, C.A., 1979. Petrofacies and provenance of Late Mesozoic fore arc basin, northern and central California. American Association of Petroleum Geologist Bulletin 67:1125-1142.
Schmidt, V. and McDonald, D.A.,1979.The rocks of secondary in the course of sandstone diagenesis.Soc.
Econ.Pal.Min.,Spec.Publ.26:175-207.
Sumartadipura, A. dan Margono,U.,1996, Peta Geologi Lembar Tewah(Kualakurun) ,Kalimantan Tengah, Sekala1:250.000.Pusat Penelitian dan Pengembangan Geologi.
Supriatna, S., Djamal, B., Heryanto,R., dan Sanyoto, P.,1994. Peta Geologi Lembar Banjarmasin,Sekala1:
000.Pusat Penelitian dan Pengembangan Geologi,Bandung.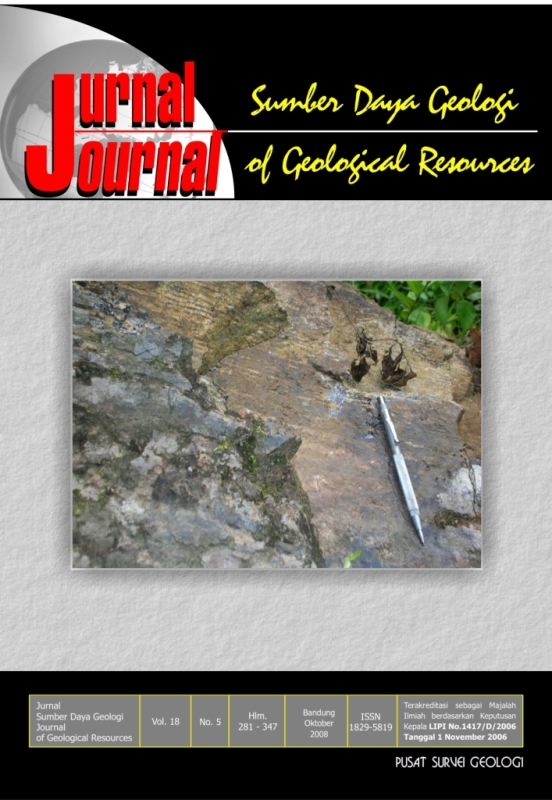 Downloads
License
Authors who publish articles in Jurnal Geologi dan Sumberdaya Mineral (JGSM.Geologi) agree to the following terms:
Authors retain copyright of the article and grant the journal right of first publication with the work simultaneously licensed under a CC-BY-NC or The Creative Commons Attribution–ShareAlike License.
Authors are able to enter into separate, additional contractual arrangements for the non-exclusive distribution of the journal's published version of the work (e.g., post it to an institutional repository or publish it in a book), with an acknowledgment of its initial publication in this journal.
Authors are permitted and encouraged to post their work online (e.g., in institutional repositories or on their website) prior to and during the submission process, as it can lead to productive exchanges, as well as earlier and greater citation of published work (See The Effect of Open Access)