Potensi Batuan Induk Hidrokarbon pada Formasi Cinambo di Daerah Majalengka, Jawa Barat
Abstract
 
Penelitan  endapan klastik berbutir halus dan karakteristik litofasies batuan Formasi Cinambo bertujuan untuk memperkirakan potensi batuan induk dalam menghasilkan minyak dan gas di daerah Majalengka.  Pengambilan 14 contoh  batuan dilakukan untuk analisa geokimia di laboratorium yaitu  analisa kandungan TOC , analisa Pirolisis Rock-Eval dan GC-MS. Hasilnya menunjukkan nilai TOC sebesar 0,42 – 1,90 %,  potensi rendah hingga baik  untuk membentuk hidrokarbon. Hasil analisis pyrolisis rock Eval memperlihatkan T max sebesar 359  - 475 oC termasuk kategori belum matang hingga paska matang. Berdasarkan nilai HI sebesar 12 – 114 mg HC/g TOC, fasies organic di daerah penelitian dapat dibagi menjadi 2 fasies yaitu fasies CD dan D,   dapat menghasilkan minyak dalam kuantitas sedang dan gas dalam kuantitas relatif kecil. Type kerogen Formasi Cinambo di daerah penelitian berdasarkan diagram TOC versus PY menunjukkan tipe kerogen III, termasuk oil prone dan gas prone. Hasi analisis GCMS menunjukkan bahwa batuan induk di daerah penelitian mempunyai kondisi lingkungan pengendapan yang material organiknya berasal dari tanaman darat.
 
Kata Kunci : batulempung, batuan induk, hidrokarbon, Formasi Cinambo, TOC.
 
Downloads
Download data is not yet available.
References
Clements, B., Hall. R, Smyth, H. R. & Cottam. M. A. (2009). Thrusting of a volcanic arc: a new structural model for Java. Petroleum Geoscience, 15(2), 159-174.
Cox, H.C., Leeuw, J.W., Schenk, P.A. et al., 1986. Bicadinane, a C30 pentacyclic isoprenoid
hydrocarbon found in crude oil. Nature, pp. 316-319.
Djuhaeni & Martodjojo, 1989, Stratigraphy of Majalengka area and relationships with nomenclature of lithostratigraphy units in Bogor basin, Geologi Indonesia, 12 (1), 227-252.
Djuri, 1973, Peta Geologi Lembar Majalengka, Jawa. Skala 1 : 100.000. Pusat Penelitian dan Pengembangan Geologi.
Einsele, G., 2000, Sedimentary Basins : Evolution, Facies, and Sediment Budget, Springer-verlag, Berlin, 2nd, p. 706 –722.
Hermiyanto, M.H.Z & Panggabean, H. 2014. Hydrocarbon Source Rock Potential of the Sinamar Formation, Muara Bungo, Jambi. Indonesian Journal on Geoscience, Vol. 1 No. 1, April 2014, p.53-64.
Hermiyanto, M.H.Z., Panggabean, H., Hendarmawan dan Syafri, I. 2015. Dinamika kehadiran Material Organik pada Lapisan Serpih Formasi Kelesa di Daerah Kuburan Panjang, Cekungan Sumatera Tengah, Riau. Jurnal Geologi dan Sumberdaya Mineral, Vol. 16, No. 4., November 2015. p.171-181
Kevin M. Robinson, 1987, An Overview of Source Rock and Oil In Indonesia. Procceding Indonesian Petroleum Association. Sixteeth Annual Convention, Oktober 1987.
Koesoemadinata, R. P. & Martodjojo, S. (1974). Penelitian Turbidit di Pulau Jawa. Annual report geology, 1295/74, 12-24.
Langford, F.F., and Balnc-Valleron, M. M., 1990, Interpreting Rock-Eval pirolisis data using pyrolizable hydrocarbons versus total organic carbon : American Association of Petroleum Geologist Bulletin, v 74 p. 799-804.
Martodjojo, S. (1984). Bogor basin evaluation, West Java (Evolusi Cekungan Bogor, Jawa Barat), Doctor thesis, ITB. Bandung, Indonesia: Institut Teknologi Bandung press.
Mukhopadhyay, P. K., Wade J.A., Gruge M. A., 1995, Organic facies and maturation of Jurassic/ cretaceous rocks, and possible oil-source rock correlation based on pyrolysis of asphaltenes, Scotian Basin Canada, Org. Geochem., Vol. 22, No.1, pp. 85- 104.
Muljana Budi, Koichiro Watanabe, 2012, Modal and sandtone Composition of Representative Turbidite from the Majalengka Sub-Basin, West Java Indonesia. Journal of Geography and Geologi vo.. 4 No. 01. March 2012. P. 1-17.
Peters, K.E., 1986, Guidlines for evaluating petroleum source rock using programmed pyrolysis. American Association of Petroleum Geology, Bulletin, 70, p.1-36.
Praptisih, Kamtono, Joko Trisuksmono dan Ade Tatang, 2014, Batuan Induk Hidrokarbon di daerah Majalengka dan sekitarnya, Jawa Barat. Laporan Penelitian Pusat Penelitian Geoteknologi LIPI Tahun 2014.
Satyana, A.H., Armandita C., 2004. Deepwater Plays of Java, Indonesia: Regional Evaluation on Opportunities and Risks. Proc. Deepwater And Frontier Exploration In Asia & Australasia Symposium, Indonesian Petroleum Association.
Subroto, E.A., 2015. The Role of coaly materials as oil and gas source rocks (Conventional and Unconventional) in the Kutai Basin, Indonesia. Proceeding and Abstract of 32nd Ann. Meeting of the Society for Organic Petrology, Vol. 32, Yogyakarta, Indonesia. p 123-128.
Van Bemmelen, R.W., 1949: The Geology of Indonesia. Vol. IA, General Geology of Indonesia and adjacent archipelagos, Martinus Nijhoff, The Hague, Netherlands.
Waples D.W.,1985. Geochemistry in Petroleum Exploration, International Human Resources Developmen Co., Boston, 232 h.
Waples, D.W. and Machihara, 1991. Biomarker for Geologist-A Practical Guide to the Ap¬plication of Steranes and Triterpanes in Pe¬troleum Geology. American Association of Petroleum Geologists. Methods in Exploration Series, 9, 91pp.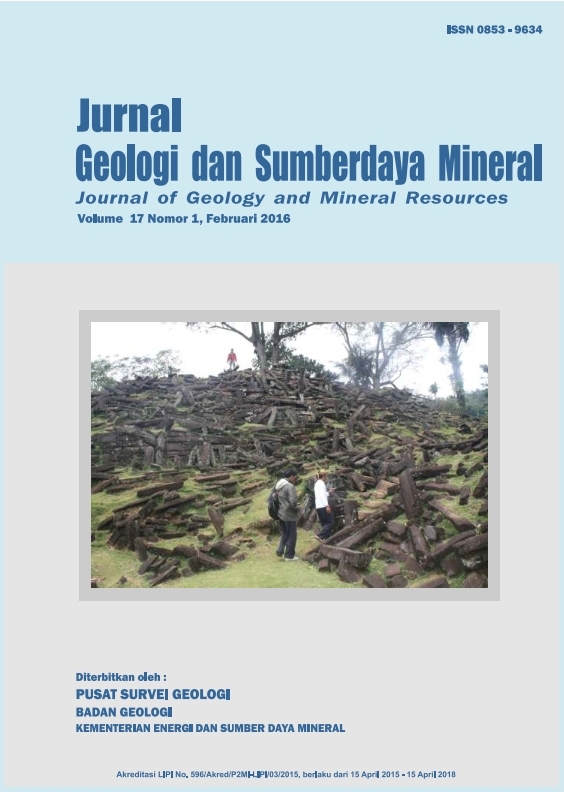 Downloads
License
Authors who publish articles in Jurnal Geologi dan Sumberdaya Mineral (JGSM.Geologi) agree to the following terms:
Authors retain copyright of the article and grant the journal right of first publication with the work simultaneously licensed under a CC-BY-NC or The Creative Commons Attribution–ShareAlike License.
Authors are able to enter into separate, additional contractual arrangements for the non-exclusive distribution of the journal's published version of the work (e.g., post it to an institutional repository or publish it in a book), with an acknowledgment of its initial publication in this journal.
Authors are permitted and encouraged to post their work online (e.g., in institutional repositories or on their website) prior to and during the submission process, as it can lead to productive exchanges, as well as earlier and greater citation of published work (See The Effect of Open Access)