BIJIH BESI DI DAERAH BONTOCANI KABUPATEN BONE SULAWESI-SELATAN
Abstract
The iron ore located at Bontocani, Bone Regency, South Sulawesi is found in the form of boulders. The iron ore is associated with intrusions of granodiorite, pegmatite granodiorite and quartz as a result of moving up magmatic liquid containing iron ore, then it is enriched by the magmatic liquid remains that form granodiorite known as hydrothermal liquid through the cracks. Â Sometimes, the iron ore is an aggregate at the contact zone between granodiorite intrusive and limestone. Mineral association occurred among garnet, quartz and ore mineral of magnetite and hematite, then mineralization in the research area is assumed as skarn type.
Prospective area located at Tanjung village, in the south part of research area is 187.5 ha accompanied by magnetite mineralization and the degree of Fetotal   = 61,98 %, and at Pake village (220.78 ha) located at the north part and dominated by hematite mineralization with Fetotal = 52,35 %.
 
Keywords: iron ore prospecting, granodiorite, Â pegmatite granodiorite, Â prospective area
Downloads
Download data is not yet available.
References
Corbett, G.J. & T.M. Leach, 1995. S.W. Pacific Rim Au/Cu Systems: Structure, Alteration and Mineralization, Short Course number 17, 6-7 April, Mineral Deposit Research Unit, Vancouver, Canada, 150 p.
Hamilton, W., 1979. Tectonic of The Indonesian Region; United State Government Office, Washington, 345 p. Katili, J.A. 1975. Evolution of the Southeast Asian arc complex. J.Indon. Assoc. Geol. 21: 327-343.
Katili, J.A, 1980. Geology. Departemen Research Nasional, Jakarta, Bab XI hal 84-87 (855 hal).
Sukamto, Rab., 1975. Peta geologi Indonesia, Lembar Ujung Pandang, sekala 1:1.000.000. Pusat Penelitian dan Pengembangan Geologi Bandung.
Sukamto Rab, 1982a. Peta Geologi Lembar Pangkajene dan Watampone Bagian Barat, Sulawesi sekala
:250.000. Pusat Penelitian dan Pengembangan Geologi Bandung.
Sukamto Rab, 1982b. Peta Geologi Lembar Ujung Pandang, Benteng dan Sinjai. Sulawesi sekala 1:250.000.
Pusat Penelitian dan Pengembangan Geologi Bandung.
William, H, Turner F.J and Gilbert C.M, (1954). Petrography. An Introduction to the Study of Rocks in thin
Sections. W.H Freeman and Co, San Fransisco.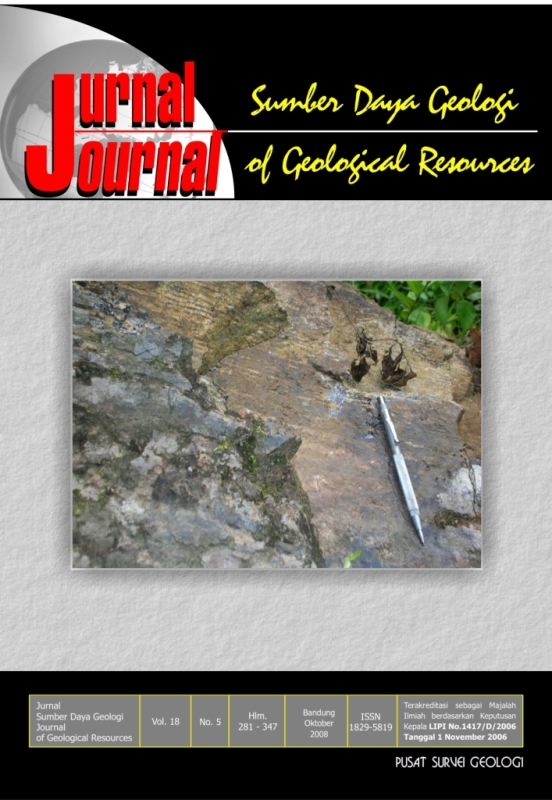 Downloads
License
Authors who publish articles in Jurnal Geologi dan Sumberdaya Mineral (JGSM.Geologi) agree to the following terms:
Authors retain copyright of the article and grant the journal right of first publication with the work simultaneously licensed under a CC-BY-NC or The Creative Commons Attribution–ShareAlike License.
Authors are able to enter into separate, additional contractual arrangements for the non-exclusive distribution of the journal's published version of the work (e.g., post it to an institutional repository or publish it in a book), with an acknowledgment of its initial publication in this journal.
Authors are permitted and encouraged to post their work online (e.g., in institutional repositories or on their website) prior to and during the submission process, as it can lead to productive exchanges, as well as earlier and greater citation of published work (See The Effect of Open Access)