STUDI GEOMORFOLOGI UNTUK KELAYAKAN TEKNIS JALAN RUAS KANDANGAN- BAGANDAH KALIMANTAN SELATAN
Abstract
Kandangan-Bagandah road is the shorthest road alternative, which connects many town in South Kalimantan with the sea port of Batulicin, South Kalimantan.
The road crossing a steep slope terrain and the very thick weathered soil has caused this road segment have the high susceptibility of mass movement.
Geomorphological problems causing the road damage relate to the condition of landform such as: slope, degree of land density, peat or clay zone. Based on the physical aspect, the problems occurr as: mass movement soil creep, rock fall, development of valley (lateral erosion, backward erosion) and subsidence.
Keywords: landform, lineament, sloping, mass movement, roadway
Downloads
Download data is not yet available.
References
Damen M.C.J., (1987). Introduction to soil erosion by water , ITC course, Enchede, The Netherlands
Gils H.van, Huizing, H., Kannegieter, A., Der Zee D. van, (1991). The evolution of the ITC system of rural land use and land cover classification (LUUC), ITC Jour. (1991-3), p.163-164.
Heryanto. R dan Sanyoto, P., (1994). Peta Geologi Lembar Amuntai, Kalimantan, skala 1:250.000, Puslitbang Geologi, Bandung
Margono. U, Sutrisno, Susanto, E., (1997). Peta Geologi Lembar Kandangan, Kalimantan Selatan, skala 1:100.000, Puslitbang Geologi, Bandung
Meijerink A.M.J., (1998). Data acquisition and data capture through terrain mapping units, ITC Jour. (1988) (1): 23-44.
Mulyadi S., (1995). Masalah kemantapan lereng galian jalan, Pelatihan kegempaan dan mitigasi, Kanwil Dep.P.U. Nusa Tenggara.
Poedjoprajitno, S. Kamawan, Suharsono., (2000). Peta Geomorfologi Lembar Kandangan, Kalimantan Selatan, skala 1:100.000, Puslitbang Geologi, Bandung
Reineck, H.E., Singh, I.B., (1973). Depositional sedimentary environments., Springer-Verlag, Berlin Heidelberg, 439 p
Scheidegger, A. E., (1987). Systematic geomorphology, Springer-Verlag, Wien New Yorks: 285 pp
Zuidam. R.A. van., (1985). Aerial photo Interpretation in terrain analysis and geomorphologic mapping, Smiths publisher, The Hague, The Netherlands, 442 p.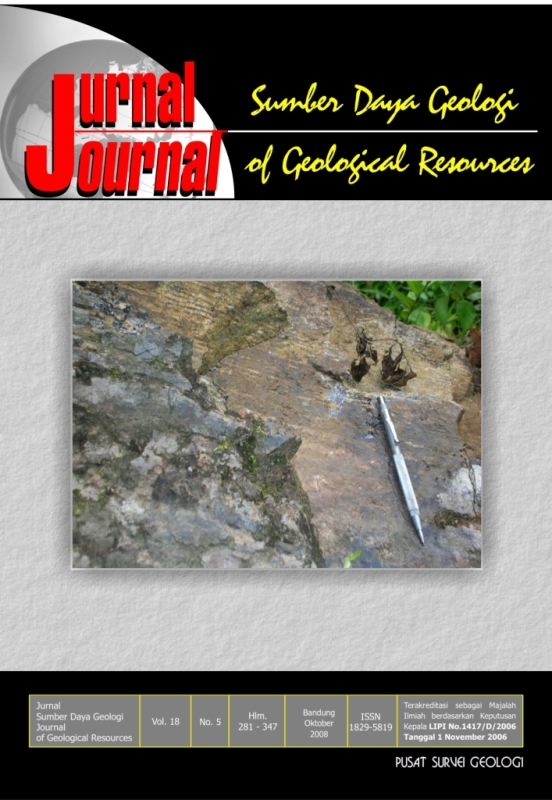 Downloads
License
Authors who publish articles in Jurnal Geologi dan Sumberdaya Mineral (JGSM.Geologi) agree to the following terms:
Authors retain copyright of the article and grant the journal right of first publication with the work simultaneously licensed under a CC-BY-NC or The Creative Commons Attribution–ShareAlike License.
Authors are able to enter into separate, additional contractual arrangements for the non-exclusive distribution of the journal's published version of the work (e.g., post it to an institutional repository or publish it in a book), with an acknowledgment of its initial publication in this journal.
Authors are permitted and encouraged to post their work online (e.g., in institutional repositories or on their website) prior to and during the submission process, as it can lead to productive exchanges, as well as earlier and greater citation of published work (See The Effect of Open Access)