"Brittleness Index" Lapisan Serpih Formasi Kelesa Bagian Atas di Kuburan Panjang, Cekungan Sumatera Tengah , Riau
Abstract
Penelitian ini difokuskan pada nilai Brittleness Index (BI) serpih di daerah Kuburan Panjang sub-Cekungan Sumai, Cekungan Sumatera Tengah. Subjek penelitian ini adalah kehadiran mineral-mineral getas pada batuan serpih dari Formasi Kelesa bagian atas yang berumur Eosen-Oligosen. Serpih mengandung kuarsa dan karbonat sebagai indikator mineral getas yang sangat dominan. Berdasar nilai kandungan material organik pada serpih Formasi Kelesa dari 1,18% sampai 7,17% yang menunjukkan kemampuan serpih sebagai batuan induk termasuk kategori sangat baik. Serpih Formasi Kelesa bagian atas mempunyai BI berkisar antara 35,72 – 63,19 % yang tergolong ke dalam kategori sedang sampai baik (sedikit lunak/less ductile - rapuh/brittle). Kandungan mineral getas yaitu kuarsa dan karbonat ternyata sangat mempengaruhi nilai Brittleness Index (BI) di lokasi penelitian. Sementara itu mineral lempung (iliit, kaolinit, dickite, nacrite) kurang memberikan dampak terhadap nilai BI.
 
 
Kata kunci : Formasi Kelesa, Eosen-Oligosen, Cekungan Sumatera Tengah,
          Brittleness Index (BI) 
Downloads
Download data is not yet available.
References
Clarke, M.C.G., 1982, Notes on a Geological traverse from Padang to Medan, Sumatra. Unpublished Report, NSFP Rep. Ser. Vol. 4, No. 4/83, Directorate of Mineral Resources, Bandung, Indonesia, 11/10/83.
De Coster, G.L., 1974, The Geology of The Central and South Sumatra Basins. IPA 3rd Annual Convention Proceedings
Eubank, R.T., dan Makki, A.C., 1981, Structural geology of The Central Sumatra Back Arc Basin, IPA 10th Annual Convention Proceedings
Heidrick, T.L., dan Aulia, K., 1993, A Structural and Tectonic Model of The Coastal Plains Block, Central Sumatra Basin, Indonesia, IPA 22nd Annual Convention Proceedings.
Hermiyanto, .H., Panggabean, H, Herdamawan dan Syafri, I, 2015, Dinamika Kehadiran Material Organik Pada Lapisan Serpih Formasi Kelesa di Daerah Kuburan Panjang, Cekungan Sumatera Tengah, Riau. Jurnal Geologi dan Sumberdaya Mineral, Vol.16 Nomor 4, h.171 - 181.
Heryanto, R. dan Hermiyanto, H., 2006, Potensi Batuan Sumber (Source Rock) Hidrokarbon di Pegunungan Tigapuluh, Sumatera Tengah. Jurnal Geologi Indonesia, Vol.1, No.1, h.37-48.
http://eprints.undip.ac.id/43216/1/naskah_pulikasi.pdf ; Farizi, F "Analisis Potensi Shale Gas Formasi Tanjung Cekungan Barito, Kalimantan Selatan Menggunakan Data Petrografi, SEM , Geokimia, XRD , dan Seismik 2.
Ju YW., Wang, G., Bu, H., Li, Q., Yan, Z., 2014, China Organic Rich Shale Geologic Features and Special Shale Gas Production Issues, Journal of Rock Mechanics and Geotechnical Engineering 6, 196-207.
Patra E, 2014, Geologi daerah Kuburanpanjang dan Sekitarnya, Kabupaten Indragiri Hulu, Riau, Skripsi pada Institut Teknologi Bandung, (tidak dipublikasikan).
Perez, M and K.J. Marfurt, 2014 Mineralogy-based brittleness prediction from surface seismic data: Application to the Barnett Shale. Interpretation, Vol. 2, No. 4 (November 2014); p. T255–T271, Society of Exploration Geophysicists and American Association of Petroleum Geologists.
Rahmalia, D., 2012, Shale Gas Potential in Indonesia "More to The Eastâ€, Poceedings, Indonesian Petroleum Association Thirty-Sixth Annual Convention & Exhibition, May 2012.
Silitonga, P.H dan Kastowo1995. Peta Geologi Lembar Solok skala 1:250.000. Pusat Penelitian dan Pengembangan Geologi, Bandung.
Simandjuntak, T.O., Budhitrisna, T., Surono., Gafoer, S., dan Amin, T.C., 1994. Peta Geologi Lembar Muarabungo, Sumatera skala 1:250.000. Pusat penelitian dan Pengembangan Geologi, Bandung.
Sosrowidjojo, Imam B., 2009, Evaluating and Developing Coalbed Methane Resources, Bahan Kursus (Tidak dipublikasikan).
Susanto, E., Suwarna, N. dan Hermiyanto, H., 2004. Penelitian Fosil Fuel dan Paleontologi, Kajian Oil shale, di Sumatera Bagian Tengah. Laporan Internal, Pusat Penelitian dan Pengembangan Geologi, Bandung.
Suwarna, N., Budhtrisna, T., Santosa, S., dan Andi Mangga, S., 1994. Geological Map of the Rengat Quadrangle, Sumatera, scale 1 : 250.000. Geological Research and Development Centre, Bandung.
Waples, D.W., 1985, Geochemistry in Petroleum Exploration. Brown and Ruth Labotaries, Inc. Denver, Colorado.
Wang, F. P., and J. F. W. Gale, 2009, Screening criteria for shale-gas systems: Gulf Coast Association of Geological Societies Transactions, 59,
Yarmanto, Muswar, I., Kadar, D., dan Johansen, S. 2006, Re-Appraisal of Shallow Marine Reservoirs In The Central Sumatra Basin, Sixty-Five Years After First 71
Hydrocarbon Discovery. Jakarta2006 International Geosciences Conference and Exhibition, Jakarta.
Zhang, DW., Li YX., Zhang JC., Qiao DW., Jiang WL., Zhang JF., 2012, National Survey and Assesment of Shale Gas Resources Potential in China, Beijing: Geologic Publishing House in Chinese.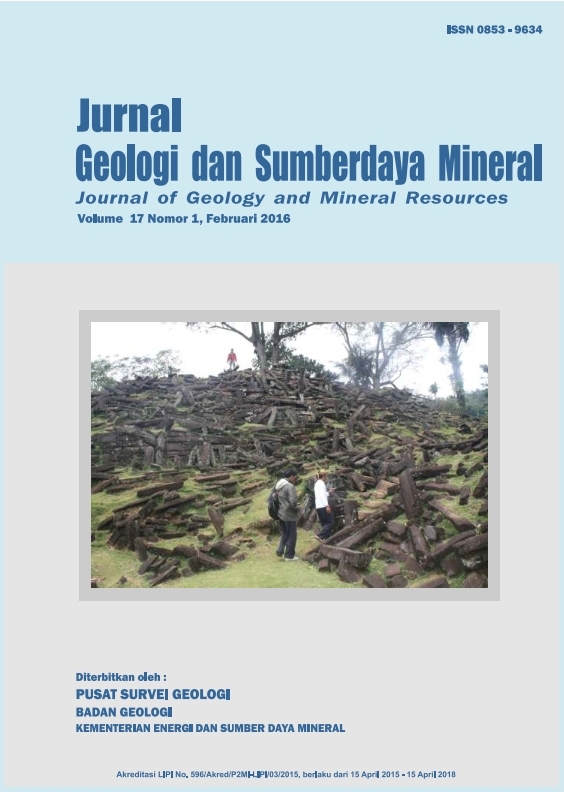 Downloads
License
Authors who publish articles in Jurnal Geologi dan Sumberdaya Mineral (JGSM.Geologi) agree to the following terms:
Authors retain copyright of the article and grant the journal right of first publication with the work simultaneously licensed under a CC-BY-NC or The Creative Commons Attribution–ShareAlike License.
Authors are able to enter into separate, additional contractual arrangements for the non-exclusive distribution of the journal's published version of the work (e.g., post it to an institutional repository or publish it in a book), with an acknowledgment of its initial publication in this journal.
Authors are permitted and encouraged to post their work online (e.g., in institutional repositories or on their website) prior to and during the submission process, as it can lead to productive exchanges, as well as earlier and greater citation of published work (See The Effect of Open Access)