Gunung Api Purba Balawaian Diinterpretasi Pada Citra Radar
Abstract
Abstract - The geology of  Meratus Mountain is relatively complex and still arguable until these day.Its magmatic activity is characterized by variation of igneous and volcanic rocks. Morphology feature of Balawaian paleo volcano can be recognized with radar imagery. Furthermore, validation of rocks constituent is observed directly from the field and hand sample laboratory analysis include the petrography and geochemistry. As the result, the morphology of Balawaian volcano is concluded as a truncated cone and composed by amphibole basalt which assumed come from the tholeiitic magma origin. The volcano intruded the Late Cretaceous - Late Paleocene andesite-basal unit during Late Miocene or Mio-Pliocene (Neogene). The volcano's magma is then interpreted has originate from Late Cretaceous subduction which trapped in the lower mantle and then flowed to the surface by the influence of Balawaian dextral fault pull apart basin.

Keyword: Balawaian, radar imagery, amphibole basalt, Meratus, Neogen.
Downloads
Download data is not yet available.
References
Amiruddin dan Trail, D.S., 1993. Geologi Lembar Nangapinoh. Pusat Penelitian dan Pengembangan Geologi, Bandung, 49 hal.
Anderson, E.M., 1951, The Dynamics of Faulting and Dyke Formation With Applications to Britain. Oliver and Boyd Ltd.; 206 hal.
Arifin, L., Lugra, I.W., dan Raharjo, P., 2009. Zona Sesar Di Perarian Kalimantan Selatan (LP1611). Jurnal Geologi Kelautan, 7 (1): 11-21.
Bergman, S.C., Coffield, D.Q., Talbot, J.P. dan Garrard, R.A, 1996, Tertiary Tectonic and magmatic evolution of western Sulawesi and the Makassar Strait, Indonesia; evidence for Miocene continent-continent collision. in Tectonic Evolution of Southeast Asia, Geological Society Special Publication, 106: 391-429.
Bronto, S,. 2010. Geologi Gunung api Purba. Badan Geologi, Bandung, 154 hal.
Davis, L., Hall, R., Amstrong, R., 2014. Cretaceous crust in SW Borneo: Petrological, geochemical and geochronological constrains from the Schwaner Mountain, Proc. Ann. Conv. 38th IPA, Jakarta.
Hall, R., 2009. Indonesia, Geology. In Gillispie, G. and Clague, D., Encyclopedia of Island, University of California Press, 454-460.
Hartono, U., Sukamto, R., Surono, Panggabean, H., 2009. Evolusi Magmatik Kalimantan Selatan. Publikasi Khusus Pusat Survei Geologi. 140 hal.
Hartono, 2012. Magmatism in Kalimantan. Publikasi Khusus Pusat Survei Geologi. 199 hal.
Haryanto, R., dan Sanyoto, P., 1994. Peta Geologi LembarAmuntai, Kalimantan Selatan, skala 1:250.000. Pusat Penelitian dan Pengembangan Geologi, Bandung.
Haryanto, R., 2000. Pengendapan batuan sedimen Kelompok Pitap di bagian selatan Pegunungan Meratus. Jurnal Geologi dan Sumber Daya Geologi, 14(3): 78-93.
Le Bas, M.J ., Le Maitre, R.W., Streckeisen, A., Zanettin, B.,1986. A chemical classification of volcanic rocks based on the total alkali-silica diagram. Journal Petrology, 27: 745-750.
Mathieu, L., van Wyk de Vries, B., Pilato, M., dan Troll, V.R., 2011. The interaction between volcanoes and strike-slip, transtensional and transpressional fault zones: Analogue model and natural examples. Journal of Structural Geology, doi:10.1016/j.jsg2011.03.003, hal. 1-9.
McClay, K., 1986. The Mapping of Geological Structures, John Wiley & Sons, Inc., New York. 161 hal.
Moghazi, A.M., 2003. Geochemistry and petrogenesis of a high-K calc-alkaline Dohan Volcanic suite, Sout Safaga area, Egyp: the role of late Neoproterozoic crustal extention. PreCambrian Research, 125: 161-178.
Novita, D., 2015. Stratigrafi Formasi Karamaian di Desa Mawangi, Kandangan, Kalimantan Selatan. Laporan tidak terbit.
Peccerillo, A. And Taylor, S.R., 1976. Geochemistry of Eocene Calc-Alkaline Volcanic Rocks from the Kastamone Area, Northern Turkey. Contrib. Mineral. Petrol., 58: 63-81.
Rickard, M.J., 1972. Fault Classification: discussion. Geol. Soc. Am. Bull., 83: 2545-2546.
Rohadi, S. dan Masturyono, 2015. Lineasi Patahan Geologi Berdasarkan Distribusi Hiposenter Relokasi di Wilayah Jawa. Jurnal Meteorologi dan Geofisika, 16 (3).
Sikumbang, N., dan Heryanto, R., 1994. Peta Geologi Lembar Banjarmasin, Kalimantan Selatan, skala 1:250.000. Pusat Penelitian dan Pengembangan Geologi, Bandung.
Sun, S.S. and McDonough, W.F., 1989. Chemical and isotopic systematic of oceanic basalt; implications for mantle composition and processes. In : Magmatism in the ocean basins. Saunders, A.D. and Norry, M.J. (ed) Geological Society of London, London. 42:313-345.
Witts, D., Davies, L., Morley, R.J., Andeson, L., 2015. Neogene Deformation of East Kalimantan; A Regional Perspective. Proc. Ann. Conv. and Exh. 36th IPA, Jakarta.
Yusuf, A.S., Ismawan, dan Helmi, F., 2015. Evolusi Tektonik Berdasarkan Analisis Data Kekar Daerah Binuang dan sekitarnya, Kecamatan Binuang, Kabupaten Tapin, Provinsi Kalimantan Selatan. Bulletin of Scientific Contribution, 12(3): 155-162.
Zahirovic, S., Seton, M., dan Muller, R.D., 2014. The Cretaceous and Cenozoic tectonic evolution of Southeast Asia. Solid Earth, 5: 227-273.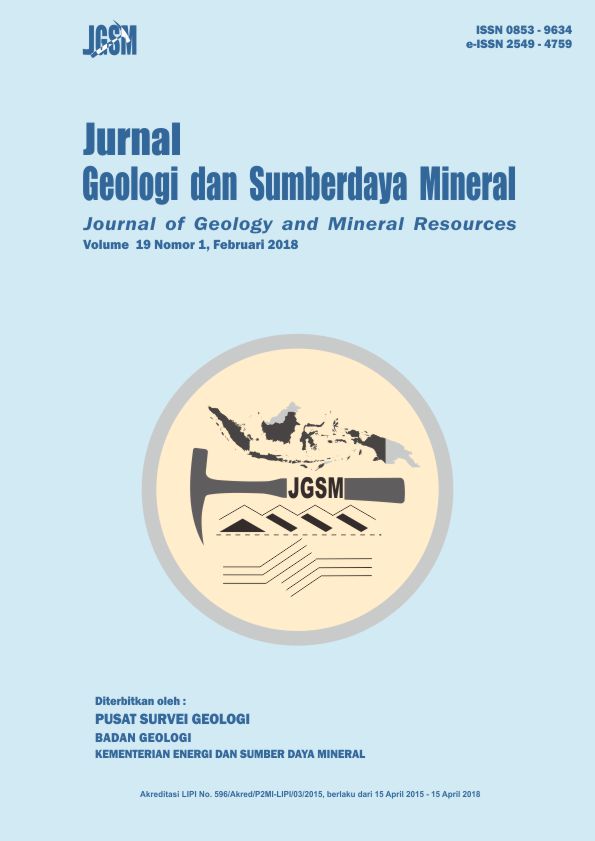 Downloads
License
Authors who publish articles in Jurnal Geologi dan Sumberdaya Mineral (JGSM.Geologi) agree to the following terms:
Authors retain copyright of the article and grant the journal right of first publication with the work simultaneously licensed under a CC-BY-NC or The Creative Commons Attribution–ShareAlike License.
Authors are able to enter into separate, additional contractual arrangements for the non-exclusive distribution of the journal's published version of the work (e.g., post it to an institutional repository or publish it in a book), with an acknowledgment of its initial publication in this journal.
Authors are permitted and encouraged to post their work online (e.g., in institutional repositories or on their website) prior to and during the submission process, as it can lead to productive exchanges, as well as earlier and greater citation of published work (See The Effect of Open Access)