PETROLOGI DAN GEOKIMIA BATUAN GUNUNG API METULANGDI DAERAH LONGBIA, KALIMANTANTIMUR: IMPLIKASI TEKTONIKANYA
Abstract
Volcanic rocks which crop out at Long Bia area, east Kalimantan, consist of basaltic andesite to rhyolite in composition. They are in the form of lava, dykes, and pyroclastics. Stratigraphically, the  rocks belong the Tertiary Quaternary Metulang Volcanics. Petrographically, the rocks have porphyritic texture with plagioclase, feldspar, and pyroxene phenocrysts that are embedded within a groundmass.  Geochemical characteristic of major elements compose of  SiO2 (52,8 - 62,5 wt.%), TiO2 (0,57- 0,75wt.%), Al2O2  (15.4- 8,6 wt.%), CaO (5,4-9,4 wt. %) dan MgO (3,21-7,89 wt.%) with  depletion on trace elements (Nb, Zr, and Y). In contrast, light rare earth elements (La, Ce, and Nd) and large ion lithophile elements (Ba, Rb. K, and Sr) exhibit enrichment. Characteristics of petrology and geochemistry of the Metulang Long Bia Volcanics indicate that they were formed In an island arc environment and it is interpreted to be related to the Borneo-Palawan subduction activity during the  Tertiary-Quaternary time.
 
Keywords : Petrology, geochemistry, Metulang Long Bia, tectonics
Downloads
Download data is not yet available.
References
Hamilton, W., 1979. Tectonics of the Indonesian region. United States Geol. Survey. Profess. Paper, I 078.
Heryanto, R. and Abidin, H. Z.. 1995. Peta Geologi Lembar Long Bia (kompilasi), Skala 1:250.000. Pusat Penelitian dan Pengembangan Geologi, Bandung.
Hutchison, C.S., 1988, Stratigraphic-Tectonic Model for Eastern Borneo, Geol. Soc. Malaysia. Bulletin 22, pp.135-151.
Hutchison, C.S., 1996. 'The Rajang accretionary prism' and 'lupar line' problem of Borneo. In Hall, R & Blundell, D. (eds). Tectonic Evolution of Southeast Asia. J. Geol. Soc. Special Publication No.106, pp.247-261.
Masuda, M., Nakamura, N and Tanaka, K., 1973. Fine structure of mutually normalized rare-earth patterns of chondrites. Geochim. Cosmochim. Acta.37. 239-248.
Le Bas, M.J., Le Maitre, R.W., Streckelsen, A. and Zanettin, B., 1986. A chemical classification of volcanic rocks based on the total alkali-silika diagram; J. Petrology. 27: 7 45-750.
Miyashiro, A., 1974. Volcanic rock series in island arc and active continental margin. American J. Sci. 274, 321-55.
Moss, S.J., A.Carter., S.Baker., A.J. Hurford., 1998. A Late Oligocene tectono-volcanic event in East Kalimantan and the implications for tectonics and sedimentation in Borneo. J. Geol. Soc.
Peccerillo, A and Taylor, S.R., 1976. Geochemistry of Eocene calc-alkaline volcanic rocks from the Kastamonu area, Northern Turkey. Contrib. Mineral. Petrol. 58, 63-81.
Pieters, P.E., Trail, D.S. & Supriatna, S., 1987. Correlation of Early Tertiary rocks across Kalimantan. Proceedings 16th IPA Annual Convention, 1, pp. 291-306.
Pieters, P.E., Baharuddin and Mangga, A., 1993. Peta Geologi Lembar Long Nawan, Kalimantan, Skala 1:250.000. Pusat Penelitian dan Pengembangan Geologi, Bandung.
Soeria- Atmadja, R., Noeradi, D. & Priadi, B., 1999. Cenozoic magmatism in Kalimantan and its related geodynamic evolution. J. Asian Earth Sci. 17, pp 25-45.
Thompson, R.N., Morrison, M.A., Hendry, G.L & Parry, S.J., 1984. An assessment of the relative role of a crust and mantle in magma genesis: an elemental approach. Phil. Trans. Royal Soc. of Lond. A 310, 549-90.
Vogt, E.T., & Flower, M. F. J., 1989. Genesis of the Kinabalu (Sabah) granitoid at a subdution-collision Junction. Contrib. Mineral. Petrol. 103. 493-509.
Wilson, M., 1989. Igneous Petrogenesis a global tectonic approach. Published by the Academic Division of Unwin Hyman ltd.p.446.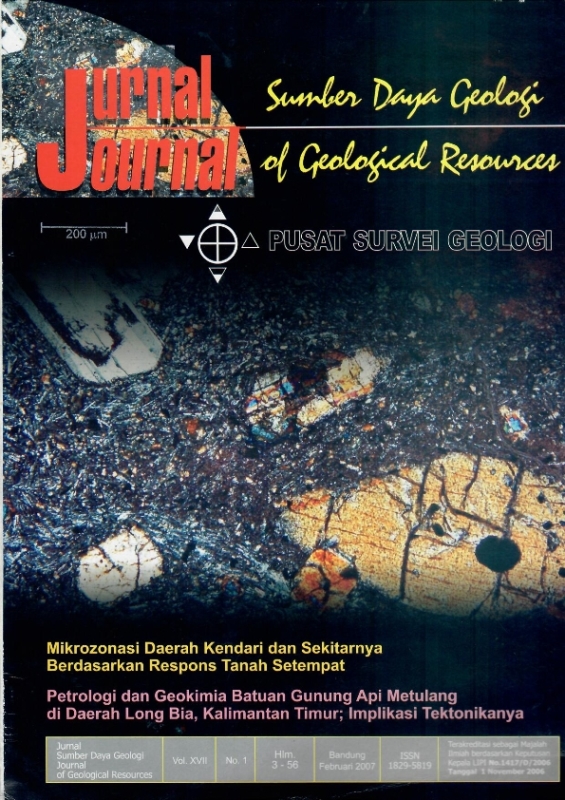 Downloads
License
Authors who publish articles in Jurnal Geologi dan Sumberdaya Mineral (JGSM.Geologi) agree to the following terms:
Authors retain copyright of the article and grant the journal right of first publication with the work simultaneously licensed under a CC-BY-NC or The Creative Commons Attribution–ShareAlike License.
Authors are able to enter into separate, additional contractual arrangements for the non-exclusive distribution of the journal's published version of the work (e.g., post it to an institutional repository or publish it in a book), with an acknowledgment of its initial publication in this journal.
Authors are permitted and encouraged to post their work online (e.g., in institutional repositories or on their website) prior to and during the submission process, as it can lead to productive exchanges, as well as earlier and greater citation of published work (See The Effect of Open Access)