INDIKASI STRUKTUR SESAR DAN LIPATAN BAWAH PERMUKAAN DASAR LAUT PERAIRAN TUBAN, JAWA TIMUR
Abstract
The marine geological and geophysical researches using a single channel seismic method in surrounding Turban water have been supported by echo sounder and marine sediment sampling activities. The single channel seismic record of 300 2 km has been made and it covers the area of about 1500 km . Those seismic profiling is perpendicular to the north coast of East Java with north - south direction and the cross line with east - west direction. The records are supposed to have a clear geological structure. Correlation of the geological structure based on the interpretation of seismic profiling of the sequence IV showed a similar east - west direction with the geological sequences of Rembang Basin. The sequence of sedimentary rocks of the Rembang Basin has been folded and faulted continuously from the land to the sea floor of the Java Sea.
 
Keywords : seismic, echo sounder, geological structure, sequence, Rembang
Downloads
Download data is not yet available.
References
Emery, K.O., Uchupi. E., Sunderland. J., Uktolseja H.L. and Young E.M., 1972. Geological structure and some water characteristics of the Java Sea and adjacent continental shelf. CCOP Technical Bull.6.
Ringgis, J., 1985, Seismic stratigraphy I. Proceedings of the joint ASCOPE/CCOP workshop 1, June 1986 Jakarta, Indonesia.
Koesoemadinata, R.P., 1980. Geologi minyak dan gasbumi. Ed. 2. Bandung : Penerbit ITB, 1980, xxv, 296. Mc Quillin, R., Bacon M., Barclay, 1984. An introduction to seismic interpretation. Graham & Trotman.
Sheriff, R.E., 1985, Structural interpretation of seismic data. AAPG Geologist education course note series 23. Situmorang, R.L., Smit, R., Van Vessem, E.J., 1992. Peta Geologi Lembar Jatirogo, Jawa, Skala 1:100.000. Pusat Penelitian dan Pengembangan Geologi, Bandung.
Sudiro, T.W., 1973, The structural units of the Java Sea, Indon. Petroleum Assoc. Petroleum Geologist Conv., Houston, Texas.
Susilohadi, 1995, Late Tertiery and Quatrenary Geology of the East Java Basin, Indonesia. Doctoral Thesis. The University of Wolongong, Australia.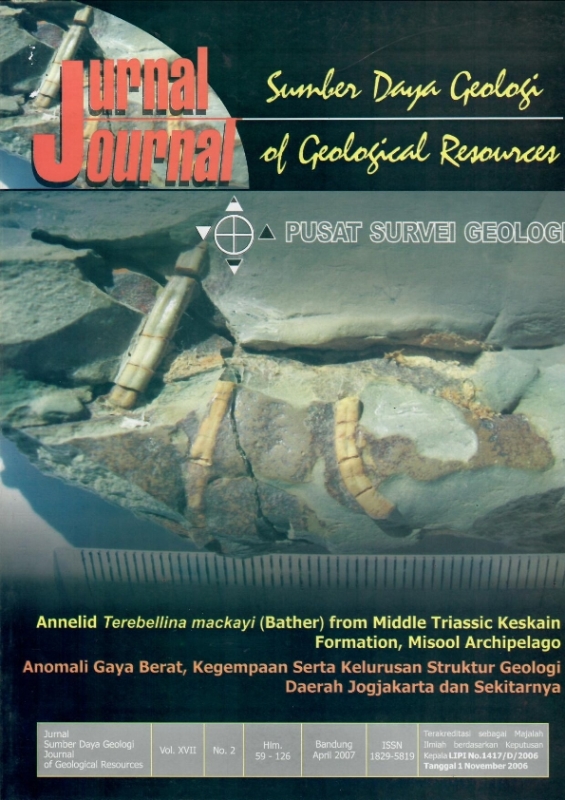 Downloads
License
Authors who publish articles in Jurnal Geologi dan Sumberdaya Mineral (JGSM.Geologi) agree to the following terms:
Authors retain copyright of the article and grant the journal right of first publication with the work simultaneously licensed under a CC-BY-NC or The Creative Commons Attribution–ShareAlike License.
Authors are able to enter into separate, additional contractual arrangements for the non-exclusive distribution of the journal's published version of the work (e.g., post it to an institutional repository or publish it in a book), with an acknowledgment of its initial publication in this journal.
Authors are permitted and encouraged to post their work online (e.g., in institutional repositories or on their website) prior to and during the submission process, as it can lead to productive exchanges, as well as earlier and greater citation of published work (See The Effect of Open Access)