HUBUNGAN LINGKUNGAN PENGENDAPAN FORMASI MALAWA DAN KETERDAPATAN BATUBARA DI DAERAH SOPPENG, SULAWESI SELATAN
Abstract
Lithologically, the Malawa Formation comprises medium to coarse-grained quartz sandstone, shale and claystone in the lower part; and mudstone and carbonaceous fine- grained sandstone in the upper part. The thickness of the Malawa Formation in the Gatareng area is about 100 metres. The lower part of the Malawa Formation was deposited in a fluvial environment occupied by terrestrial vegetation such as land algae, fungus, ferns and mangroves, while the upper part of the formation was indicated by fluviatile close to the beach and sand dunes. On the basis of fossil content, the age of the formation is within the range of Middle Eocene -Oligocene.Several coal intercalations which are characteristically black in colour with good luster of sub-bituminous, were found in the formation with the thickness from 50 cm to 120 cm. Based on the lithology succession and the river stream where the coal deposits were found, coal occurred in the Malawa Formation can be divided into two blocks, Bakeko and Kandangsapi Blocks. Each block has some coal seams with different various rock succession.
 
Keywords: Malawa Formation, Gatareng Area, sub-bituminous, beach environment
Downloads
Download data is not yet available.
References
Hasibuan, F. 1997. Penelitian Analisis Cekungan di Sulawesi Bagian. Puslitbang Geologi, Bandung. Laporan tidak dipublikasikan.
Hasibuan, F. 2001. Ostrea (Turkostrea) doidoiensis n.sp. from the Middle Eocene of Malawa Formation, South th Sulawesi. Proc. Indon. Assoc.Geol. 30 , Geosea, Jakarta, Indonesia.
Sukamto, R., 1982; Peta Geologi Lembar Pangkajene dan Watampone Bagian Barat, Sulawesi, skala 1:250.000, Puslitbang Geologi, Bandung.
Simandjuntak, T.O & Barber, A.J., 1996. Contrasting tectonic styles in the Neogene orogenic belts of Indonesia. Tectonic Evolution of Southeast Asia (R.Hall and D.J. Blundell eds). The Geological Society of London.
Sudijono, 1995. Penelitian Paleontologi dan Stratigrafi di Sulawesi Selatan. Puslitbang, Geologi, Bandung. Laporan Internal, tidak diterbitkan.
Surono, 1998. Geology and Origin of the Southeast Sulawesi Continental Terrane, Indonesia. Media Teknik 3:33-42.
Suyoko, 2001. Pengkajian Geologi Paleogen Cekungan Sengkang, Sulawesi Selatan (Dengan Acuan Khusus Palinologi Batubara) Kegiatan Rutin Suplemen (DIK-S). Pusat Penelitian dan Pengembangan Geologi, Bandung.
Wilson, M.E.J., 1995. The Tonasa Limestone Formation, Sulawesi, Indonesia: Development of a Tertiary Carbonate Platform. Ph.D. Thesis, Dept.of Geology, Royal Holloway, Univ. London. Tidak diterbitkan.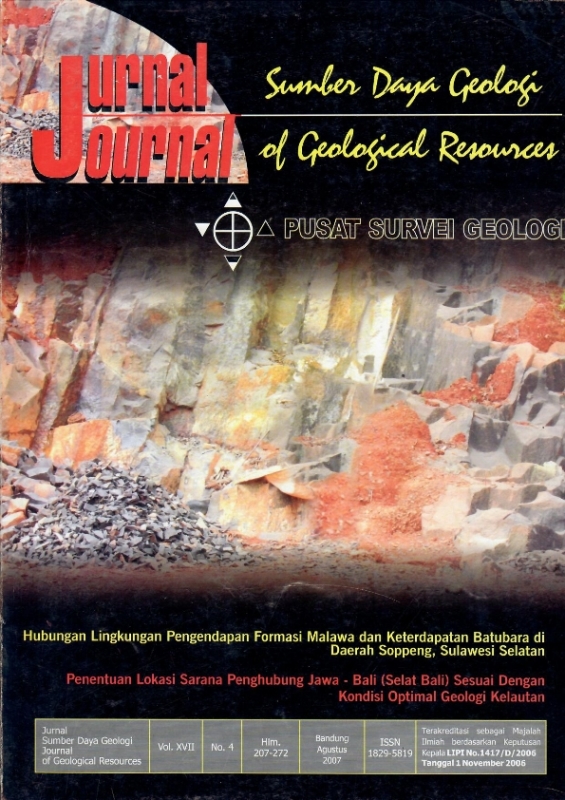 Downloads
License
Authors who publish articles in Jurnal Geologi dan Sumberdaya Mineral (JGSM.Geologi) agree to the following terms:
Authors retain copyright of the article and grant the journal right of first publication with the work simultaneously licensed under a CC-BY-NC or The Creative Commons Attribution–ShareAlike License.
Authors are able to enter into separate, additional contractual arrangements for the non-exclusive distribution of the journal's published version of the work (e.g., post it to an institutional repository or publish it in a book), with an acknowledgment of its initial publication in this journal.
Authors are permitted and encouraged to post their work online (e.g., in institutional repositories or on their website) prior to and during the submission process, as it can lead to productive exchanges, as well as earlier and greater citation of published work (See The Effect of Open Access)