TINJAUAN ANALISIS GAYA BERAT TERHADAP BENTUKAN STRUKTUR BAWAH PERMUKAAN DI LEMBAR MEDAN, SUMATERA UTARA
Abstract
Regionally, tectonics of the Medan Quadrangle is occupied by mountainous and back-arc basin zones. Mountainous zone occupies the southwestern of the quadrangles, and is situated in the northwestern part of Kabanjahe, having Bouguer anomaly ranges from -70 to 0 mgals. Zone of back-arc basin occupying more than 50% of the area extends to the east into the Malacca Strait, having Bouguer anomaly ranges from 0 until +20 mgals. The qualitative and quantitative of Bouguer and residual anomalies represent numerous shapes of anticlinal and synclinal structure including faulting system having direction of northwest - southeast.
 
Keywords : mountainous, back-arc basin, Malacca Strait, subsurface structure, Bouguer anomaly
Downloads
Download data is not yet available.
References
Aldiss D. T., Sjafudien a.G. Kusjono., 1983. The Geology of The Sidikalang Quadrangle, Sumatera. Dept. erambangan dan Energy, Dirjen Pertambangan Umum Puslitbang Geologi, Bandung, Indonesia.
Cameron,N. R., Aspden J. A., Bridge D. McC, Djunuddin A, Ghazali S.A, Harahap H, Hariwidjaja, Johari S, artawa W, Keats W, Ngabito H, Rock N. M. S & Whandoyo R., 1982. The Geology of The edan Quadrangle, Sumatera. Departemen Pertambangan dan Energy, Dirjen Pertambangan Umum, Puslibang Geologi, Bandung, Indonesia.
Curray, N.R., Emmet F.J., Moore D. G. & Railt R. W, 1970. Structure, Tectonic and Geological History of the Northeastern Indian Ocean ( Eds. Nairn A. E. M. & Stehli F ). In: Ocean Basins & Margins, Vol. 6, The Indian Ocean , in press.
Endharto.M., and Sukido., 1994. Geological Map of The Sinabang Sheet, Sumatera. Dept. Energy dan Sumber Daya Mineral, Dirjen Geology dan Sumber daya Mineral, Puslitbang Geologi, Bandung, Indonesia.
Fitch, F.J., 1972. Plate Convergence, Transcurrent Faults & internel deformation adjacent To southeast Asia and the western Pacific. J. Geophys. Res. 77: 4432-60.
Hamilton, W., 1979. Tectonic of Indonesian Region. Geological Survey. Professional Paper, (1078), Washington.
Harland, C.H., 1978. A guide to stratigraphical procedure. Geol. Soc. Lon don Spec. Report. 10.
Hedberg, H.D.,1976. International Stratigraphic Guide. Wiley, New York.
Katili, J., & Hehuwat F., 1967. On the occurrence of large transcurrent faults in Sumatera Indonesia. J. Geosci. Osaka Univ. 10 (1-1):5-17.
Nainggolan, D.A, Panjaitan,S., &Padmawidjaja, T., 2004. Kajian Gaya berat Terhadap Struktur dan Kaitannya dengan Mineralisasi di Daerah Lembar Sidikalang, Sumatera Utara, Indonesia. Jurnal Geologi dan Sumber Daya Mineral, Publikasi Khusus.
Tjia, H. D., 1977. Tectonic depression along the transcurrent Sumatera Fault System. Geol. Indonesia 4(1):13 -27.
Zwierzycki., 1922. Geological compilation map, Netherland East Indies, 1:1,000,000. Explanatory Note with sheet I (N.Sumatera) Internal translation from the Dutch jaarb. Mijnw. Ned. Oost-Indie Verb. (1919) 1:11-71.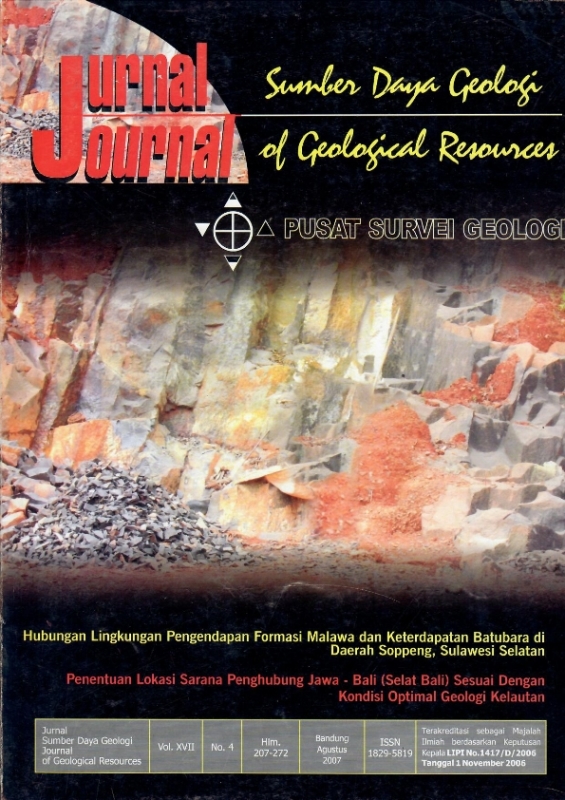 Downloads
License
Authors who publish articles in Jurnal Geologi dan Sumberdaya Mineral (JGSM.Geologi) agree to the following terms:
Authors retain copyright of the article and grant the journal right of first publication with the work simultaneously licensed under a CC-BY-NC or The Creative Commons Attribution–ShareAlike License.
Authors are able to enter into separate, additional contractual arrangements for the non-exclusive distribution of the journal's published version of the work (e.g., post it to an institutional repository or publish it in a book), with an acknowledgment of its initial publication in this journal.
Authors are permitted and encouraged to post their work online (e.g., in institutional repositories or on their website) prior to and during the submission process, as it can lead to productive exchanges, as well as earlier and greater citation of published work (See The Effect of Open Access)