REKAMAN PERISTIWA GEOLOGI KUARTER PADA SEDIMENTASI DAN FLUKTUASI PERMUKAAN AIR DANAU TONDANO PURBA DIDASARI KORELASI UNIT FASIES KUARTER DI TENGGARA DANAU, SULAWESI UTARA
Abstract
The Quaternary deposits of lake Tondano consist of Tondano tuff covered by young Volcanic rock and the Quaternary sediments. The Quaternary sediments are divided by lake, sand-lake, tidal-lake, river channel, floodplain, swamp, and flood basin deposits. In general, the sedimentary and fluctuation of lake level processes occurred in active tectonic and tectonism is the main factor controlling their occurrence. The amount of material from eruption, source area and slope gradients were important factors influencing the development of the sedimentary succession in the paleo-lake Tondano.

The vertically and laterally different accumulation of sediments during the deposition into the basin, is obviously related to the regional tectonic and local volcano tectonic of the basin. Probably, changes in climatological between more humid to drier conditions occurred from unit of deposition facies II (Ufp.II) to unit of depositon facies III (Uft.III).

 

Keywords:   Facies, sedimentation,  lake water level fluctuation,  tectonic
Downloads
Download data is not yet available.
References
Allen, P.A. and Allen, J.R., 1990. Basin Analysis: Principles and Application. Blackwell Scientific Publication: 451 pp.
Anadon, P., Cabrera, L. & Kells, K., 1991. Preface. In: Lacustrine Facies Analysis (Eds. Anad6n, P., Cabrera, L. & Kells, K.). Spec. Pubis Int. Ass. Sediment 13: 129-145.
Baltzer, T., 1991. Late Pleistocene and Recent detrital sedimentation in the deep parts of northern Lake Tanganyika (East Africa rift), in Anadon, P., et.al., eds., Lacustrine FaciesAnalysis: Spec. Pubis. Int. Ass. Sediment 13: 147-173.
Dam, M.A.C., Fluin, J., Suparan, P., kaars, S. van der, 2001. Palaeo environmental developments in the lake Tondano area (N. Sulawesi, Indonesia) since 33,000 yr. BP. Palaeogeography, Palaeoclimatology, Palaeoecology 171: 147-183.
Dury, G.H., 1977. Underfit streams: retrospect, and prospect. In: River channel changes (Ed. By K.J. Gregory). Wiley, Chichester: 281-293.
Effendi, A.C. & Bawono, S.S., 1997. Peta Geologi Lembar Manado, Sulawesi Utara, skala 1 :250.000. Pusat Penelitian dan Pengembangan Geologi, Bandung.
Jordan, J.W., 1999. Late Quaternary sea-level change in southern beringia: coastal paleogeography of the western Alaska Peninsula. http: / fes.epa. gov. /ncer/ fellow /progress/96/jordanja 99.html. Progress Report, EPA Grant Number: U9 l 5030, University of Wisconsin-Madiso: 2p.
Kutzbach, J.E., and Street-Perrot, FA, 1985. Milankovitch forcing of fluctuations in the level of tropical lakes from l8 to 0 kye BP. Nature 317:130-134.
Lecuyer, K., Bellier, 0., Gourgaud, A., Vincent, P.M, 1997. Tectonique active du Nord-Est de Sulawesi (Indonesie) et controle structural de la caldeira de Tondanop (Active tectonics of north-east Sulawesi (Indonesia) and structural control of the Tondano caldera. C.R. Acad. Sci. Paris, Earth Planet. Sci. 325: 0607- 613.
Leopold, L.B. and Miller, J.P., 1954. A postglacial chronology for some alluvial valleys in Wyoming. Prof. Pap. U.S. Geol. Surv. 1261.
Mulyana, H. dan Santoso, 2006. Sedimentologi dan stratigrafi fasies endapan danau Purba Tondano, Kabupaten Monahasa (Sulawesi Utara) (Berdasarkan pada analisis geologi bawah permukaan sehubungan dengan studi deformasi landforrn). Jurnal Sumber Daya Geologi XVI (3): 144-158.
Overpeck, J.T., Anderson, D., Trumbore, S., Prell, W., 1996. The south-west Indian Monsoon over the last 18.000years. Clim. Dyn. 12: 213-225.
Pandarinath, K., Shankar, R. and Yadava, M.G. 2001. Late Quaternary changes in sea level and sedimentation rate along the SW coast of India: Evidence from radicarbon dates. Current Science 81 (5): 594-600.
Perlmutter, M.A. and Matthews, M.A., 1989. Global Cyclostratigraphy. In: T.A. Cross (ed.), Quantitative Dynamic Stratigraphy. Prentice Englewood,New Jersey: 233-260.
PLN, 1994. Gambar situasi topografi kedalaman Danau dan Sungai Tondano. PLN, Pembangkit dan penyaluran Jawa bagian Barat, sektor Saguling. PLN, Wilayah VII, sektor Minahasa.
Soott, D.l., Ng'ang'a, P., Johnson, T.C. and Rosendahl, B.R., 1991. High-resolution acoustic character of Lake Malawi (Nyasa), East Afrika and its relationship to sedimentary processes. In: Anadon, P., et.al., eds., Lacustrine Facies Analysis. Spec. Pubis. Int. Ass. Sediment. 13: 129-145.
Setiawan, JB., J.H., Lumbanbatu, U.M dan Poedjoparjitno, S., 2002. Pemetaan Seismotektonik Daerah Manado dan Sekitarnya Propinsi Sulawesi Utara. Puslitbang Geologi, Tidak diterbitkan, 43 h.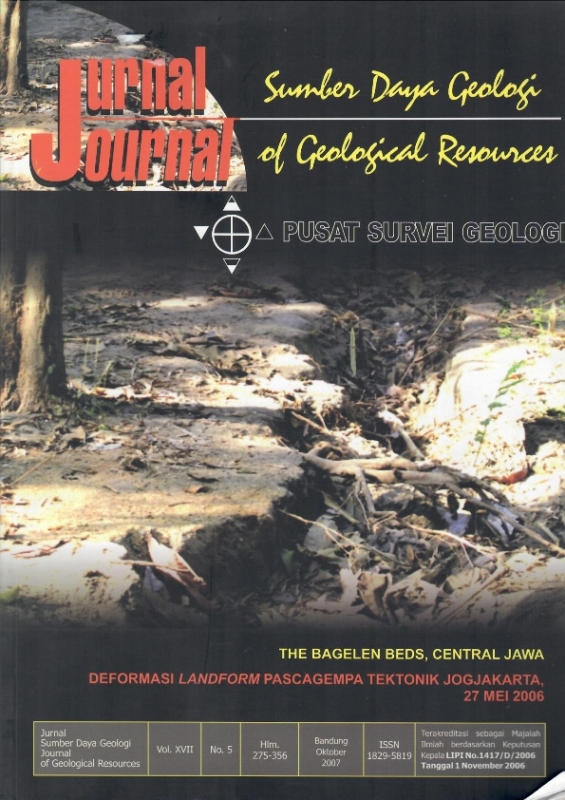 Downloads
License
Authors who publish articles in Jurnal Geologi dan Sumberdaya Mineral (JGSM.Geologi) agree to the following terms:
Authors retain copyright of the article and grant the journal right of first publication with the work simultaneously licensed under a CC-BY-NC or The Creative Commons Attribution–ShareAlike License.
Authors are able to enter into separate, additional contractual arrangements for the non-exclusive distribution of the journal's published version of the work (e.g., post it to an institutional repository or publish it in a book), with an acknowledgment of its initial publication in this journal.
Authors are permitted and encouraged to post their work online (e.g., in institutional repositories or on their website) prior to and during the submission process, as it can lead to productive exchanges, as well as earlier and greater citation of published work (See The Effect of Open Access)