Rock-Eval Characteristic of Oligosen Fine-grained Sedimentary Rocks from Pamaluan Formation, Gunung Bayan Area, West Kutai Basin, East Kalimantan : Implication for Hydrocarbon Source Rock Potential
Abstract
In this study, we apply organic geochemistry analysis for evaluating source rocks in Gunung Bayan Areas, West Kutai Basin. Subject of this research are Oligocene fine-grained sedimentary rocks of Pamaluan Formation on Gunung Bayan Areas. The Oligosen fine-grained sedimentary rock of Pamaluan Formation consists of shale, siltstone and claystone. The organic geochemistry analysis includes pyrolysis data as total organic carbon(TOC%), generating source potential (S2), production index (PI), oxygen and hydrogen indices(OI, HI) and (Tmax). The results show that the Oligocene source rocks have poor into good quality with type III kerogen and have true capability to generate  gas. The source rocks candidate is  characterized by HI 5 - 115 (mg/g), TOC from 0.19 to 1.78 wt%, S1 from 0.01 to 0.09 (mg/g) and S2 from 0.05 to 1.74 (mg/g) that indicating poor to fair source rocks with type III kerogen and capable of generate  gas. The maturity of the fine-grained sedimentary rocks tend to indicate immature to mature stage. Overall fine-grained sedimentary rocks of Pamaluan Formation has capability to produced gas with poor to fair quality. 
Downloads
Download data is not yet available.
References
Bachtiar, A., 2004. Desertasi Program Doktor, Institut Teknologi Bandung.
Unpublish
B.P. Tissot, D.H. Welte., 1984. Petroleum Formation and Occurrence, second ed., Springer, New York, , p. 699.
BPPKA, Pertamina., 1999.
J.M. Hunt., 1996. Petroleum Geochemistry and Geology, second ed.,W.H. Freeman and Company (1996).
Ju YW., Wang, G., Bu, H., Li, Q., Yan, Z., 2014, China Organic Rich Shale Geologic Features and Special Shale Gas Production Issues, Journal of Rock Mechanics and Geotechnical Engineering 6, 196-207.
Peters, K.E., 1988. Guidelines For Evaluating Petroleum Source Rock Using Programmed Pyrolisis . Treatise Petroleum Geology. Reprint Series No.8
Peters dan Cassa., 1994. Applied Source Rock Geochemistry. Magoon, L.B, and W.G Dow, eds, 1994, The Petroleum system- from source to trip AAPG memoir 60. Pp. 93-119.
Satyana, A.H. and Biantoro, E., 1995. Seismic Stratigraphy of Eocene Beriun Sands of West Bungalun, East Kalimantan, Indonesia : a Contribution to the Paleogene Stratigraphical Knowledge of the Kutai Basin, Proceedings Indonesian Petroleum Association (IPA) – International Symposium on Sequence Stratigraphy in S.E. Asia, Jakarta, p. 383-394.
Satyana, A.H., Nugroho, D, Surontoko, I., 1999. Tectonic Controls on The Hydrocarbon Habitats of The Barito, Kutai and Tarakanbasin, East Kalimantan, Indonesia, Journalof Asian Earth Sciences Special Issue,Vol.17, No.1-2, Elsevier Science, Oxfordh. 99-120.
Van Der Weerd, A. A. & ARMIN, R. A., 1992. Origin and evolution of the Tertiary hydrocarbon-bearing basins in Kalimantan (Borneo), Indonesia. American Association of Petroleum Geologists,76,1778-1803
Waples, D.W., 1985. Geochemistry in Petroleum Exploration. Brown and Ruth Labotaries, Inc. Denver, Colorado.
Zhang, DW., Li YX., Zhang JC., Qiao DW., Jiang WL., Zhang JF., 2012. National Survey and Assesment of Shale Gas Resources Potential in China, Beijing: Geologic Publishing House in Chinese.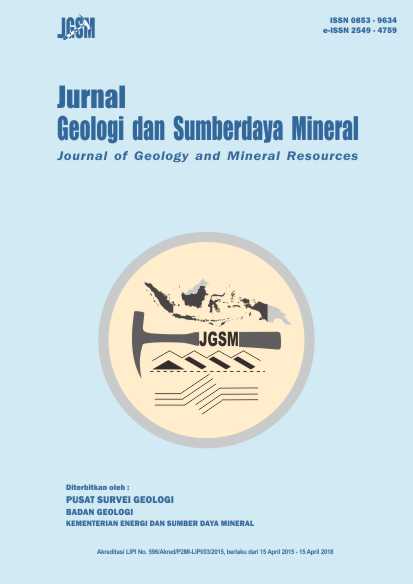 Downloads
License
Authors who publish articles in Jurnal Geologi dan Sumberdaya Mineral (JGSM.Geologi) agree to the following terms:
Authors retain copyright of the article and grant the journal right of first publication with the work simultaneously licensed under a CC-BY-NC or The Creative Commons Attribution–ShareAlike License.
Authors are able to enter into separate, additional contractual arrangements for the non-exclusive distribution of the journal's published version of the work (e.g., post it to an institutional repository or publish it in a book), with an acknowledgment of its initial publication in this journal.
Authors are permitted and encouraged to post their work online (e.g., in institutional repositories or on their website) prior to and during the submission process, as it can lead to productive exchanges, as well as earlier and greater citation of published work (See The Effect of Open Access)