Karakteristik Endapan Kuarter di Dataran Aluvial Rawa Utara Pangkalan Balai, Kabupaten Banyuasin (Sumsel) ( Suatu Studi Awal dari Efek Perubahan Iklim dalam Proses Sedimentasi)
Abstract
The sediments in this area are of fluvial and swarnp systems, The fluvial deposits include channel sand, and fine grained cIay of floodplain deposits. The swarnp deposits of Iine-grained include humic clay and peaty clay, the basement of this Quaternary deposits is tufaceous clay of pyroclastic.
The character of Quaternary depositional style at the PangkaIan Balai and surrounding is dominantly influenced by autogenic mechanisms (internal processes), such as river channel systems and sediment supply from the    surrounding hills.  The cIimate factor of allogenic rnechanisms (externaI processes) is specific to related humidity as chemicaI, physics, or biology aspects in time.
Keywords: Fasies, fluvial and swamp, internal and external process.
Downloads
Download data is not yet available.
References
Allen, J.RL, 1965. A riview of the origin and character of recent sediments. Sedimentology, 5, 89-191.
Allen, EA. and J.R, Allen, 1990. Basin Analysis, Principles and Application. Black Well Scientific Publication, 451 p,
Coleman, J.M., 1966, Ecological changes in a rnassivefreshwater day sequence. Trans. Gulf-Cst Ass. Geol. Soc., 16,159-174.
Collinson, J. D., 1986. Chapter 3 Alluvial Sediments. In ,H,G. Reading (ad), SedimenlBry Environments and Facies, Second Ed iIi onBlackwel1 S cientific Pu bl ications, Oxtord-Londo n -Ed i nbu rgh-Boston- Palo A Ito-Mel 00" rn e, 20-62.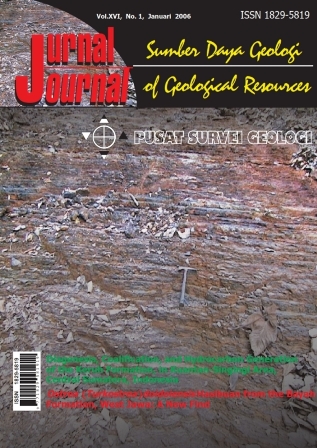 Downloads
License
Authors who publish articles in Jurnal Geologi dan Sumberdaya Mineral (JGSM.Geologi) agree to the following terms:
Authors retain copyright of the article and grant the journal right of first publication with the work simultaneously licensed under a CC-BY-NC or The Creative Commons Attribution–ShareAlike License.
Authors are able to enter into separate, additional contractual arrangements for the non-exclusive distribution of the journal's published version of the work (e.g., post it to an institutional repository or publish it in a book), with an acknowledgment of its initial publication in this journal.
Authors are permitted and encouraged to post their work online (e.g., in institutional repositories or on their website) prior to and during the submission process, as it can lead to productive exchanges, as well as earlier and greater citation of published work (See The Effect of Open Access)