Stratigrafi Lajur Volkano-Plutonik Daerah Gorontalo, Sulawesi
Abstract
Daerah penelitian merupakan bagian dari lajur volkano-plutonik Sulawesi Utara yang dikuasai oleh batuan gunung api berumur Eosen sampai Pliosen, batuan plutonik Neogen, serta batuan sedimen yang umumnya materialnya berasal dari gunung api. Satuan batuan tertua pada lajur ini, yaitu Formasi Tinombo (Eosen - Miosen Awal), terdiri atas dua fasies, yaitu batuan gunung api dan batuan sedimen. Formasi Tinombo terbentuk bersamaan dengan terjadinya intrusi gabro, yang secara selaras ditindih oleh tiga satuan berumur Miosen Tengah - Pliosen Awal yang saling menjemari dan terbentuk pada laut dalam sampai dangkal. Ketiga satuan tersebut adalah batuan gunung api Bilungala yang murni tersusun oleh batuan gunung api , Formasi Dolokapa yang tersusun oleh batuan gunung api dan sedimen, dan Formasi Randangan yang murni tersusun oleh batuan sedimen. Pada saat yang bersamaan terbentuk batuan plutonik (Diorit Bone) yang diduga komagmatik terhadap batuan gunung api Bilungala. Pada Pliosen Tengah terjadi pembentukan batuan gunung api (breksi, tuf dan lava) bersusunan menengah sampai asam, yaitu Batuan Gunung api Pani di bagian barat, Breksi Wobudu di bagian utara - tengah, dan Batuan Gunung api Motomboto di bagian timur daerah penelitian. Secara bersamaan terjadi pembentukan batuan plutonik Diorit Boliohuto yang diduga komagmatik terhadap batuan-batuan gunung api tersebut. Pada Pliosen Akhir - Plistosen Awal diendapkan Formasi Lokodidi di lingkungan laut dangkal sampai darat, berupa sedimen molasa yang diselingi tuf. Bersamaan dengan itu terjadi pula pembentukan aglomerat, lava, dan tuf dari Batuan gunung api Pinogu yang bersusunan menengah sampai asam, dan kemungkinan besar terbentuk pada lingkungan yang sama dengan endapan molasa tersebut. Batuan plutonik yang terbentuk bersamaan dengan batuan gunung api Pliosen -Plistosen ini adalah Granodiorit Bumbulan. Selama Plio-Plistosen batugamping terumbu berkembang terutama di daerah pantai selatan, endapan danau di daerah Danau Limboto, dan bersamaan dengan itu endapan teras sungai terbentuk dan terangkat pada Plio-Plistosen. Diperkirakan sejak Plistosen Awal endapan-endapan ini mengalami pengangkatan.
 
Kata kunci: stratigrafi, litostratigrafi, lajur volkano-plutonik, Sulawesi Utara
Downloads
Download data is not yet available.
References
Apandi, T. & Bachri, S., 1997. Peta Geologi Lembar Kotamobagu, skala 1 : 250.000. Pusat Penelitian dan Pengembangan Geologi, Bandung.
Bachri, S., Partoyo, E., Sukarna, D., Surono & Supandjono, J.B., 1997. Geologi daerah Gorontalo, Sulawesi Utara. Kumpulan Makalah Hasil Penelitian dan Pemetaan Pusat Penelitian dan Pengembangan Geologi 1996/1997, p.18-30.
Bachri, S. & Baharuddin, 2001. Peta Geologi lembar Majene-Malunda, Sulawesi, skala 1 : 100.000. Pusat Penelitian dan Pengembangan Geologi, Bandung.
Bachri, S., Ratman, N, & Sukido, 1993. Peta Geologi Lembar Tilamuta, skala 1 : 250.000. Pusat Penelitian dan Pengembangan Geologi, Bandung.
Bawono, S.S., Partoyo, E., Situmorang, R.L. , Wiryosujono, S. & Supandjobo, J.B., 1998. Peta Geologi Lembar Limboto, Sulawesi Utara, skala 1 : 100.000. Laporan terbuka, Puslitbang Geologi, Bandung.
Bemmelen, R.W van, 1949. The Geology of Indonesia, vol. 1A, 732 pp., Government Printing Office, The Hague.
Carlile, J., Digdowirogo, S. & Darius, K., 1990. Geological setting, characteristics and regional exploration for gold in the volcanic arcs of North Sulawesi, Indonesia. In: J.W. Hedenquist, N.C.White and G. Siddeley (Editors), Ephithermal gold mineralisation of the Circum Pacific: Geology, Geochemistry, Origin and Exploration. Journal of Geochemical Exploration, 35:104-140.
Dietz, R.S.,1963. Alpine serpentinies as oceanic rind fragments. Geological Societry of America Bulletin 74, 947-952.
Gass, I.G. & Smewing, J.D., 1973. Intrusion, extrusion and metamorphism at constructive margins: evidence from Troodos massif, Cyprus, Nature (London) 242, 26-29.
Hall, R. & Wilson. M.E.J.,2000. Neogene sutures in eastern Indonesia. Journal of Asian arth Resources 18 (2000), 781-808
Helmers, H., Maaskant, P., Hartel, T.H.D., 1990. Garnet peridotite and associated high-grade rocks from Sulawesi Indonesia, Lithos 25, 171-188.
Kavalieris, I., van Leeuwen, Th. M. & Wilson, M., 1992. Geological setting and styles of mineralisation, north arm of Sulawesi. Journal of Southeast Asian Earth Sciences 7, 2/3, p.113-129. Marks, P., 1957. Stratigraphic Lexicon of Indonesia. Publikasi Keilmuan No. 31 seri Geologi, Pusat Djawatan Geologi Bandung.
Miyashiro, A., 1973. Paired and unpaired metamorphic belts. Tectonophysics 17, 241 254.
Miyashiro, A., 1975. Classification, characteristics, and origin of ophiolites. Journal of Geology 83, 249-281
Parkinson, C.D., 1991. The petrology, structure and geologic history of metamorphic rocks of central Sulawesi. Unpublished. Ph.D Thesis, University of London.
Perello, J.A, 1994. Geology, porphyry Cu-Au, and epithermal Cu-Au-Ag mineralization of the Tombulilato district, North Sulawesi, Indonesia. Journal of Geochemical Exploration 50 (1994) 221-256.
Rutten, L.M.R.,1927. Voordrachten over de geologie van Nederlandsch Oost-Indie. Groningen, den Haag, J.B. Wolters, 581-599.
Simandjuntak, T.O., 1986. Struktur Duplek (Dwi Unsur) Sesar Sungkup Sesar Jurus Mendatar di Lengan Timur Sulawesi, PIT XV IAGI
Smith, R.B. & Silver, E.A., 1991. Geology of a Miocene collision complex, Buton,eastern Indonesia. Geological Soiety of America Bulletin, v.103, p. 660-678.
Sukamto, R., 1973. Peta Geologi Tinjau Daerah Palu, Sulawesi Tengah, skala 1 :250.000. Direktorat Geologi, Bandung.
Sukamto, R., 1975. The structure of Sulawesi in the light of plate tectonics. Proceedings of Regional Convention on the Geolology and Mineral Resources of South East Asia. Jakarta.
Trail, D.S., John, T.U., Bird, M.C., Obial, R.C., Pertzel, B.A., Abiog, D.B., Prawoto & Subagio, 1974. The general geological survey of Block II, Sulawesi Utara, Indonesia. Unpublished report, P.T. Tropic Endeavour Indonesia, 68 p.
Villeneuve, M., Bachri, S., Rangin, C. & Bellon, H., 1990. Structural geology of North Sulawesi (abstract). Paper presented at seminar in the field of geodynamics, mineral and energy.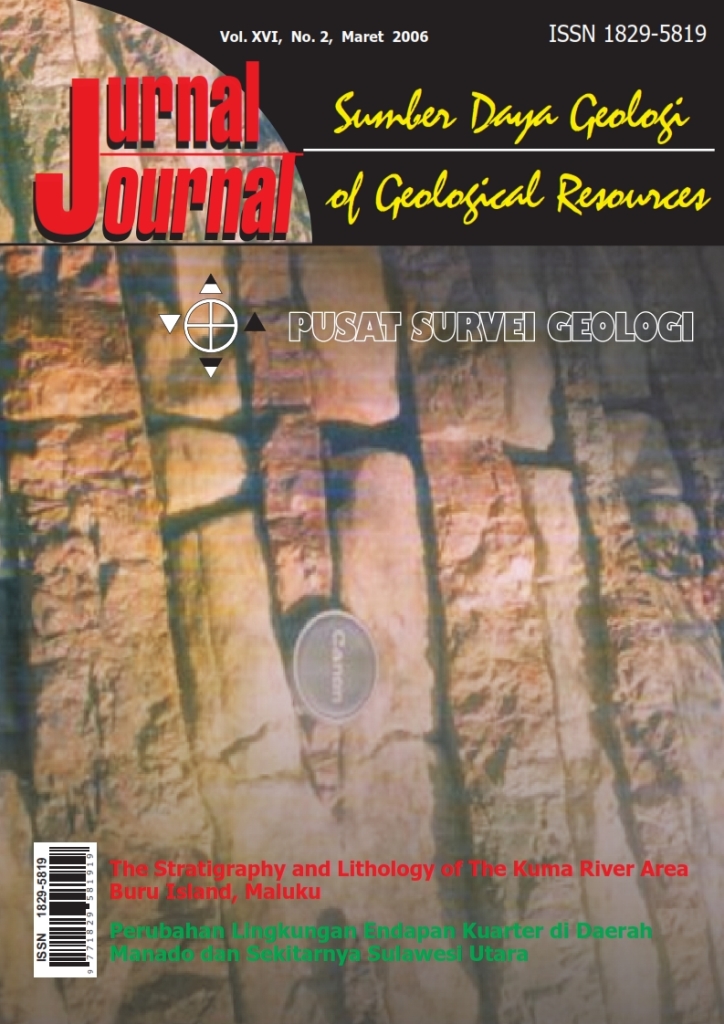 Downloads
License
Authors who publish articles in Jurnal Geologi dan Sumberdaya Mineral (JGSM.Geologi) agree to the following terms:
Authors retain copyright of the article and grant the journal right of first publication with the work simultaneously licensed under a CC-BY-NC or The Creative Commons Attribution–ShareAlike License.
Authors are able to enter into separate, additional contractual arrangements for the non-exclusive distribution of the journal's published version of the work (e.g., post it to an institutional repository or publish it in a book), with an acknowledgment of its initial publication in this journal.
Authors are permitted and encouraged to post their work online (e.g., in institutional repositories or on their website) prior to and during the submission process, as it can lead to productive exchanges, as well as earlier and greater citation of published work (See The Effect of Open Access)