Karakteristik Formasi Seblat di Daerah Bengkulu Selatan
Abstract
The Seblat Formation is an oldest Tertiary sedimentary rock in Bengkulu Basin, which was made up of a clastic sedimentary rocks and were deposited in regretion condition. The lower part was deposited in an open sea shelf – fore slope and the upper part in a fore reef - lagoon shelf environment. The sandstones of formation consist of arkose, litharkose, felspathic litarenite, and litarenite. The framework of grains comprises quartz, feldspar, and rock fragments. Matrix/cement consists of clay and calcareous clay. Accesories mineral are muscovite, epidote, and glouconite. Clasts which formed the sandstone were probably derived from a magmatic arc and recycled orogen of the Pre-Tertary Gumai- Garba Zone. Diagenetic processes recognized are compaction and the formation of authigenic minerals and secondary porosities. Their diagenetic stage were included in the mesogenetic mature A, which equivalent to mudrock stage II, with the paleo temperature80º to 95ºC, and the burial thickness of 2 to 3 km. The mudstone within the Seblat Formation indicates an oil source rock, whereas the sandstone and limestoneare good for a reservoir rock.
 
Keywords : Seblat Formation, diagenesis, compaction, authigenic mineral, mesogenetic
Downloads
Download data is not yet available.
References
Adams, C.G., 1970. A Reconsideration of the East Indian Letter Classification of the Tertiary. Bulletin of British Museum (Natural History), Geology, London, pp. 87-137.
Adams, C.G., 1984. Neogene Larger Foraminifera Evolutionary and Geological Events in the Context of Datum Planes, in Ikebe, N. and Tsuchi, R., (eds), Pacific Neogene Datum Planes. Univ. Tokyo Press, pp. 47-67.
Amin, T.C, Kusnama, Rustandi, E. dan Gafoer, S., 1994, Geologi Lembar Manna dan Enggano, Sumatera, Sekala 1 : 250.000, Pusat Penelitian dan Pengembangan Geologi, Bandung.
Andi Mangga, S., Sutisna, K., Samudra, H., Hermanto, B., dan Sukarna, D., 1994. Evolusi tektonika Pra Tersier Sumatera bagian selatan dan hubungannya dengan daerah sekitarnya. Kumpulan Makalah SeminarHasilPenyelidikan Geologi dan Sumberdaya Mineral, Direktorat Sumberdaya Mineral, Pusat Penelitian dan Pengembangan Geologi dan British Geological Survey, Bandung 23 Maret 1994.
Burley, S.D. and Kantorowicz, J.D., 1987. Clastic diagenesis. In : Edward, A.B., and Foster, N.H., Reservoir II Sandstone. American Association of Petroleum Geologist, Treatise of Petroleum Geology Reprint Series, 408-455.
Cook, A.C., 1982. The origin and petrology of organic matterin coals, oil shales and petroleum source-rocks. Geology Department, The University of Wollongong, 106p.
Dickinson, W.R., Beard, L.S., Brakenridge, G.R., Erjavec, J.L., Ferguson, R.C., Inman, K.F., Knepp, R. A., Linberg, J.L., and Ryberg, P.T., 1983. Provenance of North American Phanerozoic sandstones in relation to tectonic setting. Geological Society of America Bulletin, 94, 222-235.
Folk, R.L., 1980. Petrology of Sedimentary Rocks. Hemphil Publishing Company, Austin, 182p.
Gafoer, S., Amin, T.C., dan Pardede, R., 1992, PetaGeologi Lembar Bengkulu, Sumatera Sekala 1:250.000, Pusat Penelitian dan Pengembangan Geologi, Bandung.
Guntoro, A., dan Djajadiharja Y.S., 2005, Tectonic Scenario of the Sumatra Fore-Arc Basin in Relation To the Formation of Petroleum Systems., International Conference on Geology, Geotechnology and Mineral Recources of Indochina (GEOINDO 2005) 28-30 November 2005, Khon Kaen, Thailand.
Helmod, K.P. and van de Kamp, P.C., 1984. Diagenetic mineralogy and controls on albitization and laumontite formation in Paleogen Arkose, Santa Yenz Mountains, California, In : McDonald, D.A. and Surdam, R.C. (Eds), Clastic Diagenesis. American Association of Petroleum Geologist, Memoir, 37, 239-276.
Ingersol, R.V. and Suczek, C.A., 1979. Petrofacies and provenance of Late Mesozoic fore arc basin, northern and central California. American Association of Petroleum Geologist Bulletin, 67, 1125-1142.
Kanstler, A.J., Cooc, A.C., And Smith, G.C., 1978, Range variation, calculated paleotemps in understanding oil and gas occurrence,Oil and Gas Journ. No. 20., 196-205
Kusnama, Pardede, R., Andi Mangga, S., dan Sidarto, 1992, Geologi Lembar Sungaipenuh, Sumatera, Sekala 1 : 250.000, Puslitbang Geologi, Bandung.
Martini, E., 1971. Standard Tertiary and Quarternary Calcareous Nannoplankton Zonation, in Farinacci, A. (ed.) Proceeding of the Second Planktonic Conference, v. 2, pp. 739-875.
Pettijohn, F.J., Potter, P.E. and Siever, R., 1987. Sand and Sandstone. 2nd ed. Springer-Verlag, New York, 553p. Schmidt, V. and McDonald, D.A., 1979. The role of secondary porosity in the course of sandstone diagenesis In: Schole, P.A. and Schluger, P.R. (Eds), Aspect of diagenesis. Society of Econmic Paleontologist and Mineralogist, Special Publication, 26, 175-207.
Yulihanto,B., Situmorang, B., Nurdjajadi, A., dan Sain, B. 1995. Structural Analysis of the onshore Bengkulu Forearc Basin and Its Implication for Future Hydrocarbon Exploration activity. Proceedings Indonesian Petroleum Association Twenty Fourth Annual Convention, October 1995.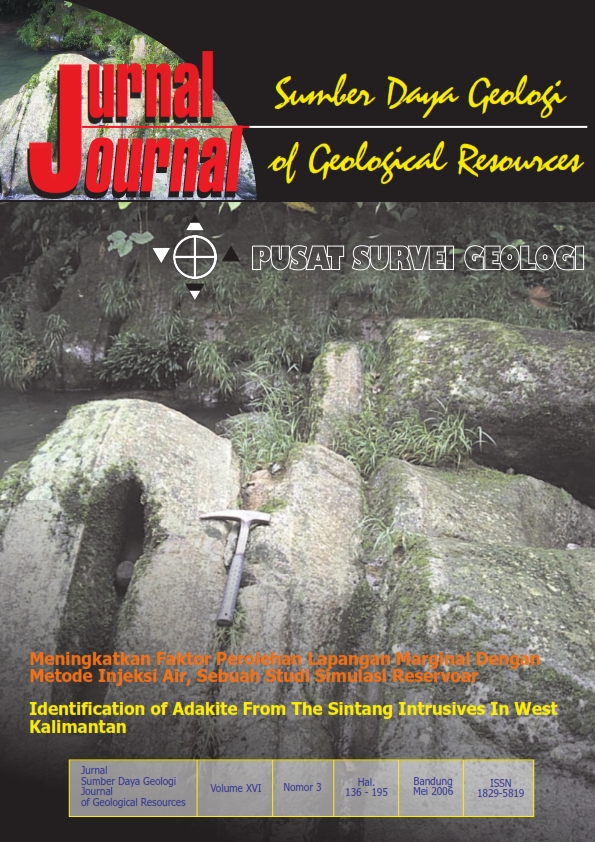 Downloads
License
Authors who publish articles in Jurnal Geologi dan Sumberdaya Mineral (JGSM.Geologi) agree to the following terms:
Authors retain copyright of the article and grant the journal right of first publication with the work simultaneously licensed under a CC-BY-NC or The Creative Commons Attribution–ShareAlike License.
Authors are able to enter into separate, additional contractual arrangements for the non-exclusive distribution of the journal's published version of the work (e.g., post it to an institutional repository or publish it in a book), with an acknowledgment of its initial publication in this journal.
Authors are permitted and encouraged to post their work online (e.g., in institutional repositories or on their website) prior to and during the submission process, as it can lead to productive exchanges, as well as earlier and greater citation of published work (See The Effect of Open Access)