Aplikasi Fasies Sedimen Fluviatil terhadap Perubahan Iklim Global (Studi Kasus: "Geologi Kuarter Dataran Aluvium Rawa Utara Betung, Kabupaten Banyuasin, Sumatera Selatan" )
Abstract
The Quaternary deposits in the studied area comprise sand of fluvial origines, separated by clay deposits of swamp, backswamp, and floodplain. The fluvial channel was characterized by the increase and decrease of axial bodies. Vertically, the character of fine-grained deposits showed the changing in colour and percentage of humic and peat contents. Differences in the amount of clastic supply was caused by the changes in climatological conditions. Climate is an important and independent force in controlling the weathering, erosion, and sediment supply to Quaternary deposits of swampy alluvial basin. A systematic change in the type of fluvial system on the swampy alluvial plain could be the result of the changes in the sediment supply and ratio between coarse-grained bedload and suspended load. It means, the sedimentary processes on the basin can develop under the condition of climatic changes.
 
Key words: Quaternary deposit, fluvial, swamp, climate
Downloads
Download data is not yet available.
References
Allen, J.R.L., 1965. A review of the origin and character of recent sediments. Sedimentology, 5, 89-191.
Allen, P.A. and J.R. Allen, 1990. Basin Analysis : Principles and Application. Black Well Scientific Publication, 451 p.
Bryson, R.A., Kutcbah, J.E., 1974. On the analysis of pollen-climate canonical transfer functions. Quat. Res., 4, 162-174.
Church, M., 1980. Records of recent geomorphological events. In: Timescales in Geomorphology (Ed. By R.A. Cullingford, D.A. Davidson and J. Lewin. Wiley, Chichester, 13-29.
Coleman, J.M., 1966. Ecological changes in a massive freshwater clay sequence. Trans. Gulf-Cst Ass. Geol. Soc., 16, 159-174.
Collinson, J.D. and Lewin, J., 1983. Modern and ancient fluviatil systems: an introduction. Spec. Publs. Int. Ass Sediment. (1983) 6, 1-2.
Dury, G.H., 1977. Underfit streams: retrospect, and prospect. In: River channel changes (Ed. By K.J. Gregory), Wiley, Chichester, 281-293.
Fisk, H.N., 1952. Mississipi River Valley geology relation to river regime. Trans. Am. Soc. Civ. Engrs., 117, 667- 689.
Friedman, G.M. and Sanders, J.E, 1978. Principle of Sedimentology. John Wiley and Sons, Inc, New York- Chichester-Brisbane-Toronto, 792 p.
Fritts, H.C., 1976. Tree Rings and Climate. Academic press., London, 567 pp.
Gafoer, S. , G. Burhan dan J. Purnomo, 1995. Peta Geologi Lembar Palembang, Sumatera Selatan, skala 250.000. Puslitbang Geologi, Dit. Jend. Geologi dan Sumberdaya Mineral, Bandung.
Hickin, E.J., 1983. River channel changes: transport and prospect. Spec. Publs. Int. Ass. Sediment. (1983) 6, 61-83.
Howard, A.D., 1980. Thresholds in river regime. In: Thresholds in Geomorphology (Ed. By D.R. Coates and J.D. Vitek), Allen & Unwin, Boston, 227-258.
Leopold, L.B. and Miller, J.P., 1954. A postglacial chronology for some alluvial valleys in Wyoming. Prof. Pap. U.S. geol. Surv., 1261.
Miall, A.D., 1992., Alluvial Deposits. In: Facies Models response to sea level changes (Ed. By R.G. Walker and N.P. James, Geological Association of Canada, 119-142.
Parker, G., 1976. Cause and characteristic scales of meandering and braiding in rivers. J. Fluid Mech., 76, 457- 480.
Perlmutter, M.A. and Matthews, M.A. (1989) Global Cyclostratigraphy. In: T.A. Cross (ed.), Quantitative Dynamic Stratigraphy. Prentice Englewood, New Jersey, 233-260.
Reineck, H.E. & Singh, I.B., 1980. Depositional Sedimentary Environments, Springer Verlag, Berlin, 549 p.
Schumm, S.A., 1968. River adjustment to altered hydrologic regimen-Murrumbidgee River and paleochannels, Australia. Prof. Pap. U.S. geol. Surv., 598.
Schumm, S.A., 1973. Geomorphic thresholds and the complex response of drainage systems. In: Fluvial Geomorphology (Ed. By Marie Morisawa), Publications in Geomorphology, State University of New York, Binghamton, 299-310.
Schumm, S.A., 1976. Episodic erosion, a modification of the Davis scale. In: Theories of Landform Development (Ed. By W.N. Melhorn and R.C. Flemal). Publications in Geomorphology, State University of New York, Binghamton, 69-85.
Shroder, J.F., 1980. Dendrogeomorphology; review and new techniques of tree-ring dating. Prog. Phys. Geogr., 4 (2), 161-188.
Walker, R.G. and N.P. James, 1992. Preface. In : Facies Models response to sea level change (Ed. By R.G. Walker and N. P. James), Geological Association Of Canada.
Williams, M.A.J., D.L. Dunkerley, P.De Decker, A.P. Kershaw, T.J. Stokes, 1993. Quaternary Environments Edward Arnold, A division of hodder & Stoughton, London New York Melbourne Auckland, 329 p.
Wolman, M.G and Leopold, L.B., 1957. River flood plains; some observations on their formation. Prof. Pap. U.S. geol. Surv., 282-C, 87107.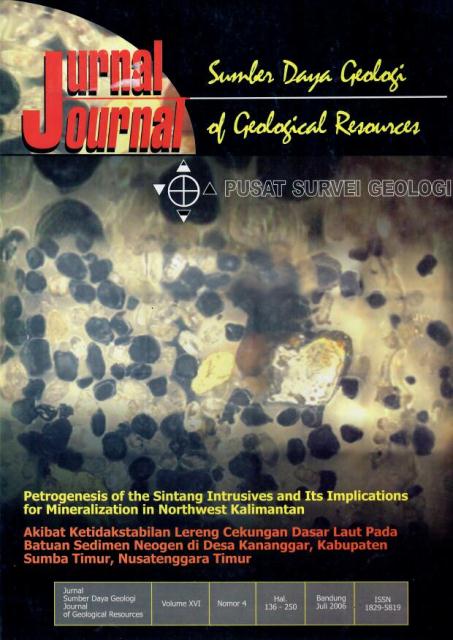 Downloads
License
Authors who publish articles in Jurnal Geologi dan Sumberdaya Mineral (JGSM.Geologi) agree to the following terms:
Authors retain copyright of the article and grant the journal right of first publication with the work simultaneously licensed under a CC-BY-NC or The Creative Commons Attribution–ShareAlike License.
Authors are able to enter into separate, additional contractual arrangements for the non-exclusive distribution of the journal's published version of the work (e.g., post it to an institutional repository or publish it in a book), with an acknowledgment of its initial publication in this journal.
Authors are permitted and encouraged to post their work online (e.g., in institutional repositories or on their website) prior to and during the submission process, as it can lead to productive exchanges, as well as earlier and greater citation of published work (See The Effect of Open Access)