Perkembangan Sedimentologi Batugamping Berdasarkan Data Petrografi pada Formasi Sentolo di Sepanjang Lintasan Pengasih, Kulonprogo
Abstract
Batugamping Formasi Sentolo yang berumur Miosen Tengah - Pliosen tersingkap di lintasan Pengasih, Kabupaten Kulonprogo. Pengukuran stratigrafi rinci di lintasan sepanjang empat kilometer adalah untuk mengetahui perkembangan lingkungan pengendapan batuan. Pengujian petrografi terhadap tigapuluh tiga sampel batugamping digunakan untuk mempertajam interpretasi sedimentologi batugamping. Formasi Sentolo ini terendapkan dengan keadaan susut-laut, meliputi beberapa lingkungan, dari tepi landaian dalam, runtuhan lereng depan, sayap terumbu, tepi landaian atau lerengan pada paparan tertampi sampai lerengan lokal terumbu belakang.

Kata kunci - Batugamping, petrografi, bioklastika, sedimentologi.
Downloads
Download data is not yet available.
References
Barianto, D.H., Kuncoro, P., and Watanabe, K., 2010. The use of foraminifera fossils for reconstructing the Yogyakarta graben, Yogyakarta, Indonesia. J. SE Asia Appl. Geol. 2: 138-143.
Bemmelen, R.W. van, 1949. The geology of Indonesia, v. IA. Martinus Nijhoff, The Hague, 792 p.
Bronto, S., 2007. Genesis endapan aluvium dataran Purworejo, Jawa Tengah: implikasinya terhadap sumberdaya geologi. J. Geol. Indon. 2: 207-215.
Dunham, R.J., 1962. Classification of carbonate rocks according to depositional texture. In: W.E. Ham (Ed), Classification of carbonate rocks. Am. Assoc. Petrol. Geol. Mem. 1: 108-121.
Embry, A.F. and Klovan, J.E., 1971. A Late Devonian reef tract on North-Eastern Banks Island, North West Territory. Bull. Can. Petrol. Geol. 19: 730-781.
Flugel, E., 1982. Microfacies analysis of limestones. Springer-Verlag Inc., Berlin, Heidelberg, New York, 633 p.
Flugel, E., 2004. Microfacies of carbonate rocks: analysis, interpretation and aplication. Springer-Verlag Inc., Berlin, Heidelberg, New York, 976 p.
Karnawati, D., Pramumijoyo, S., and Hendrayana, H., 2006. Geology of Yogyakarta, Java: the dynamic volcanic arc city. IAEG2006 Paper number 363, Geol. Soc. London.
Kendall C.G.St.C., 2005. Carbonate petrology. In: Kendall C.G.St.C. and Alnaji, N.S. (Dev), USC sequence stratigraphy web. http://strata.geol.sc.edu/seqstrat.html <27/02/2006>.
Leeder, M., 1999. Sedimentology and sedimentary basin: from turbulence to tectonics. Blackwell Publ. Co., Malden, Oxford, Victoria, 592 p.
Maryanto, S., Subagio, S., Herwinsyah, Rustami, I., dan Anjani, N.D., 2008. Kegiatan persiapan penyusunan atlas petrografi batugamping Indonesia: pengambilan sampel batugamping di daerah Kulonprogo dan sekitarnya, Propinsi Daerah Istimewa Yogyakarta. Pusat Survei Geologi Bandung (laporan tidak terbit).
Maryanto, S., 2009. Mikrofasies batugamping Formasi Sentolo di lintasan Hargorejo, Kokap, Kulonprogo. Proceedings of The 38th IAGI Ann. Conv. Exh. Semarang 13-14 October 2009.
Maryanto, S., 2012. Limestone diagenetic records based on petrographic data of Sentolo Formation at Hargorejo traverse, Kokap, Kulonprogo. Indon. J. Geol. 7: 87-99.
Mulyaningsih, S., Sampurno, Zaim, Y., Puradimaja, D.J., Bronto, S., dan Siregar, D.A., 2006. Perkembangan geologi pada Kuarter awal sampai masa sejarah di dataran Yogyakarta. J. Geol. Indon. 1: 103-113.
Rahardjo, W., Sukandarrumidi, dan Rosidi, H.M.D., 1995. Peta Geologi Lembar Yogyakarta, Jawa, skala 1 : 100.000. Pusat Penelitian dan Pengembangan Geologi, Bandung.
Read, J.F., 1985. Carbonate platform facies models. Am. Assoc. Petrol. Geol. Bull. 69, pp. 1-21.
Soeria-atmadja, R; Bellon, R.C, Pringgoprawiro, Polve, M . dan Priadi, B., 1994 Tertiary Magmatic belts in Java J.SE Sci., 9 , n0. 7-2:13-27
Tucker, M.E., 2001. Sedimentary petrology: an introduction to the origin of sedimentary rocks. Blackwell Science Ltd., Oxford, 262 p.
Tucker, M.E. and Wright, V.P., 1990. Carbonate sedimentology. Blackwell Scientific Publications, Oxford, London, Edinburg, Cambridge, 482 p.
Wilson, J.L. 1975. Carbonate facies in geologic history. Springer-Verlag, New York, Heidelberg, Berlin, 471 p.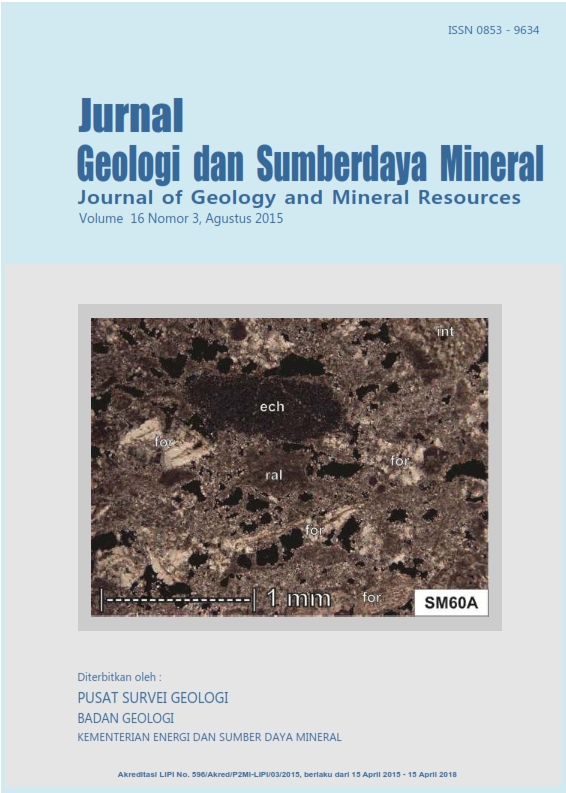 Downloads
License
Authors who publish articles in Jurnal Geologi dan Sumberdaya Mineral (JGSM.Geologi) agree to the following terms:
Authors retain copyright of the article and grant the journal right of first publication with the work simultaneously licensed under a CC-BY-NC or The Creative Commons Attribution–ShareAlike License.
Authors are able to enter into separate, additional contractual arrangements for the non-exclusive distribution of the journal's published version of the work (e.g., post it to an institutional repository or publish it in a book), with an acknowledgment of its initial publication in this journal.
Authors are permitted and encouraged to post their work online (e.g., in institutional repositories or on their website) prior to and during the submission process, as it can lead to productive exchanges, as well as earlier and greater citation of published work (See The Effect of Open Access)