Genesis Granit Muncung dari Pulau Lingga Berdasarkan Data Geokimia dan Mikroskopis
Abstract
Granit Muncung dan Granit Tanjungbuku merupakan dua satuan granitoid yang terdapat di Pulau Singkep. Sebelumnya telah diketahui bahwa Granit Muncung merupakan tipe-S dan sebagai bagian dari 'Main Range Granite Province' di Asia Tenggara. Penelitian terkini menyebutkan bahwa Granit Muncung dapat dikelompokkan dalam dua fasies berdasarkan kandungan geokimia. Penelitian ini mengulas lebih lanjut mengenai Granit Muncung yang terdapat di Pulau Singkep melalui data geokimia dan mikroskopis. Dengan memanfaatkan genesa yang lebih terperinci dan up to date, hipotesis Granit Muncung sebagai tipe-S turut diperkuat melalui makalah ini. Karakter contoh terpilih sebagai granitoid yang cenderung ferroan menunjukkan kelimpahan Fe yang lebih besar relatif terhadap Mg. Penambahan K dan Na, maupun pengurangan Ca selama diferensiasi diduga berhubungan dengan sifat alkali-calcic pada batuan granitik ini. Data mikroskopis, diagram ANK vs A/CNK maupun penghitungan ASI menunjukkan sifat peralumina kuat dari contoh ini.

Kata kunci - geokimia, Granit Muncung, tipe-S, Pulau Singkep, peralumina
Downloads
Download data is not yet available.
References
Antunes, I.M.H.R., Neiva, A.M.R., Silva, M.M.V.G. dan Corfu, F. 2008. Geochemistry of S-type granitic rocks from the reversely zoned Castelo Branco pluton (central Portugal). Lithos 103: 445–465
Arndt, N.T. 2013. Formation and Evolution of the Continental Crust. Geochemical Perspectives. v. 2(3): 405-529
Barber, A.J., Crow, M.J. dan Milsom, J.S. 2005. Sumatera: Geology, Resources and Tectonic Evolution: Memoirs 31. Geological Society, London.
Chappel, B.W. dan White, A.J.R. 1974. Two contrasting granite types. Pacific Geology v.8: 173–174.
Chappel, B.W. dan White, A.J.R. 2001. Two contrasting granite types: 25 years later. Australian Journal of Earth Sciences. v. 48: 489–499
Christiansen, E.H. and Keith, J.D. 1996. Trace element systematics in silicic magmas: a metallogenic perspective. In: Trace Element Geochemistry of Volcanic Rocks: Applications for Massive Sulfide Exploration, Geological Association of Canada, Short Course Notes, D.A. Wyman (ed.), vol. 12: 115-151.
Cid, J.P., Nardi, L.V.S., Conceicao, H. dan Bonin, B. 2001. Anorogenic alkaline granites from northeastern Brazil: major, trace, and rare earth elements in magmatic and metamorphic biotite and Na-mafic minerals. Journal of Asian Earth Sciences, v.19: 375-397.
Clemens, J.D., Holloway, J.R. dan White, A.J.R. 1986. Origin of an A-type granite: Experimental constraint. American Mineralogist, v.71: 317-324.
Colombo, F., Lira, R. dan Dorais., M.J. 2010. Mineralogy and crystal chemistry of micas from the A-type El Portezuelo Granite and related pegmatites, Catamarca (NW Argentina). Journal of Geoscience, v. 55: 43-56
De La Roche, H., Leterrier, J., Grandclaude, P. dan Marchal, M. 1980. A classification of volcanic and plutonic rocks using R1-R2 diagrams and major element analyses- its relationship and current nomenclature. Chemical Geology v.29: 193- 210
Frost, B.R., Barnes, C.G., Collins, W.J., Arculus, R.J., Ellis, D.J. dan Frost, C.D. 2001. A Geochemical Classification of Granitic Rocks. Journal of Petrology 42 (11): 2033-2048.
Imai, A., Sanematsu, K., Ishida, S., Watanabe, K. dan Boosayak, J. 2008. Rare Earth Elemements in Weathered Crust in Sn-Bearing Granitic Rocks in Southern Thailand. Proceedings of the International Symposia on Geoscience Resources and Environments of Asian Terranes (GREAT 2008), 4th IGCP 516,and 5th APSEG; Bangkok, Thailand
Irzon, R., Sendjadja, P., Kurnia, Imtihanah dan Soebandrio, J. 2014. Kandungan Rare Earth Elements dalam Tailing Tambang Timah di Pulau Singkep. Jurnal Geologi dan Sumberdaya Mineral, v.15(3).
Irzon R. 2015. Contrasting Two Facies of Muncung Granite in Lingga Regency Using Major, Trace, and Rare Earth Element Geochemistry. Indonesian Journal on Geoscience, v.2(1): 23-33
Jaenudin, J., Susanto, H., dan Pertamana, Y., 2011 Penelitian Pemboran Potensi Bahan Galian di Wilayah Bekas Tambang Timah Daerah Pulau Singkep, Kabapaten Lingga, Provinsi Kepulauan Riau. Prosiding Hasil Kegiatan Pusat Sumber Daya Geologi Tahun 2011.
Kilpatrick, J. A. dan Ellis, D. J., 1992. C-type magmas: igneous charnockites and their extrusive equivalents. Transactions of the Royal Society of Edinburgh: Earth Sciences v.83: 155–164.
Odewumi, S.C. dan Olarewaju, V.O. 2013. Petrogenesis and Geotectonic Settings of the Granitic Rocks of Idofin-osieruku Area, Southwestern Nigeria using Trace Element and Rare Earth Element Geochemistry. Journal of Geology & Geoscience, v.2, doi:10.4172/jgg.1000109.
Potts, P.J. 1987. A Handbook of Silicate Rock Analysis. Glasgow, Blackie & Sons Ltd.
Shand S.J., 1943. Eruptive Rocks; Their Genesis, Composition, Classification, and their Relation to Ore Deposits, with a chapter on Meteorites (revised second edition): Hafner Publishing Co., New York, 444p.
Streickeisen, A.L. 1974. Classificacation and Nomenclature of Plutonic Rocks. Recomendation of the IUGS Subcommision on Systematics of Igneous Rocks. Geol. Rundschau 63: 773-786
Sutisna, K., Burhan, G., dan Hermanto, B. 1994. Peta Geologi Lembar Dabo, Sumatera, skala 1:250.000. Pusat Penelitian dan Pengembangan Geologi, Bandung.
Suwargi, E., Padiarto, B., dan Islah, T. 2010. Potensi Logam Tanah Jarang di Indonesia. Buletin Sumber Daya Geologi v.5 (3): 131-140
Windley, B.F. 1993. Proterozoic anorogenic magmatism and its orogenic connections. Journal of the Geology Society, London, v.150: 39-50.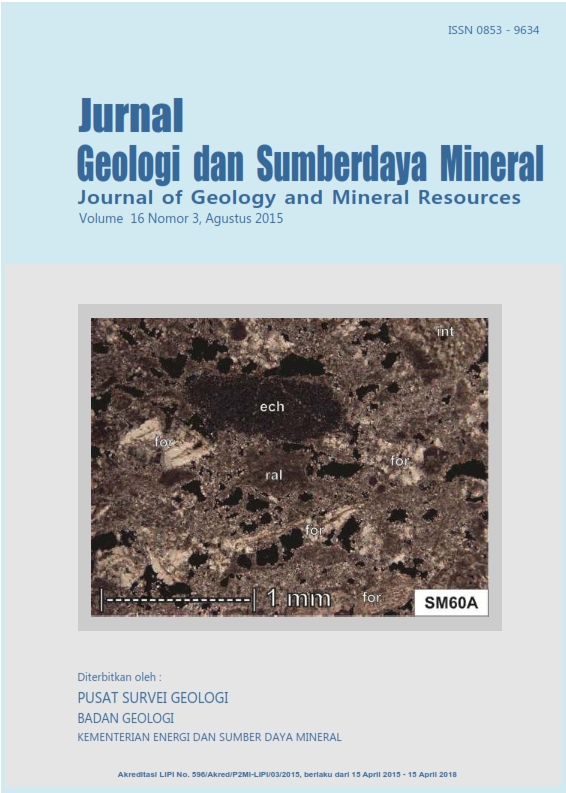 Downloads
License
Authors who publish articles in Jurnal Geologi dan Sumberdaya Mineral (JGSM.Geologi) agree to the following terms:
Authors retain copyright of the article and grant the journal right of first publication with the work simultaneously licensed under a CC-BY-NC or The Creative Commons Attribution–ShareAlike License.
Authors are able to enter into separate, additional contractual arrangements for the non-exclusive distribution of the journal's published version of the work (e.g., post it to an institutional repository or publish it in a book), with an acknowledgment of its initial publication in this journal.
Authors are permitted and encouraged to post their work online (e.g., in institutional repositories or on their website) prior to and during the submission process, as it can lead to productive exchanges, as well as earlier and greater citation of published work (See The Effect of Open Access)