Geologi Indonesia Bagian Barat dan Bagian Timur serta Kaitannya dengan Prospek Carbon Capture and Storage (CCS)
Abstract
Secara umum Indonesia bagian barat memiliki stabilitas tektonik lebih tinggi, dengan kerentanan yang lebih rendah terhadap bahaya gempabumi, khususnya di daerah Kalimantan, Jawa Bagian Utara-Barat, Sumatera bagian timur, serta kawasan di sebelah barat Kalimantan (Natuna dan sekitarnya). Penerapan teknologi EOR disarankan diterapkan di wilayah Indonesia Bagian Barat, khususnya di wilayah aman tersebut di atas, karena ketersediaan sumber emisi CO2 dari ladang-ladang migas yang relatif tinggi dan keberadaan sumur-sumur tua, sementara di Indonesia timur tidak tepat untuk program EOR karena emisi CO2 dari ladang-ladang migas terlalu kecil. Mineral trapping dapat dijadikan pilihan di masa akan datang di Indonesia Bagian Timur, mengingat banyaknya ketersediaan batuan ofiolit. Sementara penggunaan akifer dalam berair asin dapat diaplikasikan untuk menyimpan CO2 yang dihasilkan PLTU, baik di Indonesia Barat maupun Timur. Batuan waduk CBM dapat diterapkan di Kalimantan maupun Sumatera, sementara penggunaan waduk hidrat gas untuk menyimpan CO2 masih memerlukan penelitian lebih lanjut.

Kata kunci - Indonesia Barat, Indonesia Timur, tektonik, gempa bumi, EOR, CCS.
Downloads
Download data is not yet available.
References
Bachri, S., 2006. Evolusi Bagian Barat dan Timur Busur Kepulauan di Indonesia. Pusat Survei Geologi, laporan tidak terbit.
Bachri, S., 2008. Overview of Some Geological Factors and Prospect of CO2 Storage in Indonesia. Paper presented in CCOP meeting, Bangkok 2008.
Bachri, S., 2010. Prospek CCS di Indonesia Bagian Barat dan Timur ditinjau dari aspek geologi. Makalah dipresentasikan pada Workshop Perubahan Iklim, Badan Geologi, Manado.
Bachri, S., 2014. Perkembangan Sisten Tunjaman VS Perkembangan Sesar Mendatar: Representasi Pola Evolusi Tektonik Indonesia Bagian Barat Vs Indonesia Bagian Timur. Jurnal Geologi Indonesia, in press.
Badan Geologi, 2009a. Peta Percepatan Puncak Batuan Dasar Wilayah Indonesia Untuk Perioda Ulang Gempa 500 Tahun atau 10% kemungkinan Terjadi Dalam 50 Tahun.
Badan Geologi, 2009b. Peta Cekungan Sedimen Indonesia Berdasarkan Data Gaya Berat dan Geologi. Pusat Survei Geologi, Badan Geologi, Bandung.
Ben-Avraham, Z. & Uyeda,S.,1973. The evolution of the China Basin and the Mesozoic Pelogeography of Borneo. Earth Planet Sci. Lett.,18:365-376.
Dally, M., Hopper, B.G. & Smith, D.G.,1986. Reconstruction of movements of major plates in SE Asia, Proc. B.P. Workshop on Eastern Indonesia (unpub.).
Downey, J.W.,1986. The geology and edition of the Arafura Sea and Irian Jaya. Proc.B.P. Workshop on Eastern Indonesia. Unpub.
Islah, I., 2012. Tinjauan keterdapatan emas pada Kompleks Ofiolit di Indonesia Bulletin Sumber Daya Geologi, Vol.7, Nomor 1:1-11.
Katili, J.,1975. Volcanism and plate tectonics in the Indonesian Island Arcs, Tectonophysics, 26: 165-188.
Katili, J.,1989. Evolution of southeast Asian Arc complex. Geologi Indonesia 12: 113-143.
Lubis, I.,2009. Wilayah Kerja dan Split Keuntungan CBM Indonesia.
http://ibrahimlubis.wordpress.com, 14 September 2009
Prihantono, A. & Bachri, S.,2008. Gas hydrate potential in Indonesia with reference to the southern Sea of Sumatra and West Jawa. Paper presented in the CCOP Workshop on the Chalenge of Extracting Gas Hydrate as an Enviromentally-friendly Source of Energy and Storing CO2 in the Gas Hydrate Reservoir, Hanoi.
Simandjuntak, T.O. & Barber, A.J., 1996. Contrasting tectonic styles in the Neogene orogenic belts of Indonesia. In : Hall, R. And Blundel, D. (eds), 1996. Tectonic evolution of Southeast Asia. Geological Society Special Publication No. 106:185-201.
Tapponier, P., Peltzer, G., Le Dain. A.Y. & Armijo, R..,1982. Propagating extrusion tectonics in Asia: New insights from simple experiments with plasticine. Geology, v.10: 611-616.
USGS, 2001. Major volcanoes of Indonesia.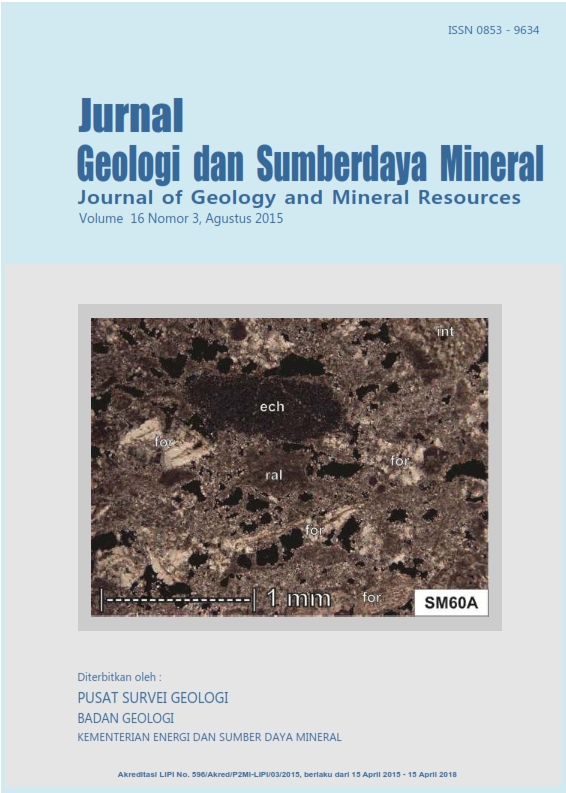 Downloads
License
Authors who publish articles in Jurnal Geologi dan Sumberdaya Mineral (JGSM.Geologi) agree to the following terms:
Authors retain copyright of the article and grant the journal right of first publication with the work simultaneously licensed under a CC-BY-NC or The Creative Commons Attribution–ShareAlike License.
Authors are able to enter into separate, additional contractual arrangements for the non-exclusive distribution of the journal's published version of the work (e.g., post it to an institutional repository or publish it in a book), with an acknowledgment of its initial publication in this journal.
Authors are permitted and encouraged to post their work online (e.g., in institutional repositories or on their website) prior to and during the submission process, as it can lead to productive exchanges, as well as earlier and greater citation of published work (See The Effect of Open Access)