Bahan Standar Internal dengan Matriks Stream Sediments dari Sungai Berair Payau dan Tawar di Daerah Pangandaran dan Sekitarnya
Abstract
Bahan standar merupakan persyaratan mutlak untuk memvalidasi sebuah pengukuran. Dibutuhkan biaya besar dalam pengajuan bahan standar berskala certified reference material, oleh karena itu pembuatan materi acuan standar intern dapat menjadi jalan keluar. Sebagai sarana pengujian di lingkungan Pusat Survei Geologi, Laboratorium Geologi harus dapat menyelaraskan fungsinya dengan kebutuhan riset ilmu kebumian di Indonesia. Beberapa tahun sebelumnya tiga bahan standar dengan matriks stream sediment telah dihasilkan. Walaupun sama-sama dari matriks stream sediment, penelitian ini berbeda pada jenis air dimana contoh diambil. Dua dari contoh diambil dari lingkungan air payau, sedangkan satu lainnya dari lingkungan air tawar di sekitar Pangandaran, Jawa Barat. Perangkat Atomic Absorbance Spectrometry dan X-Ray Flourescence dimanfaatkan untuk mengukur kandungan elemen maupun oksida pada contoh bakal standar yang telah melalui proses hingga menjadi banyak split. Perhitungan statistika diaplikasikan untuk mengetahui tingkat homogenitas contoh maupun menetapkan nilai acuan. Uji variansi satu arah berakurasi 95% menyimpulkan bahwa dua contoh dapat dikategorikan homogen dan satu lainnya homogen sempurna. Atas dasar besaran koefisien variansi <5%, lima elemen hasil analisis AAS dan delapan oksida utama hasil analisis XRF dapat dijadikan nilai acuan.

Kata kunci - air payau, air tawar, bahan standar internal, stream sediment.
Downloads
Download data is not yet available.
References
Alexakis, D. 2008. Geochemistry of Stream Sediments as a Tool for Assessing Contamination of Arsenic, Chromium and Other Toxic Elements: East Attica Region, Greece. European Water Publication, v.21(22):57-72
Beaty, R.D., dan Kerber, J.D., 1993. Concept, Instrumentation dan Techniques in Atomic Absorption Spectrophotometry, 2nd edition. The Perkin-Elmer Corporation, Norwalk, CT, Amerika Serikat
Irzon, R. dan Kurnia. 2013. Bahan Acuan Standar Internal Geokimia dengan Matriks Stream Sediments dari Wilayah Soreang, Jawa Barat. Jurnal Sumber Daya Geologi, v.23 (1): 47-57
Jochum, K.P., Nohl, U., Herwig, K., Lammel E., Stoll, B. dan Hofmann, A.W. 2005. GeoRem: A New Geochemical Database for Reference Materials and Isotopic Standards. Geostandards and Geoanalytical Research, v. 29(3):333-338.
Jochum, K.P., Weis, U., Stoll, B., Kuzmin, D., Yang, Q., Raczek, I., Jacob, D.E., Stracke, A. Birbaum, K., Frick, D.A., Günther, D. dan Enzweiler, J. 2011. Determination of Reference Values for NIST SRM 610-617 Glasses Following ISO Guidelines. Geostandards and Geoanalytical Research, v. 35(4):397-429
Kent, A.J.R., Jacobsen, B., Peate, D.W., Waight, T.E. dan Baker, J.A. 2004. Isotope Dilution MC-ICP-MS Rare Earth Element Analysis of Geochemical Reference Materials NIST SRM 610, NIST SRM 612, NIST SRM 614, BHVO-2G, BHVO-2, BCR-2G, JB-2, WE-E, W-2, AGV-1, dan AGV-2. Geostandards and Geoanalytical Research, v. 28(3):417-429
Kim, B.H., Kaiser, P.K. dan Grasselli. 2007. Influence of Persistence on Behavior of Fractured Rock Masses. Geological Society, London, Special Publications. v. 284:161-173
Lynch, J. 1990. Provisional Elemental Values for Eight New Geochemical Lake Sediment and Stream Sediment Reference Materials LKSD-1, LKSD-2, LKSD-3, LKSD-4, STSD-1, STSD-2, STSD-3, STSD-4. Geostandards Newsletter, v.14 (1):153-167.
Raja, M.P., Labaik, G., Permana, D. dan Sunardi, A. 2002. Inventarisasi dan Evaluasi Bahan Galian Industri di Kabupaten Ciamis dan Kabupaten Tasikmalaya, Provinsi Jawa Barat. Kolokium Direktorat Inventarisasi Sumberdaya Mineral (DIM), T.A,. 2002
Riduwan. 2003. Dasar – Dasar Statistika. Edisi Revisi. Penerbit Alfabeta Bandung.
Rollinson, H., 1993, Using Geochemical Data: evaluation, presentation, interpretation. Pearson Education Asia.
Roser, B.P., Matsuura, K., Kaino, Y., Matsuo, N., Toda, T. dan Purevjav, N. 2012. Geochemistry of Stream Sediments in Watershed of Lake Shinji and Lake Nakaumi. Geoscience Report of Shimane University. v.31:33-48
Simanjuntak, T.O. dan Surono. 1992. Peta Geologi Lembar Pangandaran Skala 1:100.000. Pusat Penelitian dan Pengembangan Geologi, Bandung
Verma, S.P. 1998. Improved concentration data in two international geochemical reference materials (USGS basalt BIR-1 and GSJ peridotite JP-1) by outlier rejection. Geofísica Internacional, v 37 (3), hal: 215-250.
World Health Organization. 2007. Desalination for Safe Water Supply, Guidance for the Health and Environmental Aspects Applicable to Desalination. Public Health and the Environment , Geneva.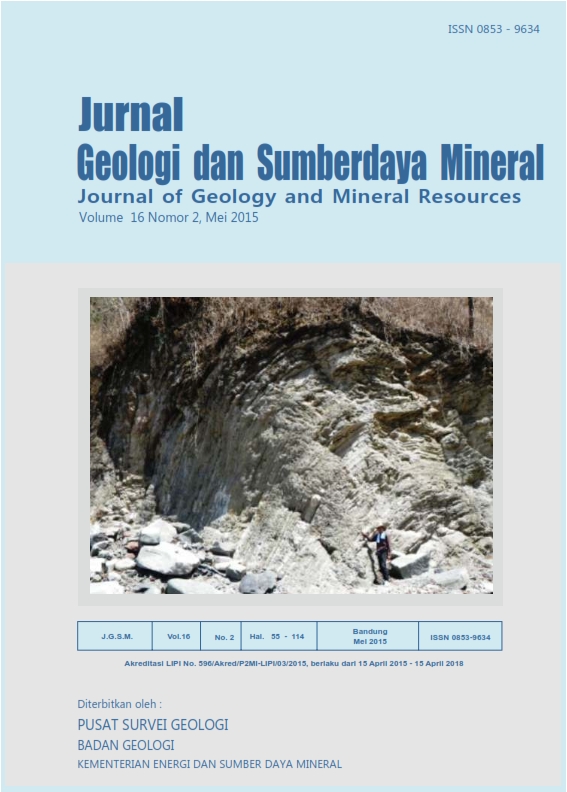 Downloads
License
Authors who publish articles in Jurnal Geologi dan Sumberdaya Mineral (JGSM.Geologi) agree to the following terms:
Authors retain copyright of the article and grant the journal right of first publication with the work simultaneously licensed under a CC-BY-NC or The Creative Commons Attribution–ShareAlike License.
Authors are able to enter into separate, additional contractual arrangements for the non-exclusive distribution of the journal's published version of the work (e.g., post it to an institutional repository or publish it in a book), with an acknowledgment of its initial publication in this journal.
Authors are permitted and encouraged to post their work online (e.g., in institutional repositories or on their website) prior to and during the submission process, as it can lead to productive exchanges, as well as earlier and greater citation of published work (See The Effect of Open Access)