Geoconservation of Vertebrate and Human Ancient Fossils Site, The South TulungagungArea East Java
Abstract
The paleontology and archeology sites in southern Tulungagung, East Java are part of the geodiversity and geological heritage that has significance for the process of evolution and migration of early modern humans. The sites are Wajak Cave, Song Gentong, and Tenggar Cave (Late Pleistocene to Early Holocene) located in the marble and limestone ornaments mining area of the Campurdarat Formation. Geoconservation of the geological heritage continues to be carried out by research or excavation in these fossil sites to reveal the past life and paleoenvironment, where the fossil site is susceptible to the threat of damage due to surrounded mining activities.

Keyword: Wajak Cave, Song Gentong, Tenggar Cave, limestone, marble, Campurdarat Formation.
Downloads
Download data is not yet available.
References
Agastya, I.B.O., Muslih, Y.B., Rizkan, M., Mukhammad, N., and Pratama, I.H., 2018. Basement Structures Controlled Neogene Post-Volcanism Carbonates In Southern Mountain of East Java. Regional Conference Fosi, Yogjakarta, pp.1-11.
Alink, G., Roebroeks, W., and Simanjuntak, T., 2016. The Homo Erectus Site of Trinil: Past, Present and Future of A Historic Place. AMERTA, Jurnal Penelitian dan Pengembangan Arkeologi 34(2): 81-152.
Amano, N., Due A.R., Moigne A., Ingicco, T., Semah, F., Simanjuntak, T., 2016. Subsistence Strategies and Environment in Late Pleistocene Early Holocene Eastern Java: Evidence from Braholo Cave. Quaternary International 416(19): 1-18.
Anonim, 2017. Standar Teknis Inventarisasi Keragaman Geologi dan Identifikasi Warisan Geologi. Pusat Survei Geologi (PSG), Badan Geologi Kementerian Energi dan Sumberdaya Mineral, pp.1-11.
Aziz, F. and de Vos, J., 1989. Rediscovery of Wadjak Site (Java, Indonesia). Journal of the Anthropological Society of Nippo 97: 133-144.
Badoux, D.M., 1959. Fossil Mammals from Fissure Deposits at Punung (Java): with Some Remarks on Migration and Evolution of Mammals during the Quaternary in South East Asia. Drukkerij en Uitgeversmij v/h Kemink en Zoon NV, Utrecht.
Bemmelen, van, R.W., 1949. The Geology of Indonesia. Martinus Nyhoff, The Haque.
Clements, B., and Hall, R., 2007. Cretaceous to Late Miocene Stratigraphic and Tectonic Evolution of West Java. Proceedings, Indonesian Petroleum Association Thirty-First Annual Convention And Exhibition, IPA07-G-037.
Herman, D.Z., 2005. Kegiatan Pemantauan dan Evaluasi Konservasi Sumber Daya Mineral di Daerah Kabupaten Tulungagung provinsi Jawa Timur. Kolokium Hasil Lapangan – DIM, pp. 1-20.
Joordens, J.C.A., d'Errico F., Wesselingh F.P., Munro, S., de Vos, J., Wallinga, J., Ankjærgaard, C., Reimann, T., Wijbrans J.R., Kuiper, K.F., Mu¨cher, H.J., Coqueugniot H., Prie´ V., Joosten, I., van Os, B., Schulp, A.S., Panuel, M., van der Haas, V., Lustenhouwer, W., Reijmer, J.J.G., & Roebroeks, W., 2015. Homo erectus at Trinil on Java Used Shells for Tool Production and Engraving. Nature 518: 228-243.
Marliac, A. dan Simanjuntak, T., 1996. Preliminary Report on The Site of Song Gentong Kabupaten Tulungagung, East Java (Indonesia). Communication to the 6th International Congress of European Association of Southeast Asian Archaeologists, International Institute for Asian Studies (IIAS), Leiden, Netherlands.
Mitchell, N. and Buggey, S., 2001. Category V Protected Landscapes in Relation to World Heritage Cultural Landscapes: Taking Advantages of Diverse Approaches', in Conservation Study Institute Landscape Conservation: An International Working Session on The Stewardship of Protected Landscapes. Conservation and stewardship publication no. 1, IUCN – The World Conservation Union and QLF/Atlantic Centre for the Environment, Woodstock, Vermont, USA.
Praptisih, P. and Siregar, M.S., 2012. Fasies Karbonat Formasi Campurdarat di Daerah Tulungagung, Jawa Timur. Jurnal Geologi dan Sumberdaya Mineral 22: 65-73.
Samodra, H., Suharsono, Gafoer, S., dan Suwarti, T., 1992. Peta Geologi Lembar Tulungagung, Jawa Sekala 1:100.000. Pusat Penelitian dan Pengembangan Geologi, Bandung, Indonesia.
Satyana, H.S., and Purwaningsih, M.E.M., 2003. Oligo-Miocene Carbonates of Java: Tectonic Setting and Effects of Volcanism. Proceedings of Joint Convention Jakarta The 32th IAGI and 28th HAGI Annual Convention and Exhibition.
Satyana, H.S., 2005. Oligo-Miocene Carbonates of Java, Indonesia: Tectonic-Volcanic Setting And Petroleum Implications. Proceeding Indonesian Petroleoum Association, 13th Annual Convention & Exhibition, pp.217-246.
Setiyabudi, E., Prathisto, B., Kurniawan, I., dan Jatmiko, T., 2018. The Early Holocene Vertebrate Faunas from Seropan Cave, Gunung Sewu, Yogyakarta, Indonesia. Indonesian Journal on Geoscience 5(1): 33-45.
Shutler Jr., R., Head, J.M., Donahue, D.J., Jull, A.J.T., Barbetti, M.F., Matsu'ura, S., de Vos, J. & Storm, P., 2004. ASM Radiocarbon Dates on Bone From Cave Sites in Southeast Java, Indonesia, Including Wajak. Modern Quartenary Research of South East Asia 18: 89-94.
Simanjuntak, T.O. & Barber, A.J., 1996. Contrasting Tectonic Styles in The Neogene Orogenic Belts of Indonesia. In Hall, R. & Blundell, D. (eds), Tectonic Evolution of Southeast Asia. Geological Society Special Publication 106: 185-201.
Siregar, M.S., dan Praptisih, 2008. Fasies dan Lingkungan Pengendapan Formasi Campurdarat di Daerah Trenggalek-Tulungagung, Jawa Timur. Jurnal Riset Geologi dan Pertambangan 18(1): 36-46.
Smyth, H., 2005, Eocene to Miocene Basin History and Volcanic Activity in East Java, Indonesia. University of London [Ph.D. thesis], 476 p.
Smyth, H., Hall, R., and Nichols, G.J., 2008. Cenozoic Volcanic Arc History of East Java, Indonesia: The Stratigraphic Record of Eruptions on An Active Continental Margin. The Geological Society of America Special Paper 436: 199-222.
Storm, P., 1995. The Evolutionary Significance of the Wajak Skulls. Nationaal Natuurhistorisch Museum, Leiden.
Storm, P., Aziz, F., de Vos, J., Kosasih, D., Baskoro, S., Ngaliman, and van den Hoek Ostende, L.W., 2005. Late Pleistocene Homo sapiens in a Tropical Rainforest Fauna in East Java, Journal of Human Evolution 49: 536-545.
Storm, P., Wood, R., Stringer, C., Bartsiokas, A., de Vos, J., Aubert, M., Kinsley, L., and Grün, R., 2013. U-Series and Radiocarbon Analyses of Human and Faunal Remains from Wajak, Indonesia. Journal of Human Evolution 10: 1-10
Susilohadi, 1995. Late Tertiary and Quaternary Geology of the East Java Basin, Indonesia, Unpublished Ph. D Thesis, The University of Wollongong, New South Wales, Australia, 361p.
Theunissen, L.T., 1989. Eugene Dubois and the Ape-man from Java: the History of the First `Missing Link' and Its Discoverer, terj. Enid Perlin-West. Kluwer Academic Publishers, Dordrecht.
van den Brink, L.M., 1982. On The Mammal Fauna of The Wajak Cave, Java (Indonesia) (Homo sapiens). Modern Quaternary Research in Southeast Asia 7: 177-181.
Westaway, K.E., Morwood, M.J., Roberts, R.G., Rokus, A.D., Zao, J.-X., Storm, P., Aziz, P., van den Bergh, G., Hadi, P., Jatmiko, and de Vos, J., 2007. Age and Biostratigraphic Significance of The Punung Rainforest Fauna, East Java, Indonesia, and Implications for Pongo and Homo. Journal of Human Evolution 53: 709-717.
Wilson, M.E.J., 2002. Cenozoic Carbonates in Southeast Asia: Implications for Equatorial Carbonate Development. Sedimentary Geology 147: 295-428.
Wilson, M.E.J., 2008. Global and Regional Influences on Equatorial Shallow-Marine Carbonates During The Cenozoic. Palaeogeography, Palaeoclimatology, Palaeoecology 265: 262-274.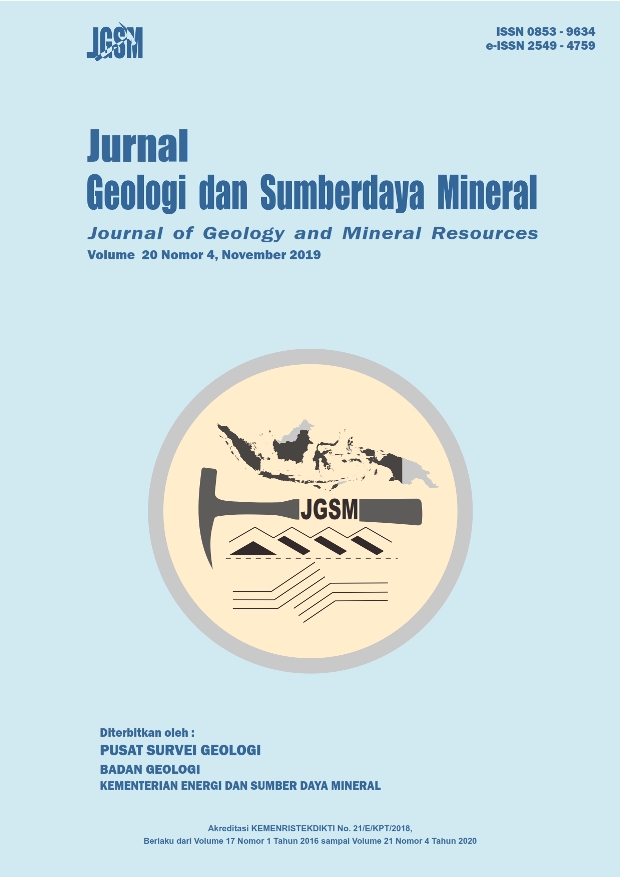 Downloads
License
Authors who publish articles in Jurnal Geologi dan Sumberdaya Mineral (JGSM.Geologi) agree to the following terms:
Authors retain copyright of the article and grant the journal right of first publication with the work simultaneously licensed under a CC-BY-NC or The Creative Commons Attribution–ShareAlike License.
Authors are able to enter into separate, additional contractual arrangements for the non-exclusive distribution of the journal's published version of the work (e.g., post it to an institutional repository or publish it in a book), with an acknowledgment of its initial publication in this journal.
Authors are permitted and encouraged to post their work online (e.g., in institutional repositories or on their website) prior to and during the submission process, as it can lead to productive exchanges, as well as earlier and greater citation of published work (See The Effect of Open Access)