SISTEM MINYAK DAN GAS DI CEKUNGAN TIMOR, NUSA TENGGARA TIMUR PETROLEUM SYSTEM IN THE TIMOR BASIN, NUSA TENGGARA TIMUR
Abstract
Bahasan sistem migas pada makalah ini dikhususkan pada pembicaraan mengenai keberadaan batuan induk, batuan waduk, batuan tudung atau penutup, serta perangkap hidrokarbon. Dikenal beberapa macam batuan induk di Cekungan Timor, yaitu serpih hitam dari Formasi Atahoc, Formasi Cribas, dan Formasi Wailuli. Analisis geokimia ataupun petrologi organik menunjukkan bahwa serpih hitam dari ketiga formasi tersebut masuk dalam klasifikasi sangat baik, dan merupakan kerogen tipe III. Berdasarkan analisis petrografi, SEM dan porositas maka yang berpeluang menjadi batuan waduk adalah batupasir dari Formasi Cribas, Formasi Babulu dan Formasi Oebaat, serta batugamping Formasi Aitutu. Sementara berdasar data petrografi dan SEM maka sepih Formasi Cribas dan Nakfunu berpotensi menjadi batuan penutup. Perangkap struktur yang berkembang adalah struktur bunga positif, antiklin landai, antiklin tersesar naikkan, dan graben. Sedangkan perangkap stratigrafi dapat berupa lensa-lensa batupasir dan lapisan batugamping.

Kata kunci: Sistem migas, Cekungan Timor, batuan induk, batuan waduk, batuan penutup dan perangkap hidrokarbon.
Downloads
Download data is not yet available.
References
Audley-Charles, M.G. 1968. The Geology of Portugese Timor. Memoirs of theGeological Society of London No.4. University of London.
Bachri, S., 2004. The relationships between the formation of the multi-genesis chaotic rocks and the Neogene tectonic evolution in Timor. Jour. Geol. Resources, v.XIV, no. 3: 94-100.
Badan Geologi, 2009. Peta cekungan sedimen Indonesia berdasarkan data gayaberat dan geologi. Pusat Survei Geologi, Badan Geologi, Bandung.
Barber, A.J., Tjokrosapoetro, S. & Charlton, T.R., 1986. Mud volcanoes, shale diapers, wrench faults and mélanges in accretionary complexes, estern Indonesia. Bull. Am. Petrol. Geol. 70: 1729-1741.
Bird , P.R., 1987. The geology of the Permo-Triassic Rocks of Kekneno, West Timor. Unpublished Phd Thesis. University of London.
Brown, M. & Earle, M.M.,1983. Cordierite - bearing schist and gneisses from Timor, eastern Indonesia: P – T conditions of mrtamorphism and tectonic implications. J. Metamorph. Geol. 1, 183-203.
Cardwell,R.K. & Isacks, B.L., 1978. Geometry of subducted lithosphere beneath the Banda Sea in eastern Indonesia from seismicity and fault plane solutions. J. Geophys. Res.,83: 2825-2838.
Charlton, T.R. 2001. The petroleum potential of West Timor. Proceedings of the Indonesian Petroleum Association 28, vol 1: 301-317.
Hamilton, W., 1979. Tectonics of the Indonesian region. Geol. Survey Professional Paper 1078, 345 p.
Powel, D.E., 1976. The geological evolution of continental margin of Northwest Australia. J. Aust. Petrol. Expl. Ass. 10: 13-23.
Sawyer, R.K., Sani, K., Brown, S., 1993. Stratigraphy and Sedimentology of West Timor, Indonesia. Proccedings of the Indonesian Association of Geologists, 22: 1-20.
Rosidi H.M.D., Tjokrosapoetro S. dan Gafoer S., 1996. Peta Geologi Lembar Atambua-Timor, skala 1:250.000. Pusat Penelitian dan Pengembangan Geologi, Bandung.
Sopaheluwakan, J., 1991. High-pressure metamorphism and intra-oceanic thrusting: The role of upper mantle fluids (abstract), In: Proceedings of the Silver Jubilee Symposium on the Dynamics of Subduction and its Prts Products, Yogyakarta, September 1991. Indonesian Institute of Sciemces (LIPI).
Suwitodirdjo K. dan Tjokrosapoetro S., 1996. Peta Geologi Lembar Kupang-Atambua, Timor, skala 1:250.000. Pusat Penelitian dan Pengembangan Geologi, Bandung.
Veevers, J.J., 1982. Western and northwestern margins of Australia, in : Ocean Basins and Margins, vol.6:Indian Ocean, edited by Nairn, A.E.M. & Stehli, F., 513-544.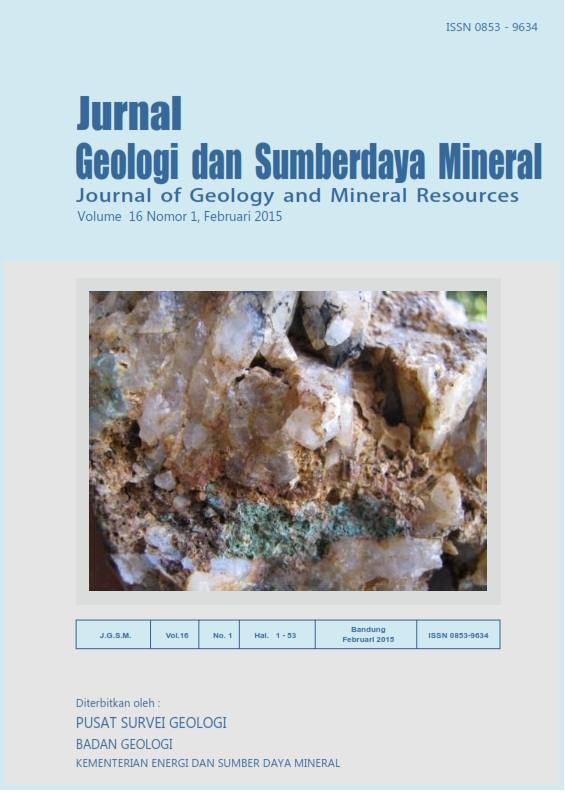 Downloads
License
Authors who publish articles in Jurnal Geologi dan Sumberdaya Mineral (JGSM.Geologi) agree to the following terms:
Authors retain copyright of the article and grant the journal right of first publication with the work simultaneously licensed under a CC-BY-NC or The Creative Commons Attribution–ShareAlike License.
Authors are able to enter into separate, additional contractual arrangements for the non-exclusive distribution of the journal's published version of the work (e.g., post it to an institutional repository or publish it in a book), with an acknowledgment of its initial publication in this journal.
Authors are permitted and encouraged to post their work online (e.g., in institutional repositories or on their website) prior to and during the submission process, as it can lead to productive exchanges, as well as earlier and greater citation of published work (See The Effect of Open Access)