MENGURANGI AMBIGUITAS DALAM PEMODELAN BAWAH PERMUKAAN GAYA BERAT UNTUK GEOLOGIAWAN
Abstract
Interpretasi anomali gayaberat memberikan hasil yang tidak unik yaitu untuk satu penampang anomali gayaberat dapat memberikan hasil yang bermacam-macam (sifat ambiguity). Seorang interpreter dapat mengurangi ambiguitas model bawah permukaan gayaberat secara sederhana dengan berbagai cara sesuai dengan ketersediaan data pendukung yang lain. Cara-cara tersebut diantaranya adalah dengan data bor atau data seismik, selain itu dapat juga dilakukan dengan menggabungkan data gayaberat dengan data geomagnet pada lintasan yang sama. Selain itu dapat juga dilakukan dengan membuat penampang koreksi rapatmassa batuan sehingga didapatkan nilai rapatmassa yang sesuai. Cara-cara tersebut terbukti dapat mengurangi ambiguitas dalam pemodelan bawah permukaan gayaberat bahkan untuk pekerjaan eksplorasi sekalipun. Namun demikian pemahaman tentang geologi dan tektonik daerah yang diteliti mutlak harus diketahui oleh interpreter.

Kata kunci : Model gayaberat, ambiguitas, data pendukung lain, pemodelan
Downloads
Download data is not yet available.
References
Kieckhefer, R.M., Moore, G.F. and Sugiarta, W., 1981, Crustal Structure of the Sunda Fore Arc Region West of Central Sumatra from gravity data. Journal of Geophysical Research, v. 86, no. B8; 7003-7012.
Nettleton, L.L., 1976, Gravity snd Magnetic in oil prospecting, New York, McGraw-Hill Books Co., Inc., 464 p.
Rais, J, 1978, International Gravity Standardization Net 1971 (IGSN 71), Proceeding, PIT HAGI 9-10 Oktober 1978, Yogyakarta : 80-89.
Setyanta, B.dan Setyadi, I., 2006, Kompleks batuan ultramafik Meratus sebagai bagian dari ofiolit kerak samudera ditinjau dari aspek geomagnetik dan gaya berat, Jurnal Sumber Daya Geologi, vol XVI, no 6 ; 335-348.
----------, Setyadi, I. dan Simamora, W.H., 2008, Model geologi bawah permukaan daerah Muarawahau hasil analisis anomali gayaberat berdasrkan estimasi kedalaman dengan metoda analisis spektral, Jurnal Sumber Daya Geologi, v. 18, no. 6 : 379-389.
---------- dan Widijono, B.S., 2009, Medan gayaberat pada batuan ofiolit (ultramafik) di Beoga, Papua dan implikasi terhadap proses alih tempatnya, Jurnal Sumber Daya Geologi, vol. XIX, no. 3 : 177-189.
----------, 2011, Medan gayaberat dan model geodinamika di sekitar Kepulauan Kai dan Kepulauan Aru, Maluku, Jurnal Sumber Daya Geologi, v. 20, no. 6 : 305-316.
Siagian, H.P. and B.S. Widijono, 2009, The possibility of hydrocarbon trap and its potential in the North Bone Basin, based on geological and geophysical data, Jurnal Sumber Daya Geologi, v. 19, no. 1; 63-76.
Sobari, I & Setyanta, B, 1995, Koreksi densitas dalam penafsiran anomaly Bouguer Lembar Mamuju, Sulawesi Selatan, Proceedings Seminar hasil penelitian/pemetaan geologi dan geofisika, PPPG 22-23 Mei 1995 : 360-372.
Telford, W.M., Geldart, L.P., Sherrif, R.E. and Keys, D.A., 1976, Applied Geophysics, Cambridge University Press, London, 860p.
Untung, M., 1977, Pembakuan untuk Penyelidikan gaya berat di Indonesia. Berita Direktorat Geologi/Geosurvey Newsletter, v.IV, : 14-17.
---------, Sardjono, I. Budiman, J. Nasution dan E. Mirnanda, 1992, Babo Block, gravity and magnetic interpretation report, GRDC-Mobil Exploration Bomberai Inc. 51, tidak dipublikasikan.
Widijono, B.S. dan Setyanta, B., 2000, Model kerak dan implikasi geodinamika Lajur Sesar Palu Koro, sajian analisis data gayaberat, kegempaan dan kinematika, Seri Geofisika, no 1, Maret 2000, hal 21-33, Pusat Penelitian dan Pengembangan Geologi, Bandung.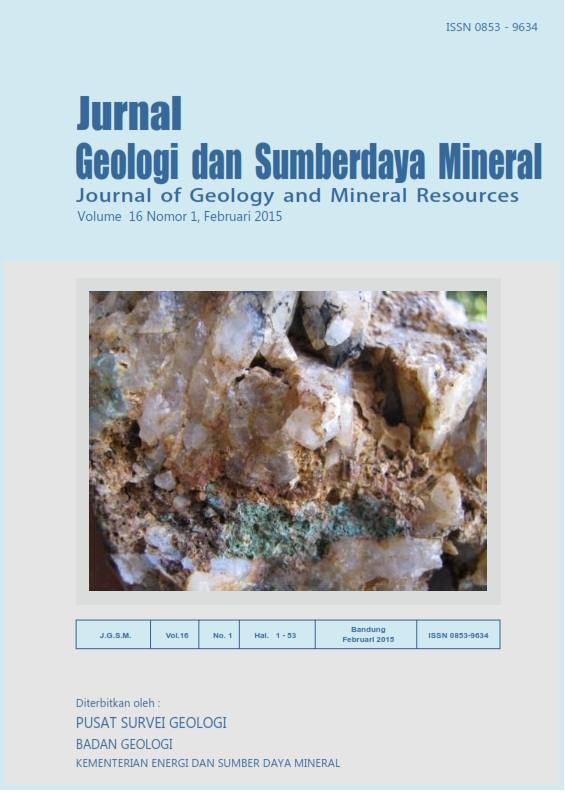 Downloads
License
Authors who publish articles in Jurnal Geologi dan Sumberdaya Mineral (JGSM.Geologi) agree to the following terms:
Authors retain copyright of the article and grant the journal right of first publication with the work simultaneously licensed under a CC-BY-NC or The Creative Commons Attribution–ShareAlike License.
Authors are able to enter into separate, additional contractual arrangements for the non-exclusive distribution of the journal's published version of the work (e.g., post it to an institutional repository or publish it in a book), with an acknowledgment of its initial publication in this journal.
Authors are permitted and encouraged to post their work online (e.g., in institutional repositories or on their website) prior to and during the submission process, as it can lead to productive exchanges, as well as earlier and greater citation of published work (See The Effect of Open Access)