Depositional Facies Model and Reservoir Quality of Paleogene Limestone in Labengki Island, Southeast Sulawesi
Abstract
Eastern Indonesia has become an attractive venture for hydrocarbon exploration since 10 years ago. The discovery of hydrocarbon from Miocene carbonate of Tondo Formation has opened a new opportunity and hopes in the Southeast Sulawesi region. Can we find other potential reservoirs in Southeast Sulawesi? In this study, we assess and reconstruct the depositional model and the reservoir quality of the Paleogene Tampakura Formation in Labengki Island, Southeast Sulawesi. This field observation and petrographical study revealed that: (1) Tampakura Formation comprises mainly of grainstone, boundstone and floatstone with minor packstone and dolomitic wackestone/mudstone, (2) Tampakura Formation was deposited mainly in wide carbonate sand shoals and reef margin belt of rimmed carbonate shelf, (3) Boundstone and floatstone facies could be the best reservoir candidate in the region since they show extensive porosities development of cavernous and fracture porosity, (4) Dolomite cementation has deteriorated the reservoir quality of packstone which was deposited in platform interior-restricted marine, (5) Extensive calcite cementation in grainstone facies has reduced the reservoir quality of Tampakura Formation. However, locally, solution enlarged fracture porosity may have enhanced it. We suggest that post collision event of Late Oligocene - Early Miocene between Australian-originated microcontinent and ophiolite complex was highly responsible to create cavernous porosity. The collision resulted in the folding and uplifting of Tampakura Formation to the subaerial exposure. The carbonate strata were exposed to the surface developing a cavernous porosity and potentially becoming the best reservoir candidate for the next exploration target.
Keywords: Carbonate facies, Kendari Basin, reservoir quality, Tampakura Formation.
Downloads
Download data is not yet available.
References
Deville de Periere, M., C.Durlet, C., Vennin, E., Caline, B., Boichard, R., and Meyer, A., 2017. Influence of Major Exposure on the Development of Microporous Micritic Limestones –Examples of the Upper Mishrif Formation (Cenomanian) of the Middle East. Journal of Sedimentary Geology, 353: 96-113.
Dunham, R.J., 1962. Classification of Carbonate Rocks According to Depositional Texture. American Association of Petroleum Geologists Memoir, 1: 108-121.
Enos, P. and Sawatsky, L.H., 1981. Pore Networks in Holocene Carbonate Sediments. Journal of Sedimentary Petrology, 51: 961-986.
Flugel, E., 2004. Microfacies of Carbonate Rocks. Springer-Verlag, New York, Berlin Heidelberg.
Kadarusman, A., Miyashita, S., Maruyama, S., Parkinson, C.D., and Ishikawa, A., 2004. Petrology, Geochemistry and Paleogeographic Reconstruction of the East Sulawesi Ophiolite, Indonesia. Tectonophysics, 392: 55-83.
Lucia, F.J., 2007. Carbonate Reservoir Characterization: An Integrated Approach. 2nd eds. Springer, New York. 219p.
Martosuwito, S., 2012. Tectonostratigraphy of the Eastern Part of Sulawesi, Indonesia, in Relation to the Terrane Origins. Jurnal Sumber Daya Geologi, 22: 199-207.
Mubroto, B., 1988. A Paleomagnetic Study of the East and Southwest Sulawesi Arms of Sulawesi, Indonesia. PhD thesis, University of Oxford, Oxford (unpublished), 253p.
Panggabean, H. and Surono, 2011. Tektonostratigrafi Bagian Timur Sulawesi. Jurnal Sumber Daya Geologi, 21(5): 239-248
Rusmana, E., Sukido, Sukarna, D., Haryono, E., dan Simandjuntak, T.O., 1993. Peta Geologi Lembar Lasusua-Kendari, Sulawesi, Skala 1: 250.000. Puslitbang Geologi, Bandung.
Satyana, A.H., 2017. Future Petroleum Play Types of Indonesia: Regional Overview. Proc. 41st Annual Convention & Exhibition IPA, Jakarta.
Surono, 2013. Geologi Lengan Tenggara Sulawesi. Badan Geologi, Kementrian Sumber Daya Mineral, Bandung. 171p.
Surono, 1997. A Provenance Study of Sandstones from the Meluhu Formation, Southeast Sulawesi, Eastern Indonesia. Journal of Geology and Mineral Resources, 73: 2-16.
Surono, 1994. Stratigraphy of the Southeast Sulawesi continental terrane, Eastern Indonesia. Journal of Geology and Mineral Resources, 31: 4-10.
Ziegler, M., 2001. Late Permian to Holocene Paleofacies Evolution of the Arabian Plate and Its Hydrocarbon Occurrences. GeoArabia, 6: 445-504.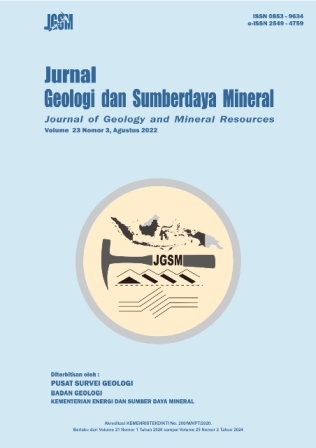 Downloads
License
Authors who publish articles in Jurnal Geologi dan Sumberdaya Mineral (JGSM.Geologi) agree to the following terms:
Authors retain copyright of the article and grant the journal right of first publication with the work simultaneously licensed under a CC-BY-NC or The Creative Commons Attribution–ShareAlike License.
Authors are able to enter into separate, additional contractual arrangements for the non-exclusive distribution of the journal's published version of the work (e.g., post it to an institutional repository or publish it in a book), with an acknowledgment of its initial publication in this journal.
Authors are permitted and encouraged to post their work online (e.g., in institutional repositories or on their website) prior to and during the submission process, as it can lead to productive exchanges, as well as earlier and greater citation of published work (See The Effect of Open Access)