Dinamika Proses Pengendapan Sedimen Holosen di Hilir Sungai Bengawan Solo serta Wilayah Pasang Surut di Gresik dan Sekitarnya, Jawa Timur.
Abstract
Daerah penelitian terletak di wilayah Kabupaten Gresik dan Kabupaten Lamongan, Provinsi Jawa Timur. Penelitian bertujuan untuk menelaah dinamika proses serta interval pengendapan berdasarkan aspek sedimentologi dan stratigrafi. Untuk mengetahui kondisi bawah permukaan pada objek penelitian digunakan metoda pemboran dangkal sebanyak 40 (empat puluh) titik yang selanjutnya dilakukan analisis sedimentologi dan stratigrafi. Hasil pemboran menunjukkan terdapat 13 jenis endapan, yaitu endapan dataran banjir Bengawan Solo (EDbBs), alur sungai Bengawan Solo (EAsBs), dataran banjir (EDb) termasuk pengaruh pasang surut (EDbps), alur sungai (EAs) termasuk pengaruh pasang surut (EAsps), cekungan banjir (ECb), pasir rombakan (EPr), rawa (ER) dan pengaruh pasang surutnya (ERps), pantai (EP), laut dekat pantai (ELdp), dan laut lepas pantai (ELlp). Hasil analisis stratigrafi membedakan menjadi 3 (tiga) interval perioda pengendapan, yaitu interval muka laut rendah pertama (MLR 1), muka laut tinggi (MLT), dan muka laut rendah kedua (MLR 2). Perubahan tubuh sedimen secara lateral dan vertical ditafsirkan sebagai hasil proses eksternal seperti fluktuasi muka air laut, sirkulasi iklim serta tektonik.

Katakunci: Holosen, muka laut, iklim, tektonik, Gresik.


Downloads
Download data is not yet available.
References
Acarlar, M., Bilgin, A.Z., Elibol, E., Erkan, T., Gedik, İ., Güner, E., Hakyemez, Y., Şen, A.M., U ğuz, M.F., Umut, M., 1991. Van Gölü Do ğusu Ve Kuzeyinin Jeolojisi. MTA Genel Müdürlü ğü, Ankara, (Yay ımlanmamış) Rapor No:9469, 94 s .
Bell, M. and Walker, M.J.C., 1998. Late Quaternary Environmental Change. Addison Wesley Longman Limited, Edinburgh Gate, Harlow, Essex CM20 2JE, England and Associated Companies throughout the world: 273 h
Bradley, W.H., 1929. The Verves and Climate of the Green RiverWpoch. U.S Geological Survey Prof. Pap. 158-E (Shorter Contribution to General Geology, 1929):87-110.
Cohen, K.M., Gouw, M.J.P and Holten, J.P., 2003. Fluvio-Deltaic Floodbasins Deposits Recording Differential Subsidence Within A Coastal Prism (Central Rhine-Meuse, The Netherlands. In: Blum, M.D., Marriott, S.B. and Leclair, S.F. (eds.). Fluvial Sedimentology VII. Int. Assoc. Of Sedimentologist, Blackwell Scientific: 40-68.
Dash, C., Jaiswal, M. K., Pati, P., Patel, N. K., Singh, A. K. and Shah, R. A., 2020. Fluvial Response to Late Quaternary Sea Level Changes along the Mahanadi Delta, East Coast of India. Quaternary International. doi:10.1016/j.quaint.2020.07.033
Gilbert, G.K., 1894. Sedimentary Measurement of Cretaceous Time. Journal Geology, 3: 121-127
Görür, N., Çağatay, M.N., Zabcı, C., Sakınç, M., Akkök, R., Şile, H. and Örçen, S., 2015. The Late Quaternary Tectono-Stratigraphic Evolution of the Lake Van, Turkey. Bull. Miner. Res. Explor., 151: 1–46.
Hong, S., Lee, M.K. and Seong, Y.B., 2020. Holocene Sea-level History and Tectonic Implications Derived from Luminescence Dating of Raised Beaches in Terra Nova Bay, Antarctica. Geosci Journal (2020).
Imbrie, J. and Imbrie, K.P., 1979. Ice Ages: Solving the Mystery. New York, McMillan Press: 224 h.
Jin, P., Ji, L., Ma, B., Yuan, B. and Long, L., 2020. Early Cretaceous Palynology and Paleoclimate of the Hanxia-Hongliuxia Area, Jiuxi Basin, China. Review of Palaeobotany and Palynology, 104259.
Kaplan, G., 2013. Palynological Analysis of the Late Pleistocene Terrace Deposits of Lake Van, Eastern Turkey: Reconstruction of Paleovegetation and Paleoclimate. Quat. Int., 292: 168–175.
Kempe, S. and Degens, E.T., 1978. Lake Van Varve Record: the Past 10,420 Years. In: Degens, E.T., Kurtman, F. (Eds.), The Geology of Lake Van. The Mineral Research 169. MTA Press, Ankara, pp. 56–63.
Kempe, S., Landmann, G. and Darmstadt, G.M., 2002. A Floating Varve Chronology from the Last Glacial Maximum Terrace of Lake Van, Turkey. Z. Geomorrph. N. F., Suppl.-Bd., 126: 97–114.
Kuzucuoğlu, C., Christol, A., Mouralis, D., Doğu, A.-F., Akköprü, E., Fort, M., Brunstein, D., Zorer, H., Fontugne, M., Karabıyıkoğlu, M., Scaillet, S., Reyss, J.-L. and Guillou, H., 2010. Formation of the Upper Pleistocene Terraces of Lake Van (Turkey). J. Quat. Sci., 25: 1124–1137.
Lambeck, K., Yokoyama, Y. and Purcell, 2002. Into and Out of the Last Glacial Maximum : Sea Level Change during Oxygen Isotope Stage 3 and 2. Quaterary Science Reviews, 21: 343-360.
Landmann, G., Reimer, A. and Kempe, S., 1996. Climatically Induced Lake Level Changes at Lake Van, Turkey, During the Pleistocene/Holocene Transition. Global. Biochem. Cycles, 10 (4): 795–808.
Le Torneau, P.M., 1985. Alluvial Development in the Lower Jurasic Portland Formation, Central Connecticut – Implications for Tectonic and Climate. In: Robinson, G.P. and Frolich, A.J. (eds.). Proceedings of the second U.S. Geol.Survey workshop on the Mesozoic Basins of the Eastern, U.S. Geol. Survey Circular, 946: 17-26.
Litt, T., Krastel, S., Sturm, M., Kipfer, R., Örçen, S., Heumann, G., Franz, S.O., Ülgen, U.B. and Niessen, F., 2009. 'Palaeovan', International Continental Scientific Drilling Programme (ICDP): Site Survey Results and Perspectives. Quat. Sci. Rev., 28: 1555–1567.
Lugra, I.W., 2009. Lingkungan Pengendapan Sedimen di Perairan Gresik, Jawa Timur, Berdasarkan Analisa Mikrofauna dari Contoh Pemboran Inti. Buletin Sumber Daya Geologi, 4(3) : 33-42.
Moechtar, H., 1994. Coastal Plain and Fluvial deposits in the Tertiary of Central and Northern Spain. Geologica Ultraiectina No. 123, PhD Thesis, Utrecht University: 135 h.
Moechtar, H., 2011. Penerapan Sedimentologi-Stratigrafi dalam Kajian Tektonik, Fluktuasi Muka Laut dan Perubahan Iklim Plistosen Akhir-Holosen di Indonesia. Orasi Pengukuhan Profesor Riset Bidang Sedimentologi. KESDM, Badan Geologi (Pusat Survei Geologi): 68 h.
Olsen, O., 1990. Astronomical Forcing of Meandering River Behaviour: Milankovitch Cycles in Devonian of East Greendland. Palaeography, Palaeoclimatology, Palaeoecology, 79: 99-115.
Olsen, O., 1993. Orbital Forcing on Continental Depositional Systems Lacustrine and Fluvial Cyclicity in the Devonian of East Greenland. In: P.L.de Boer and D.G. Smith (Eds.). Orbital Forcing and Cyclic Sequences. Int. Assoc. Sediment. Spec. Publ., 9: 429-438.
Perlmutter, M.A. and Matthews, M.A., 1989. Global Cyclostratigraphy. In: T.A. Cross (Ed.). Quantitative Dynamic Stratigraphy. Prentice Englewood, New Jersey: 233-260.
Pati, P., Acharya,V., Verma, A., Patel, N.K., Jakhmola, R.P., Dash, C., Sharma, V., Gupta, A., Prakash, B., and Awasthi, A.K., 2018. Holocene Tectono Geomorphic Evolution of Haryana Plains, Western Ganga Plain, India. Arab. J. Geosci., 11(13): 361.
Pati, P., Verma, A.K., Dash, C., Patel, N.K., Gupta, A., Sharma, V., Jakhmola, R.P., Prakash, B., Awasthi, A.K. and Saraf, A.K., 2019. Influence of Neotectonism on Geomorphology and Depositional Architecture of the Gandak Megafan, Middle Ganga Plain, India. Geomorphology, 327: 489–503.
Plint, A.G., Eyles, N., Eyles, C.H. and Walker, R.G., 1992. Control of Sea Level Change. In: Walker, R.G. and James, N.P. (Eds.). Facies Models Response to Sea Level Change. Geological Association of Canada: 15-25.
Sukardi, 1992. Peta Geologi Lembar Surabaya dan Sapulu, Jawa Skala 1:100.000. Pusat Penelitian dan Pengembangan Geologi, Bandung.
Suther, Bradley E., Leigh, David S., Brook, George A. and Yang, L.H., 2018. Mega-Meander Paleochannels of the Southeastern Atlantic Coastal Plain, USA. Palaeogeogy, Palaeoclimatol. Palaeoecol., 511: 52–79.
Valeton, I., 1978. A Morphological and Petrological Study of the Terraces Around Lake Van, Turkey. In: Degens, E.T., Kurtman, F. (Eds.). The Geology of Lake Van. The Mineral Research 169. Exploration Institute (MTA), Publication, pp. 64–80.
Verbeek, R.D.M. en Fennema, R., 1896. Geologische Beschrijving van Java en Madoera. Uitgegeven op last van zijne excellentie Den Gouverneur-General van Nederlandsch-indie, Deel 1 (503 pp) en Deel 2 (534 pp).
Verstappen, H., 1977. Remote Sensing in Geomorphology. Elsevier, Armsterdam, 1977. 214 pp.
Walker, R.G. and James. N.P., 1992. Preface. In: A.D. Miall dan N.P. Jones (Eds.). Facies Models Response to Sea Level Change. Geological Association of Canada.
Williams, M.A.J., Dunkerley, D.L and De Decker, P., Kershaw, A.P. and Stokes, T.J., 1993. Quaternary Environments. Edward Arnold, A division of hodder & Stoughton, London New York Melbourne Auckland: 329 pp.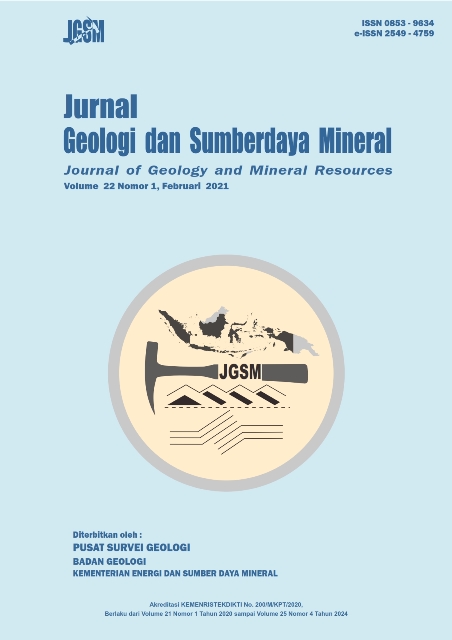 Downloads
License
Authors who publish articles in Jurnal Geologi dan Sumberdaya Mineral (JGSM.Geologi) agree to the following terms:
Authors retain copyright of the article and grant the journal right of first publication with the work simultaneously licensed under a CC-BY-NC or The Creative Commons Attribution–ShareAlike License.
Authors are able to enter into separate, additional contractual arrangements for the non-exclusive distribution of the journal's published version of the work (e.g., post it to an institutional repository or publish it in a book), with an acknowledgment of its initial publication in this journal.
Authors are permitted and encouraged to post their work online (e.g., in institutional repositories or on their website) prior to and during the submission process, as it can lead to productive exchanges, as well as earlier and greater citation of published work (See The Effect of Open Access)