Peninjauan Kembali Keragaman Fosil Foraminifera untuk Penentuan Umur Batugamping Formasi Karangbolong
Abstract
Perbukitan Karangbolong merupakan salah satu paparan karbonat di Pulau Jawa bagian selatan. Sedikitnya literatur dan belum adanya informasi terbaru tentang perbukitan ini menyebabkan daerah ini menjadi menarik untuk ditinjau kembali. Makalah ini mencoba melihat kembali keragaman fosil foraminifera yang berada di Perbukitan Karangbolong. Dari duabelas sampel batuan yang diambil di lapangan secara acak, terdapat sembilan sampel batuan yang mengandung fosil foraminifera penunjuk umur, yaitu plangtonik sebanyak empat keluarga dan bentonik besar sebanyak tujuh keluarga. Keragaman fosil foraminifera pada makalah ini menyajikan sudut pandang baru tentang tatanan umur di daerah Perbukitan Karangbolong. Hadirnya fosil Nummulites fichteli yang melimpah, terawetkan dengan baik dan tidak berasosiasi dengan fosil muda menunjukkan bahwa daerah Karangbolong ini terbentuk pada Oligosen, lebih awal dari dugaan sebelumnya. Sementara itu, kehadiran dua fosil reworked yang masing-masing berumur Eosen Awal dan Kapur Awal, yaitu Planorotalites palmerae (Cushman and Bermudez) dan Ticinella primula Luterbacher menunjukkan adanya kemungkinan sedimen yang lebih tua dari Formasi Gabon yang saat ini dianggap sebagai batuan alas di Daerah Karangbolong.

Katakunci: Batugamping, terumbu, umur, Perbukitan Karangbolong.
Downloads
Download data is not yet available.
References
Adams, C.G., 1970. A Reconsideration of The East Indian Letter Classification of The Tertiary. Bulletin of The British Museum (Natural History) Geology, 19(3): 137p.
Adams, C.G., 1984. Neogene Larger Foraminifera, Evolutionary and Geologically Events in the Context of Datum Plane. In Ikebe, N., Tsuchi, R. (Eds.). Pacific Neogene Datum Planes, 47 – 67.
Asikin, S., Handoyo, A., dan Pratistho, B., 1992. Peta Geologi Lembar Banyumas Skala 1:100.000. Puslitbang Geologi.
Aze, T., Ezard, T.H.G., Purvis, A., Coxall, H.K., Stewart, D.R.M., Wade, B.S., and Pearson, P.N. 2011. A Phylogeny of Cenozoic Macroperforate Planktonic Foraminifera from Fossil Data. Biological Review, 86(4): 900-927.
Berggren, W.A., Olsson, R.K., and Premoli Silva, I., 2006. Taxonomy, Biostratigraphy and Phylogenetic Affinities of Eocene Astrorotalia, Igorina, Planorotalites, and Problematica. In Pearson, P.N., Olsson, R.K., Hemleben, C., Huber, B.T. and Berggren, W.A. (Eds.). Atlas of Eocene Planktonic Foraminifera. Cushman Foundation for Foraminiferal Research, Special Publication No. 41 - Chapter 12. pp. 377-400.
Berggren, W.A. and Pearson, P.N. 2006. Tropical to Subtropical Planktonic Foraminiferal Zonation of The Eocene and Oligocene. Cushman Foundation Special Publication, 41: 29-40.
Blow, W.H., 1969. Late Middle Eocene to Recent Planktonic Foraminiferal Biostratigraphy. Proc. 1st Internat. Conf. On Planktonic Microfossils, Genera, vol. 1 (edited by Bronnimann, P. & Renz, H.H.)
Bolli, H.M., Saunders, J.B., Perch, and K-Nielsen., 1989. Plankton Stratigraphy, Vol. 1. Cambridge University Press, pp. 155 – 328.
Harsono, P., Kadar, D. and Skwarko, S.K., 1998. Cenozoic Benthonic Foraminifera. Foraminifera in Indonesian Stratigraphy Vol. 2. P. 824. unpublished.
Harsono, P., Kadar, D. and Skwarko, S.K., 1998. Biostratigraphy Cenozoic Planktonic Foraminifera. Foraminifera in Indonesian Stratigraphy Vol. 1. P. 283. unpublished.
Hottinger, L.C., 1983. Processes Determining the Distribution of Larger Foraminifera in Space and Time. Utrecht Micropal. Bull., 30: 255-272.
Jones, D.J., 1956. Introduction to Microfossils. Harper and Brother, Publishing New York.
Kadar, D., 1986. Neogene Planktonic Foraminiferal Biostratigraphy of The South Central Java Area, Indonesia. GRDC Special Publication, 5: 83p.
Lipson, B.S. and Labin, A.A. 2000. Albian Planktonic Foraminifera from Israel. Geol. Survey of Israel Bull., 86: 50p.
Loeblich, A.R. dan Tappan, H., 1988. Foraminiferal Genera and Their Classification. Van Nostrand Reinhold Company, New York. 970p.
Marks, P., 1957. Stratigraphic Lexicon of Indonesia. Djawatan Geologi Bandung. Publikasi Keilmuan, 31: 233p
Satyana, A.H., 2005. Oligo-Miocene Carbonates of Java, Indonesia: Tectonic-Volcanic Setting and Petroleum Implications. Proceedings Indonesian Petroleum Association: pp. 217-249.
Sujanto, F.X. and Roskamil., 1975. The Geology and Hydrocarbon Aspects of The South Central Java. The 4th Annual Meeting Indonesian Association of Geologists in Bandung. 30p.
Tjia, H.D., 1959. The Zone of Southern Mountain in Java. Arsip Bagian Geologi, Institut Teknologi Bandung, 47p.
Tjia, H.D., 1961. Catatan Mengenai Stratigrafi Pegunungan Karangbolong, Jawa Tengah. Proc. Inst. Tech. Bandung., 3: 18-22.
Van Gorsel, J.T. 1988. Biostratigraphy in Indonesia: Methods, Pitfalls, and New Directions. Proc. 17th Ann. Conv. Indon. Petrol. Assoc., Jakarta, 1: 275-300.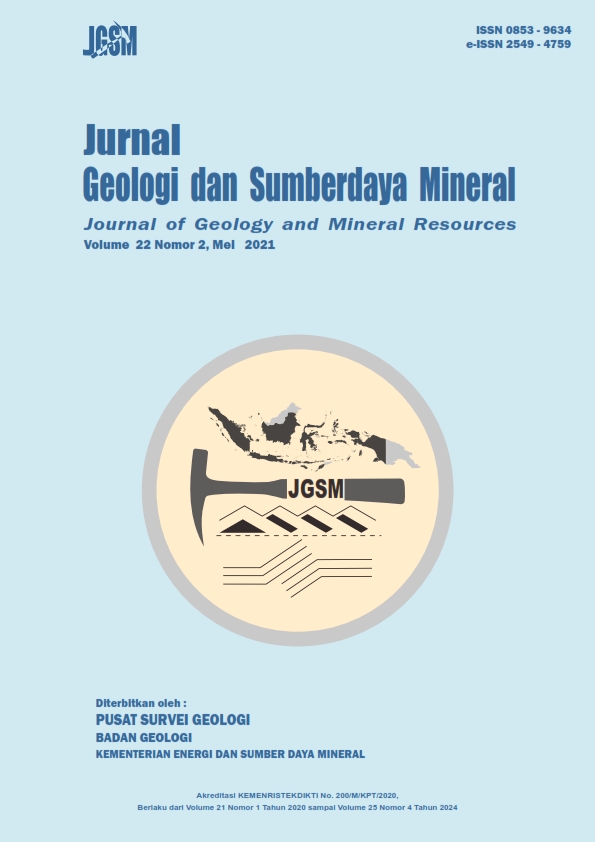 Downloads
License
Authors who publish articles in Jurnal Geologi dan Sumberdaya Mineral (JGSM.Geologi) agree to the following terms:
Authors retain copyright of the article and grant the journal right of first publication with the work simultaneously licensed under a CC-BY-NC or The Creative Commons Attribution–ShareAlike License.
Authors are able to enter into separate, additional contractual arrangements for the non-exclusive distribution of the journal's published version of the work (e.g., post it to an institutional repository or publish it in a book), with an acknowledgment of its initial publication in this journal.
Authors are permitted and encouraged to post their work online (e.g., in institutional repositories or on their website) prior to and during the submission process, as it can lead to productive exchanges, as well as earlier and greater citation of published work (See The Effect of Open Access)