Potensi Batuan Induk Hidrokarbon di Cekungan Mesozoikum Embaluh Utara,Daerah Kalimantan Utara dan Kalimantan Timur
Abstract
Cekungan Embaluh Utara merupakan cekungan Mesozoikum yang berada di wilayah Kalimantan Utara. Cekungan ini mempunyai sangat sedikit data terutama tentang potensi hidrokarbon. Beberapa analisis laboratorium yang digunakan dalam penelitian ini adalah TOC dan Rock Eval Pyrolysis. Berdasarkan hasil analisis TOC dan Rock-Eval Pirolisis (REP) serta pengeplotan pada diagram  S2 vs TOC dan HI vs Tmax seluruh percontoh juga menunjukkan batuan memiliki kualitas kerogen Tipe II/III,Tipe III, dan Tipe IV. Kematangan batuan induk berada pada kisaran belum matang sampai lewat matang. Secara garis besar serpih Formasi Mentarang dan Formasi Sebakung memiliki potensi sebagai batuan induk di Cekungan Embaluh Utara.
Katakunci: Kalimantan Utara, Embaluh Utara, Formasi Mentarang, tipe kerogen, hidrokarbon.


 
Downloads
Download data is not yet available.
References
BPPKA, Pertamina, 1997. Petroleum Geology of Indonesian Basins: Principles, Methods and Application, Volume XI, Kutai Basin. Pertamina, 134 p.
Badan Geologi, 2009. Peta Cekungan Sedimen Indonesia. Kementerian Energi dan Sumberdaya Mineral, Bandung.
Fuller, M., Haston,R., Lin, J.L., Richter, B., Schmidtke, E dan Almasco, J. 1991. Tertiary Paleomagnetism of Region Around the South China Sea. Journal of SE Asian Earth Science, 6: 161-184.
Hermiyanto, H. dan Sodiq, F., 2017. Penelitian Sistem Petroleum Pra-Tersier Cekungan Embaluh Utara, Kalimantan Utara. Laporan internal Pusat Survei Geologi, tidak terbit.
Heryanto, R, Supriatna, S dan Abidin, H.Z ., 1995. Peta Geologi Skala 1: 250.000 Lembar Malinau, Kalimantan. Pusat Penelitian dan Pengembangan Geologi, Bandung.
Ju, Y.W., Wang, G., Bu, H., Li, Q., dan Yan, Z., 2014. China Organic Rich Shale Geologic Features and Special Shale Gas Production Issues. Journal of Rock Mechanics and Geotechnical Engineering, 6: 196-207.
Mc. Carthy, K., Rojas, K., Niemann, M., Palmowski, D., Peters, K., and Stankiewicz., 2011. Basic Petroleum Geochemistry for Source Rock Evaluation, Oilfield Review Summer, 23 no.2. Schlumberger, Cambridge, Massachusetts, USA.
Peters, K.E. and Cassa, M.E., 1994. Applied Source Rock Geochemistry.In. Magoon, L.B, and Dow, W.G. (Eds.). The Petroleum System: From Source to Trip. AAPG Memoir, 60: 93-119.
Taylor, G.H., Teichmuller. M., Davis.A., Diessel. C.F.K., Littke. R., and Robert. P., 1998. Organic Petrology. Borntraeger D.C Glick, Berlin, Stuttgart.
Waples, D.W., 1985. Geochemistry in Petroleum Exploration. Brown and Ruth Labotaries, Inc. Denver, Colorado.
Zhang, D.W., Li, Y.X., Zhang, J.C., Qiao, D.W., Jiang, W.L., and Zhang, J.F., 2012. National Survey and Assesment of Shale Gas Resources Potential in China. Geologic Publishing House in Chinese, Beijing.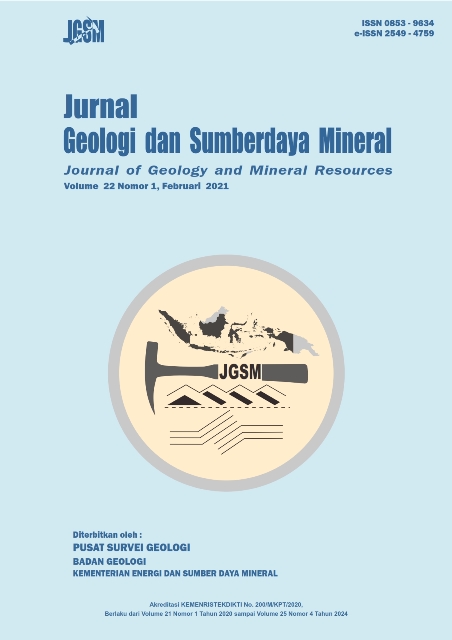 Downloads
License
Authors who publish articles in Jurnal Geologi dan Sumberdaya Mineral (JGSM.Geologi) agree to the following terms:
Authors retain copyright of the article and grant the journal right of first publication with the work simultaneously licensed under a CC-BY-NC or The Creative Commons Attribution–ShareAlike License.
Authors are able to enter into separate, additional contractual arrangements for the non-exclusive distribution of the journal's published version of the work (e.g., post it to an institutional repository or publish it in a book), with an acknowledgment of its initial publication in this journal.
Authors are permitted and encouraged to post their work online (e.g., in institutional repositories or on their website) prior to and during the submission process, as it can lead to productive exchanges, as well as earlier and greater citation of published work (See The Effect of Open Access)