BIOSTRATIGRAFI NANNOPLANKTON DAERAH RAJAMANDALA
Abstract
Analisis biostratigrafi nannoplankton dilakukan pada 26 sampel spot sampling yang berasal dari daerah Rajamandala, Padalarang, Kabupaten Bandung, Provinsi Jawa Barat. Hasil data lapangan pada lokasi penelitian di daerah Rajamandala dijumpai adanya 6 satuan batuan dimana berdasarkan analisis biostratigrafi nannoplankton di 6 satuan batuan tersebut didapatkan kisaran umur sebagai berikut: satuan batupasir konglomeratan berumur tidak lebih muda dari Eosen Akhir dapat disebandingkan dengan Formasi Bayah yang berumur Eosen Tengah-Akhir; satuan batulempung berumur Eosen Akhir - Oligosen Akhir dapat disebandingkan dengan Formasi Batuasih yang berumur Oligosen Akhir; satuan napal berumur Oligosen Akhir - Miosen Awal dapat disebandingkan dengan Anggota Napal Formasi Rajamandala yang berumur Oligosen Akhir - Miosen Awal; Satuan batupasir-batulempung berumur Miosen Awal – Miosen Tengah bagian bawah dapat disebandingkan dengan Formasi Citarum yang berumur Miosen Awal; satuan breksi vulkanik berumur Miosen Tengah dapat disebandingkan dengan Formasi Saguling yang berumur Miosen Tengah; sedangkan satuan batuan vulkanik tufaan yang menutupi Formasi Saguling dapat disebandingkan dengan satuan batuan produk vulkanik tufan Kuarter.

Kata kunci: Biostratigrafi, nannoplankton, nannofosil, Rajamandala.
Downloads
Download data is not yet available.
References
Adinegoro, U. (1973)- Reef limestone in the Sukabumi area. Proc. 2nd Ann. Conv. Indon. Petrol. Assoc.Hal.109-120.
Adisaputra-Sudinta, M.K. & P.J. Coleman (1983)- Correlation between larger benthonic and smaller planktonic foraminifera from the mid-Tertiary Rajamandala Formation, Central West Java. Publ. Geol. Res. Dev. Centre, Bandung, Paleont. Ser. 4: 37-55.
Baumann, P., 1972, The Cenozoic of Java and Sumatera. Proc. Indon. Petroleum Assoc. Hal.31 – 40.
Bemmelen. R.W. van, 1949. Geology of Indonesia. The Hague,/vlsrtinus Nijhoff, vol; 1-A.
Berggren, W.A., 1972. Cenozoic biostratigraphy and paleobiogeography of the North Atlantic. In: Laughton, A.S., McKenzie, D.P., Sclater, J.G. (Eds), Initial Reports of the Deep Sea Drilling Project, Volume X/I, Washington, DC: U.S. Govt. Printing Office: 965–1000.
Fulthorpe, C.S., and S.O. Schlanger. 1989. Paleoceanographic and tectonic settings of Early Miocene reefs and associated carbonates of offshore southeast Asia, Bull. Amer. Assoc. Petrol. Geol., 73: 729-756.
Harting, A., 1929. A short geological description of the mountain Tagogapoe and Tjiitaroem: Fourth Pacific Science Congress.
Koesoemadinata, R. P. dan Siregar, S., 1984. Reef facies model of Rajamandala Formation, West Java. Proceedings Indonesian Petroleum Association, 13th Annual Convention.
Kupper, H., 1941, Bijdrage tot de stratigraphy van het Tagogapoe and Gn. Masigit gebied (Noord Prianger, Java): De Ing. Ned. ind., no. 12: 105-109.
Laboratorium Geologi Dinamik. 2011. Ekskursi Geologi Dasar (GL-2011): Citatah Rajamandala. Program Studi Teknik Geologi, Fakultas Ilmu dan Teknologi Kebumian, ITB, Bandung.
Martin, K., 1911. Vorlaufiger Bericht uber geologische Forschungen auf Java- 1. Samml. Geol. Reichs-Museums Leiden, Ser. 1, 9, E.J. Brill: 1-76.
Martini, E., 1971. Standard Tertiary and Quaternary calcareous nannoplankton zonation. Proceedings II Planktonic Conference, Roma, 1970, 2: 739-85.
Martodjojo, S., 1984. Evolusi cekungan Bogor, Jawa Barat (The evolution of the Bogor Basin). Disertasi, ITB.
Pringgoprawiro, H. dan Kapid, R. 2000. Foraminifera: Pengenalan mikrofosil dan aplikasi biostratigrafi. Penerbit ITB, Bandung.
Sudjatmiko, 1972. Peta Geologi Lembar Cianjur – Jawa. Direktorat Geologi, Department Pertambangan Rep. Indonesia., Bandung.
Zwierzycky, J. and Koolhoven, W.C.B., 1936. Report on a trip in sheet 31 (Tjirandjang). Open t'de report, Geol. Survey of Netherland East Indies.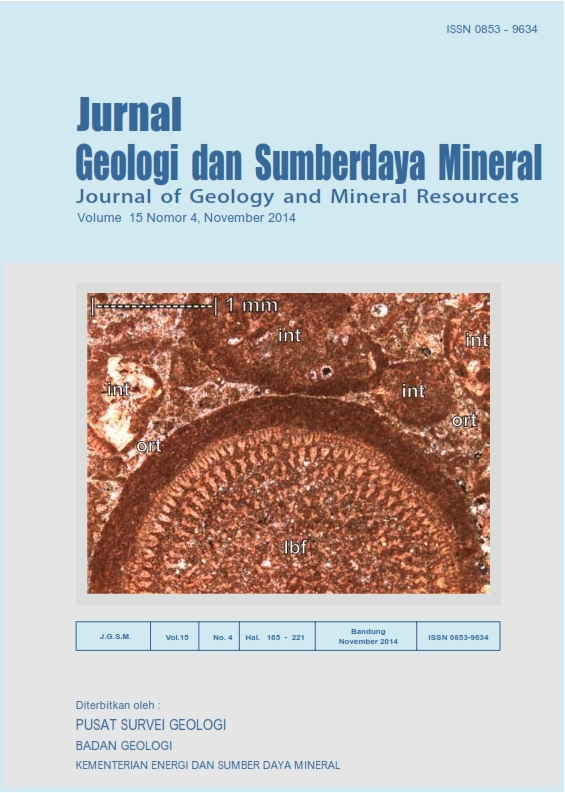 Downloads
License
Authors who publish articles in Jurnal Geologi dan Sumberdaya Mineral (JGSM.Geologi) agree to the following terms:
Authors retain copyright of the article and grant the journal right of first publication with the work simultaneously licensed under a CC-BY-NC or The Creative Commons Attribution–ShareAlike License.
Authors are able to enter into separate, additional contractual arrangements for the non-exclusive distribution of the journal's published version of the work (e.g., post it to an institutional repository or publish it in a book), with an acknowledgment of its initial publication in this journal.
Authors are permitted and encouraged to post their work online (e.g., in institutional repositories or on their website) prior to and during the submission process, as it can lead to productive exchanges, as well as earlier and greater citation of published work (See The Effect of Open Access)