Stratigrafi dan Sedimentologi Formasi Kerek di Sepanjang Lintasan Kalikayen, Ungaran Timur, Provinsi Jawa Tengah
Abstract
Satuan Batulempung Formasi Kerek tersingkap sangat baik di lintasan Kalikayen, Ungaran Timur. Penelitian ini bertujuan untuk mengetahui lingkungan pengendapan satuan batuan yang tersingkap di lintasan ini. Batuan di lintasan ini terdiri atas batulempung sebagian besar gampingan dengan beberapa sisipan batupasir batupasir gampingan sangat halus berstruktur laminasi sejajar, laminasi bergelombang dan sedikit berlapis susun, dengan ketebalan total mencapai 80 m. Batuan terendapkan di lingkungan laut dalam dengan mekanisme turbidit jauhan pada Miosen Tengah hingga Miosen Akhir. Secara stratigrafi, satuan batuan ini berhubungan saling menjemari dengan Satuan Batupasir Formasi Kerek, meskipun di lintasan Kalikayen relatif berada di bagian bawah satuan batuan tersebut

Katakunci: Kalikayen, batulempung, lingkungan pengendapan, turbidit jauhan.


Downloads
Download data is not yet available.
References
Baihaqi, M.L., 2017. Geologi dan Studi Lingkungan Pengendapan Formasi Kerek Daerah Karanggatak dan Sekitarnya Kecamatan Klego, Kabupaten Boyolali, Provinsi Jawa Tengah. Thesis Universitas Pembangunan Nasional "Veteran†Yogyakarta (Tidak terbit).
Bouma, A. 1962. Sedimentology of Some Flysch Deposits. Elsiever Publishing Co., Amsterdaan, 186p.
De Genevraye, P. and Samuel, L., 1972. Geology of the Kendeng Zone (Central and East Java). Indonesian Petroleum Association.
Faturrakhman, M.L., Rijani, S., Rattyananda, N.P. dan Maryanto, S., 2020. Pemetaan Geologi Skala 1:50.000 Daerah Ungaran dan Sekitarnya, Kabupaten Semarang, Provinsi Jawa Tengah. Laporan Teknis Intern (tidak terbit).
Hidayat, E., 2013. Identifikasi Sesar Aktif di Sepanjang Jalur Kaligarang, Semarang. Jurnal Sumber Daya Geologi, 23(1): 31-37.
Morina, H., Syafri, I. dan Jurnaliah, L., 2014. Lingkungan Pengendapan Satuan Batulempung Sisipan Batupasir pada Formasi Kerek Daerah Juwangi dan Sekitarnya, Berdasarkan Karakteristik Litologi, Analisis Struktur Sedimen, dan Kandungan Fosil Bentonik. Bulletin of Scientific Contribution, 12(3): 147-154
Mutti, E. 2011. Turbidites. Adapted from special lecture at AAPG International Conference and Exhibition, Milan, Italy, October 23-26, 2011.
Pickering, K.T. and Hiscott, R.N., 2015. Sedimentology and Stratigraphy. American Geophysical Union, NewYork, 672p.
Posamentier, H.W. and Walker, R.G., 2006. Deep-water Turbidites and Submarine Fans. In Posamentier, H.W. and Walker, R.G. (Eds.). Facies Model Revisited. SEPM Special Publication.
Patria, A.A., Cikasimi, M., Aldan, F.A. dan Akmaluddin, 2017. Stratigrafi, Umur dan Lingkungan Pengendapan Formasi Kerek Daerah Watutugel, Kecamatan Gesi, Kabupaten Sragen, Jawa Tengah. Proceeding Seminar Nasional Kebumian Ke-10, 13 – 14 September 2017; Grha Sabha Pramana, Yogyakarta.
Pratiwi, R., Shima, J., and Lumbantoruan, R., 2012. The Turbidite Characteristics of Miocene Kerek Formation Based on Outcrops and Description of Petrography in Kalibade River, Bawen Area, Semarang, Central Java. Proceedings PIT IAGI Yogyakarta 2012 The 41st IAGI Annual Convention and Exhibition.
Putra, P.S. dan Praptisih, 2017. Re-interpretasi Formasi Kerek di Daerah Klantung, Kendal, Berdasarkan Data Stratigrafi dan Foraminifera. Jurnal Geologi dan Sumberdaya Mineral, 18(2): 77-88.
Putri, W., Jurnaliah, L. dan Winantris, 2017. Perubahan Lingkungan Kala Miosen Akhir Berdasarkan Foraminifera Bentonik Kecil pada Lintasan Kali Jurangriana, Jawa Tengah. Padjadjaran Geoscience Journal, 1(1): 67-77.
Ridha, M., Nurdiansyah, M., Zamili, J.S., Triwigati, P.T., Muslih, Y.B., and Farida, W.N., 2019. Depositional Pattern and Diagenesis of Neogene Resedimented Carbonates of Sunda Shelf in Banyumeneng Area, Western Kendeng Basin, Indonesia. International Petroleum Technology Conference, Beijing, China, March 2019. Paper Number: IPTC-19052-MS .
Santoso dan Kusumadinata, R.M.S., 1999. Peta Geomorfologi Lembar Semarang dan Bagian Utara Ungaran, Jawa, Skala 1:100.000. Pusat Penelitian dan Pengembangan Geologi, Bandung.
Setiawan, M.N., Kristanto, D. and Setiawan, J., 2018. The Potential of Negeri Atas Angin Geosite, Bojonegoro. IOP Conference Series: Earth Environment Science, 212 (2018) 012047 doi:10.1088/1755-1315/212/1/012047.
Setyowiyoto, J. dan Surjono, S.S., 2003. Analisis Sedimentologi dan Fasies Pengendapan Formasi Kerek di Daerah Biren dan Kerek, Kabupateng Ngawi, Jawa Timur. Jurnal Media Teknik, 25(4): 12-17.
Thanden, R.E., Sumardiredja, H., Richards, P.W., Sutisna, K., dan Amin, T.C., 1996. Peta Geologi Lembar Magelang dan Semarang, Jawa Tengah, skala 1:100.000. Pusat Penelitian dan Pengembangan Geologi, Bandung.
Van Bemmelen, R.W., 1949. The Geology of Indonesia, Vol IA. Martinus Nijhoff, The Hague.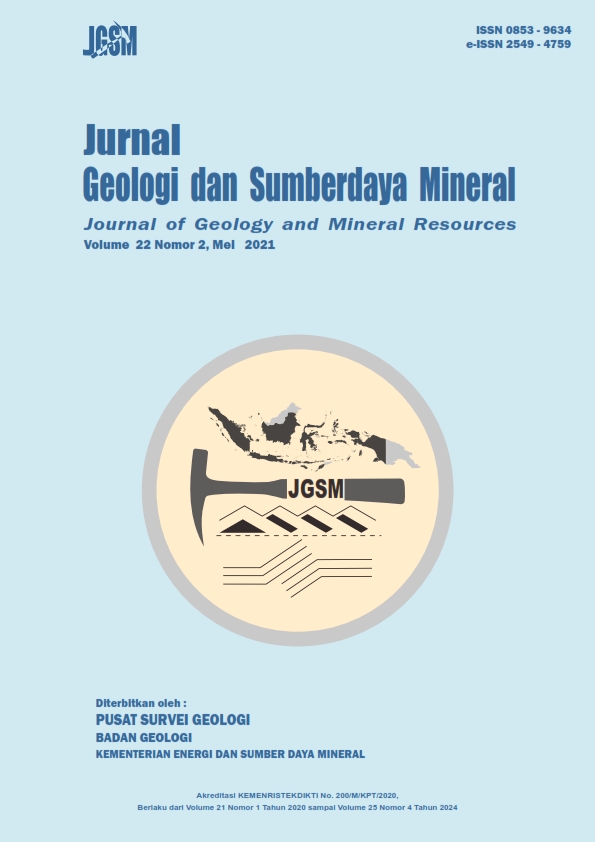 Downloads
License
Authors who publish articles in Jurnal Geologi dan Sumberdaya Mineral (JGSM.Geologi) agree to the following terms:
Authors retain copyright of the article and grant the journal right of first publication with the work simultaneously licensed under a CC-BY-NC or The Creative Commons Attribution–ShareAlike License.
Authors are able to enter into separate, additional contractual arrangements for the non-exclusive distribution of the journal's published version of the work (e.g., post it to an institutional repository or publish it in a book), with an acknowledgment of its initial publication in this journal.
Authors are permitted and encouraged to post their work online (e.g., in institutional repositories or on their website) prior to and during the submission process, as it can lead to productive exchanges, as well as earlier and greater citation of published work (See The Effect of Open Access)