Geologi Pegunungan Mendoke, Lengan Tenggara Pulau Sulawesi, Indonesia
Abstract
Penelitian ini dilakukan di Pegunungan Mendoke pada Lengan Tenggara Pulau Sulawesi Indonesia. Tujuan penelitian adalah untuk mengetahui geomorfologi, stratigrafi dan struktur geologi di Pegunungan Mendoke. Metode penelitian yang digunakan adalah studi pustaka, pekerjaan lapangan, analisis laboratorium berupa analisis petrografi, serta interpretasi data labororium dan  hasil pengamatan lapangan. Hasil penelitian menunjukkan bahwa geomorfologi di daerah penelitian terdiri atas 3 (tiga) satuan, yaitu satuan dataran rendah, satuan perbukitan rendah berlereng sangat landai hingga agak curam dan  satuan pegunungan berlereng agak curam hingga sangat curam. Adapun stratigrafi daerah penelitian dibagi menjadi 7 (tujuh) satuan, yaitu Satuan Sekis Mengkoka, Satuan Sekis Pompangeo, Satuan Intrusi Diorit, Satuan Serpentinit Harzburgit Ultramafik, Satuan Batupasir Konglomerat Langkowala, Satuan Batupasir Boepinang dan Satuan Endapan Aluvial. Daerah penelitian dikontrol oleh struktur geologi berarah tenggara-baratlaut dan  timur-barat.

Katakunci: Pegunungan Mendoke, geomorfologi, stratigrafi, struktur geologi.


Downloads
Download data is not yet available.
References
Hamilton, W.B., 1979. Tectonics of the Indonesian Region. U.S. Govt. Print. Off.,. doi: 10.3133/pp1078
Hasria, Idrus, A., Warmada, I.W., 2017. The Metamorphic Rocks-Hosted Gold Mineralization At Rumbia Mountains Prospect Area In The Southeastern Arm Of Sulawesi Island, Indonesia. J. Geosci. Eng. Environ. Technol. 2: 217–223. doi: 10.25299/jgeet.2019.4.1
Kadarusman, A., Miyashita, S., Maruyama, S., Parkinson, C.D., Ishikawa, A., 2004. Petrology, Geochemistry and Paleogeographic Reconstruction of the East Sulawesi Ophiolite, Indonesia. Tectonophysics. doi: 10.1016/j.tecto.2004.04.008
Parkinson, C., 1998. An Outline of the Petrology, Structure and Age of the Pompangeo Schist Complex of Central Sulawesi, Indonesia. Isl. Arc. doi: 10.1046/j.1440-1738.1998.00171.x
Parkinson, C.D., Miyazaki, K., Wakita, K., Barber, A.J., Carswell, D.A., 1998. An Overview and Tectonic Synthesis of the Pre-Tertiary Very-high-pressure Metamorphic and Associated Rocks of Java, Sulawesi and Kalimantan, Indonesia. Isl. Arc, 7: 184–200. doi: 10.1046/j.1440-1738.1998.00184.x
Permana, H., 2013. Kompleks Batuan Malihan, in: Surono, Udi Hartono (Eds.). Geologi Sulawesi. Badan Geologi Bandung.
Silver, E.A., McCaffrey, R., Joyodiwiryo, Y., Stevens, S., 1983. Ophiolite Emplacement by Collision Between the Sula Platform and the Sulawesi Island Arc, Indonesia. J. Geophys. Res., 88: 9419–9435. doi: 10.1029/JB088iB11p09419
Simandjuntak, T.., Surono, Sukido, 1993. Peta Geologi Lembar Kolaka, Sulawesi, Skala 1:250.000. Pusat Penelitian dan Pengembangan Geologi, Bandung.
Surono, 2013a. Geologi Lengan Tenggara Sulawesi. Badan Geologi, Kementerian Energi dan Sumber Daya Mineral Jl. Diponegoro No. 57 Bandung 40122 Telp. 022-7215297, Fax. 022-7218154.
Surono, 2013b. Kepingan Benua, in: Surono, Hartono, U. (Eds.). Geologi Sulawesi. LIPI Press, Jakarta.
Van Zuidam, R. A., 1983. Guide To Geomorphologic Aerial Photographic Interpretation and Mapping, Section Of Geology And Geomorphologi. ITC Enschede The Netherlands.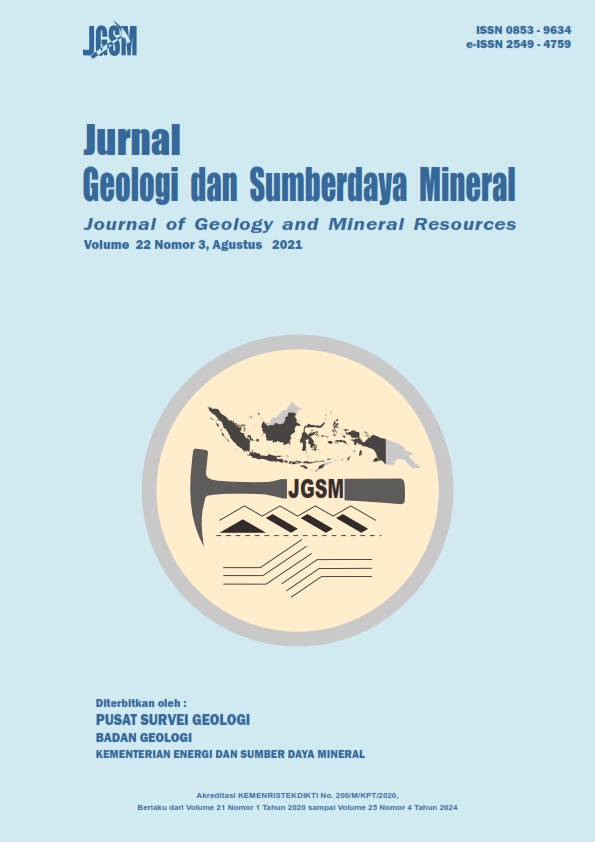 Downloads
License
Authors who publish articles in Jurnal Geologi dan Sumberdaya Mineral (JGSM.Geologi) agree to the following terms:
Authors retain copyright of the article and grant the journal right of first publication with the work simultaneously licensed under a CC-BY-NC or The Creative Commons Attribution–ShareAlike License.
Authors are able to enter into separate, additional contractual arrangements for the non-exclusive distribution of the journal's published version of the work (e.g., post it to an institutional repository or publish it in a book), with an acknowledgment of its initial publication in this journal.
Authors are permitted and encouraged to post their work online (e.g., in institutional repositories or on their website) prior to and during the submission process, as it can lead to productive exchanges, as well as earlier and greater citation of published work (See The Effect of Open Access)